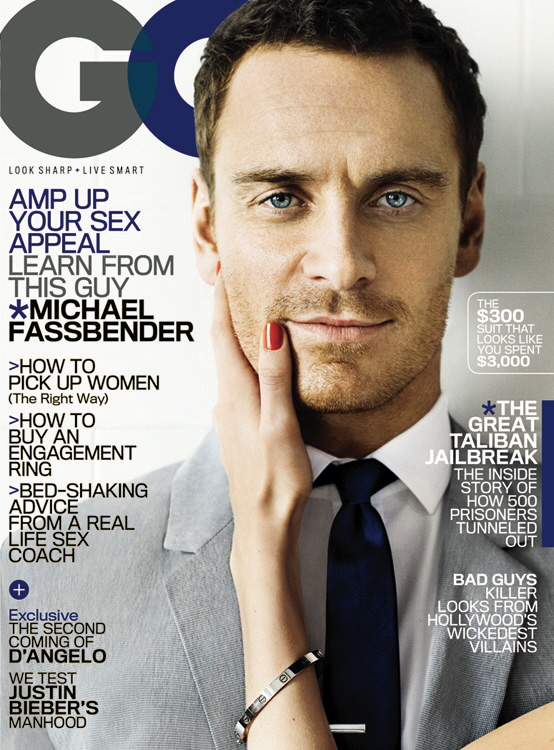 GAH. I just had a spiritual experience reading Michael Fassebender's GQ cover profile for the June issue. This is Fassy's first appearance on the cover of a major American men's magazine. Sure, he's been profiled by tons of magazines, and GQ even named him the "breakout of 2011" but for the most part, Fassy's covers have been in European publications. So this is his arrival in the American media. It feels good too. Especially when the full cover story (here) is so detailed and interesting, and when the photo shoot (here) is super-sexy. Here are some delicious highlights:
Mm, paddles: In the middle of [his London apartment] is a mini Ping-Pong table, borrowed from his British agent, who lives nearby. "Now that it's here," says Fassbender, "it's not going. This table has been the best contribution for fun I've had in a long time. This table has seen some action…" He pauses, laughs. "That sounds wrong." But has it? I say, gently pushing. "Just the paddles," he deflects, and of course he then realizes that this sounds wrong, too, in exactly the same way.

All of the dong jokes: "It's fun to a point," he says of these situations he has been facing, "and after a certain point you worry that it kind of detracts from the movie. But there's nothing I can do. I just have to laugh it off. I can. Pretty much. Because I take my work seriously but I can't take myself too seriously. I'm in such a crazy privileged position—shit, this is the pinnacle of the dream when I was 17…. Nobody wants to hear really how difficult it is."

Why he didn't get nominated for an Oscar for Shame: Usually for movie pissing the liquid you see is actually coming from a hidden tube, but he was nude. For the first two takes, he wasn't able to do anything, but he announced on-set before the third that it would happen, and it did. "Actually pretty proud," he says. And then he laughs and says—more blurts out, really—"That peeing cost me an Oscar." He is not entirely serious. Nor will he endorse Steve McQueen's slightly broader stated view: "In America they're too scared of sex, that's why he wasn't nominated." "I don't know—I don't think so," says Fassbender. "Steve is a passionate man. There's not much filtering with Steve, and I love him for that." But he's starkly honest in acknowledging that there was a concerted campaign to get him nominated—"They promised me paradise!" he blares—and how his expectations were raised.

Disappointment that he wasn't nominated: "At the beginning people [say], 'You're going to be going to the Oscars,' and you're like, 'Whatever, doesn't matter, don't think so.' But after a while it does penetrate. After a while you're like, 'Anyway, so I'm going to the Oscars…' " He laughs. "And you start to believe it. And I did. I thought I was going. And then I found out I wasn't and I was upset. I was very upset by it. The first reaction was 'What the f–k…?' " He sounds frustrated that he had let himself get sucked in. "It's a vanity thing. It does become important to you. And it shouldn't." On reflection, he decided that he had learned something about misplaced priorities. "A good little lesson."

On his blonde hairstyle in Prometheus: Fassbender also dutifully adopted the Peter O'Toole-esque hairstyle required, albeit with less enthusiasm. "Perfect for the character," he notes, but as Michael Fassbender he hated it. "I don't think peroxide-blond hair is a beneficial look for me," he says. "I just looked at myself and I was like, 'Five-pound rent boy.' " (Or, translated into American: $8 male prostitute.)

He cooks: He mentions that he has recently started cooking again. "If there's friends around, I'll cook. Or if I have a girlfriend. But on my own I kind of fell out of the habit of it, and it's a shame really because I know it's good for me. It's something quite therapeutic."

His relationship with Shame co-star Nicole Beharie: "I'm seeing Nicole, we're trying to see each other as often as possible," he acknowledges. "That's kind of difficult when she lives [in New York] and I live in England." He says they got together during the film's promotion. "Nothing happened while we were filming. We started talking more on the promotion thing. So, yeah, it just sort of unfolded like that." Presumably that's why he's now back in New York for a couple of days, though he doesn't say so.
[From GQ]
I suggest all of the Fass-loonies go and read the piece, because there are some interesting anecdotes and even some new sides to Fassbender that I didn't know he had. Like, Fassy is quite capable of being kind of bitchy – he was talking about a rude interviewer who just wanted to talk about his dong and how she had written something about how he was probably up for showing it off, and Fassy has a bitchy insult for that woman. He also hates hovering waiters. Just FYI.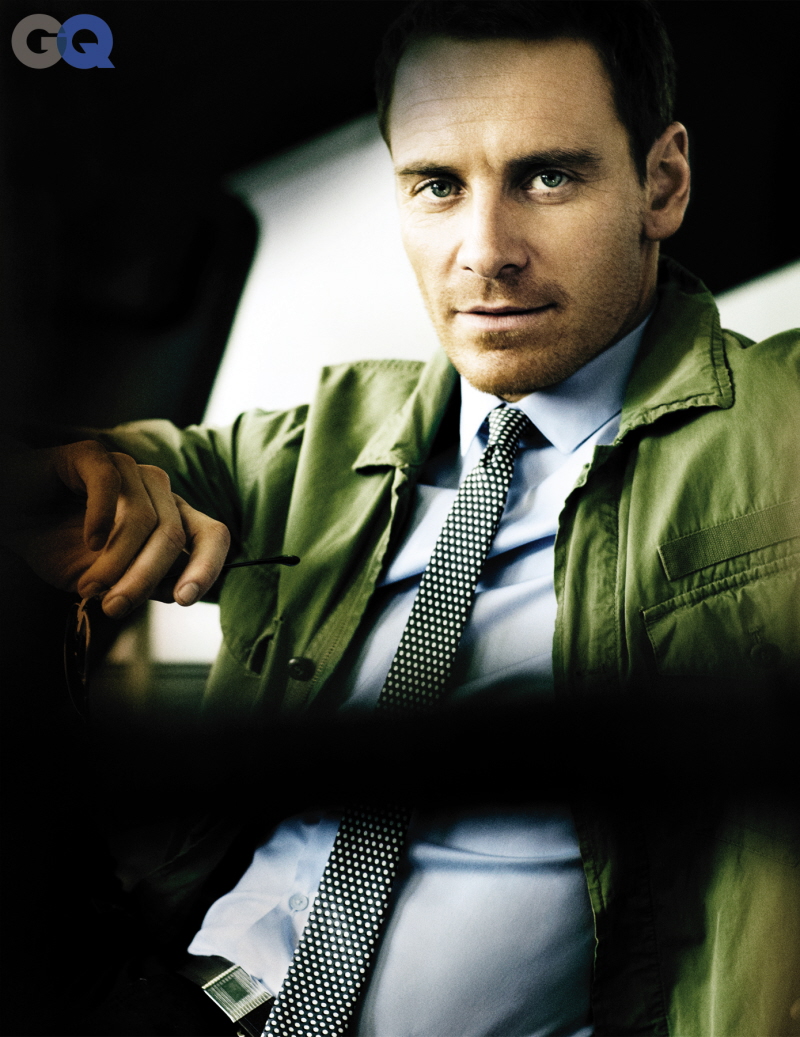 Photos courtesy of Mario Testino/GQ.