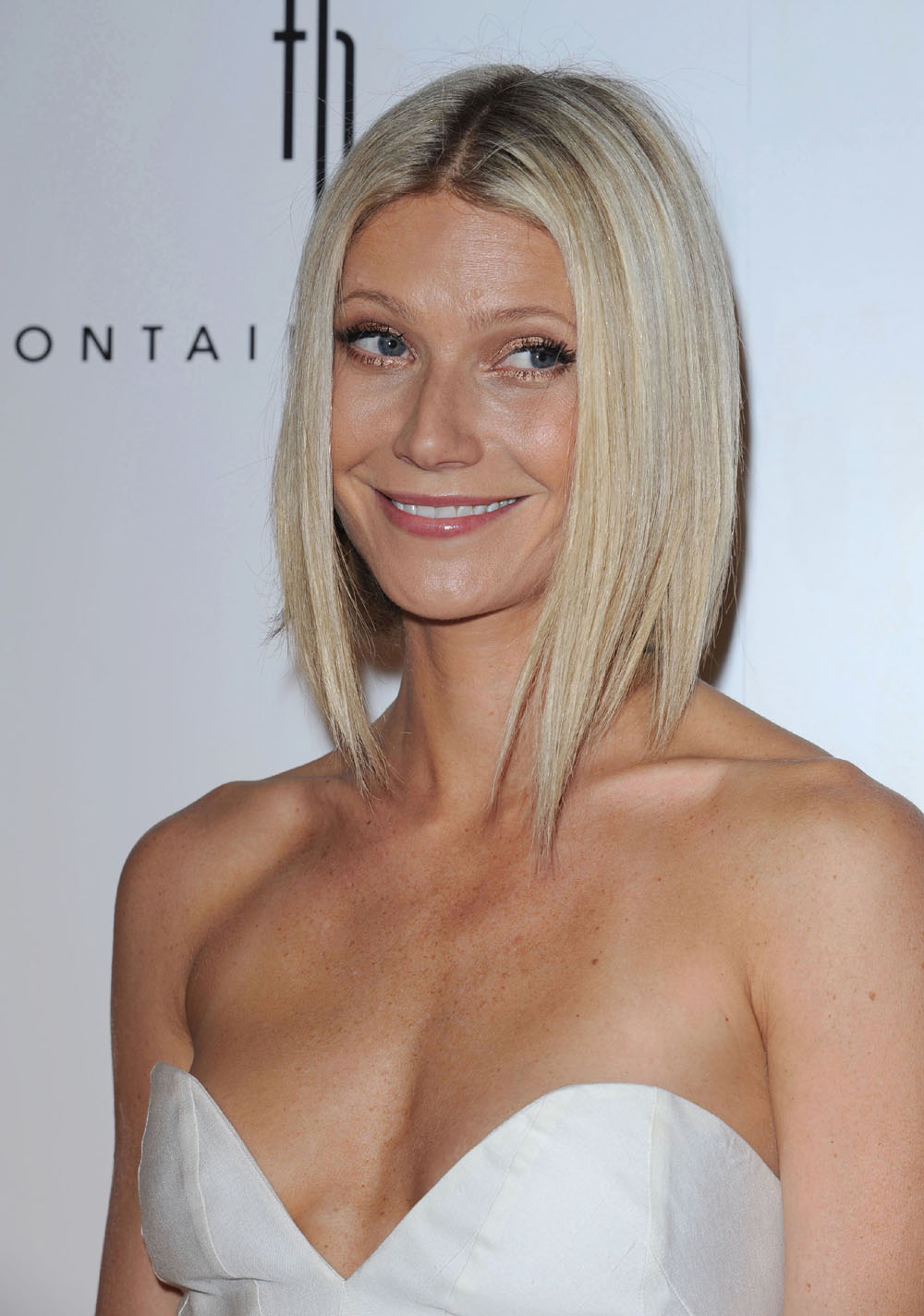 The rumors that actress Gwyneth Paltrow and her husband, Coldplay front man Chris Martin, are on the rocks have been swirling around for months. The couple, parents to Apple and Moses, are notoriously fierce about guarding their privacy and go out of their way not to be photographed together. It's hard to say which of them is driving that – I'd say it's Gwyneth, who was a regular tabloid staple during her engagements to Brad Pitt and Ben Affleck. But everytime one of them appears publicly without the other one, a new cycle of rumors begins.
IS Gwyneth Paltrow heading down the same marital path as her pal Madonna?

Paltrow raised eyebrows last weekend when she went to the Victoria's Secret fashion show at the reopened Fontainebleau hotel in Miami Beach instead of flying to see her rocker husband, Chris Martin, on tour with Coldplay.

One insider said, "Gwyneth flew down privately at the behest of [Fontainebleau Resorts owner] Jeff Soffer." Paltrow and Soffer – a billionaire bachelor who's regarded as Miami royalty – have become very good friends recently, insiders added.

Adding to speculation, Paltrow didn't stay at the hotel with other guests, opting to "stay at a friend's house instead for more privacy," a source reports. While attending the Victoria's Secret party and show, she "remained closed off in a private section and hung out with Soffer and Madonna paramour Alex Rodriguez."

On Friday, Soffer gave Paltrow a private tour of the hotel and then whisked her away in his Bentley. Saturday, she joined him on his yacht with her pal Kate Hudson.

Reports that Martin and Paltrow have been on the rocks for months have circulated in the press as they've refused to be photographed together. One wag snipes, "She spent the summer filming a TV show in Spain with Mario Batali and now, instead of hanging out with her husband, she goes to a Victoria's Secret show? Really? Gwyneth doesn't have anything to do with Victoria's Secret. If things were so great with Chris, why wouldn't she be with him?"

Adding fuel to the fire was the way Paltrow looked in Miami. "She was very, very thin," a witness noted. "She looked stressed out. And she certainly didn't act like a happily married woman."
"Raised eyebrows?" For real? This is a non-story, if you ask me. First off, Gwyneth can't really "hang out" with her husband right now, because Coldplay is in the middle of a huge world tour. What is she supposed to do, follow him around the world like some sort of groupie? Coldplay finish their last leg of U.S. tour dates this week before heading back to the U.K. and then to Japan. Why shouldn't she get out and enjoy herself once in a while? Secondly, when hasn't Gwyneth been "very very thin," except for when she was pregnant? And finally, the comment about her not looking happy: this is Gwyneth Paltrow we're talking about here. She's not exactly known around Hollywood for her beaming smile and bouncy personality. I'm not saying it's not possible that there's trouble in paradise for these two, but to make assumptions based on some pretty flimsy speculation doesn't convince me.
Header and gallery photos of Gwyneth Paltrow at the Fountainbleau Resort. Apparently she spend the evening hanging out with A-Rod. Photo credits: Bauergriffin. Chris Martin is pictured at the 2008 Q Awards in October. Photo credits: WENN.