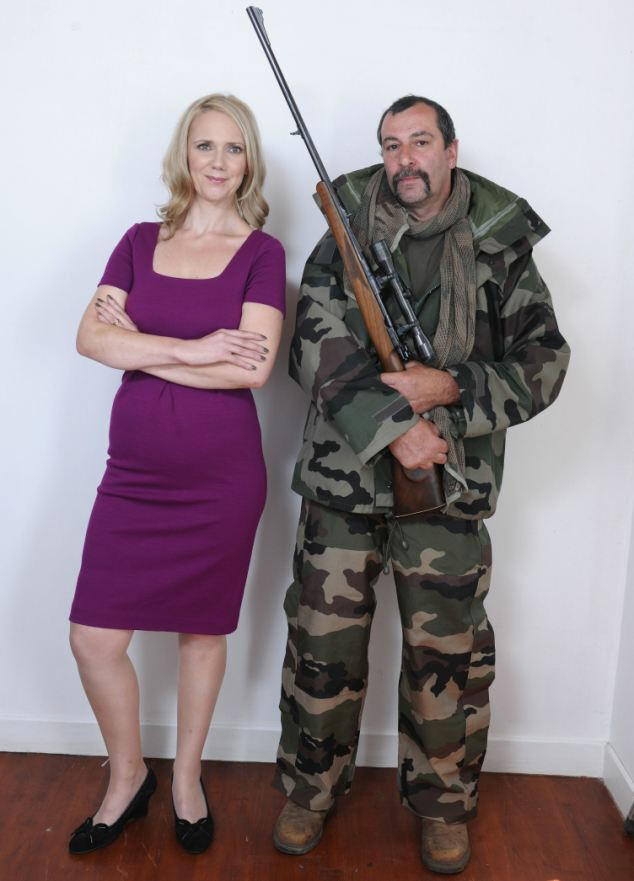 *Samantha Brick and her French husband, Pascal.
Back in early April, we were inundated by The Most Gorgeous, Amazing and Maligned Woman In The World, a Daily Mail columnist/essayist named Samantha Brick. I don't have the willpower to go through the whole sordid history – just check out our archives. The basic gist of the "scandal" was that Samantha Brick, a average-looking woman of scant intelligence, publicly claimed that she's been hated, criticized, held back and pushed aside by petty, jealous women all her life because all women feared her magnificent beauty and sexiness. Brick's first Mail essay went viral, and Brick ended up doing a slew of television appearances – I thought the best appearance was on a British morning show in which an attractive feminist deconstructed and destroyed Brick's JELLY H8R thesis bit by bit.
Well, Brick is back. And you know what? I get it. The Mail is totally trolling all of us. But does that mean that we can't call out Brick for her insanity and delusions? Why not? It's kind of fun (if you consider rage strokes "fun"). You can read Brick's new piece here, and here are some highlights – hint: this piece is all about how her marriage is better than yours because she submits to her controlling French husband. And her marriage is better than yours because she's so pretty, of course. Some of my favorite quotes from the piece:
*My husband sets me a £250 allowance each month for my wardrobe, I ask his permission before booking a hair appointment and discuss with him what I will have done. He even has an opinion — which I adhere to — on how I dress and what I weigh. He prefers I wear classic ladylike attire and, at 5ft 11in, he insists I tip the scale at no more than 10½ stone. In fact, he's there when I weigh myself.

*At this point, many of you will be thinking I'm little more than a trophy wife for my husband, Pascal, and you're right. I am a trophy wife — and what's more, I'm proud of it.
Pascal has built up a very successful business, he earns more than I do and I'm lucky enough not to need to bring a salary into the home, though I still work part-time to keep my wits about me.

*Pascal is a Frenchman with particularly traditional views. He is a decade older than me and unashamedly tells people he chose me for my looks. But that doesn't make me a designer-clad airhead who's only interested in getting my hands on his cash. People disapprove of relationships like ours because they assume love doesn't enter the equation — that our marriage is merely an exchange of commodities: my youth and good looks for his wealth. They couldn't be more wrong.

*Whatever else the naysayers may throw at us, I'm comfortable with my trophy-wife status for two reasons: Pascal and I are deeply in love and I adore being treated like a princess. And even in these egalitarian times, many people enjoy this kind of marriage — even if most are shy of the 'trophy wife' tag.

*I was in my mid-30s when I met my second husband, Pascal. From our first date I knew he was a man who cherished physical looks. He complimented me on my legs, my eyes, my figure. He would endlessly tell me how beautiful I was. He wasn't attracted by my career or my bank account. Instead he viewed me as a prize to be won and, to my surprise, I found his approach seductive. Pascal likes being a proper gentleman — the idea of going Dutch in a restaurant is abhorrent to him. On our first date it was the first time anyone, other than a chauffeur, had opened a car door for me. I loved it — it made me feel special. Throughout our courtship I received flowers, and was taken to boutiques, where he would hand over his credit card.

*Since the time of our blossoming romance, a day has not gone by where I haven't made an effort with my appearance. It pains me to read that women such as Hillary Clinton feel they've reached an age where they no longer need make-up.

*If a woman doesn't make an effort, it's perfectly logical that her husband will assume it's because she feels he's not worth making an effort for. Can you then blame a man for looking elsewhere? A trophy wife, however, would never make such a mistake. It's part of our job description to look good and support our husbands at all times. Pascal and I understand what the other wants. It's not something we've ever discussed, but we both know my role in our relationship is integral to its success.

*Most of the other wives are older and are focused on their families first, their husbands a poor second. My day is organized around my husband: isn't that what all wives should do? I know my place in the home — in the bedroom or the kitchen, I'm a consummate professional.

*A man who covets a trophy wife has nothing in common with those in-touch-with-their feelings metrosexual men. Accordingly, I don't witter on about PMT or yell at him when I'm stressed. That's what my friends and mum are for. If I'm poorly I keep out of his way. I knew from the start he was ill-equipped to deal with me when I'm not bright and cheery.

*I'd be lying if I said there weren't downsides to being a trophy wife. I know I'll have to maintain my figure and looks. Pascal is adamant that even as I get older, it's no excuse to let myself go. As a younger wife, you battle against the assumption you're a gold-digger crossing off the years until your beloved is six feet under. But I have my career and own income, so my lifestyle wouldn't suffer if I wasn't with Pascal.
One of her more interesting points was when she discussed her first husband, and described how she made more money than him and she ended up paying for everything in their marriage – which goes a long way to explaining how and why she ended up with a controlling bastard who provides her with financial stability (but no emotional support, it seems). It's not that I don't think Brick has the right to have whatever kind of marriage she wants – but I'm irritated that she seems to denigrate and deride women who make different choices, or women who just happen to be mothers or career women or, you know, any woman who doesn't want to be weighed-in by their husband every day. Ugh. This bitch.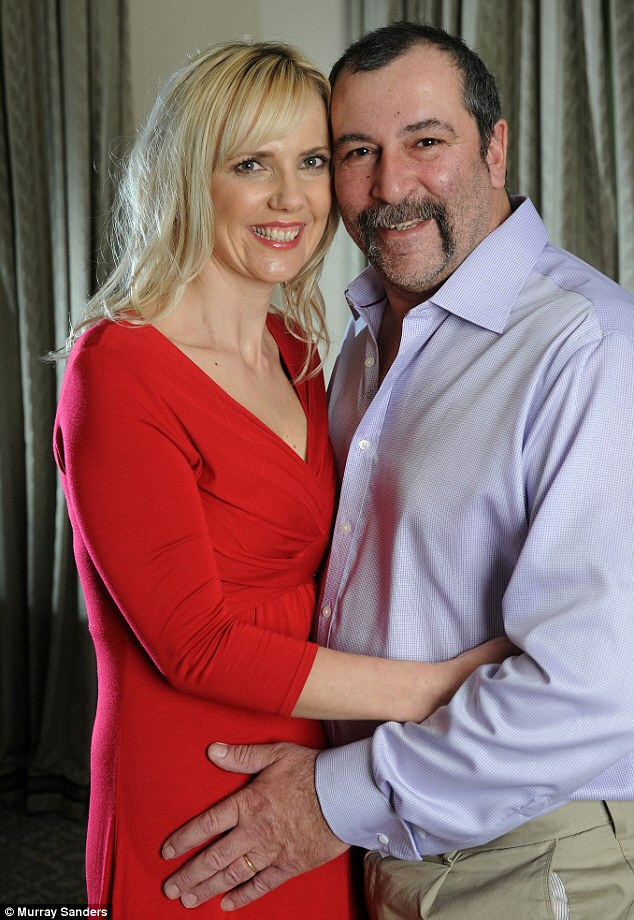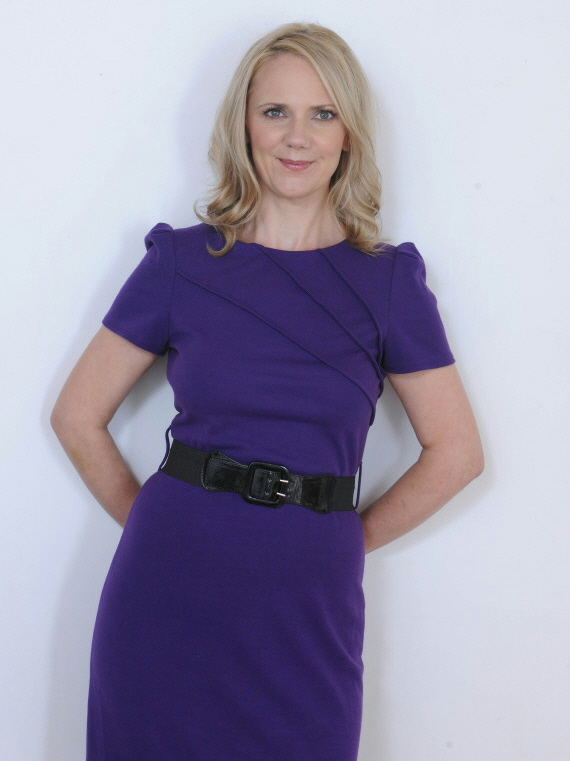 Photos courtesy of The Mail.