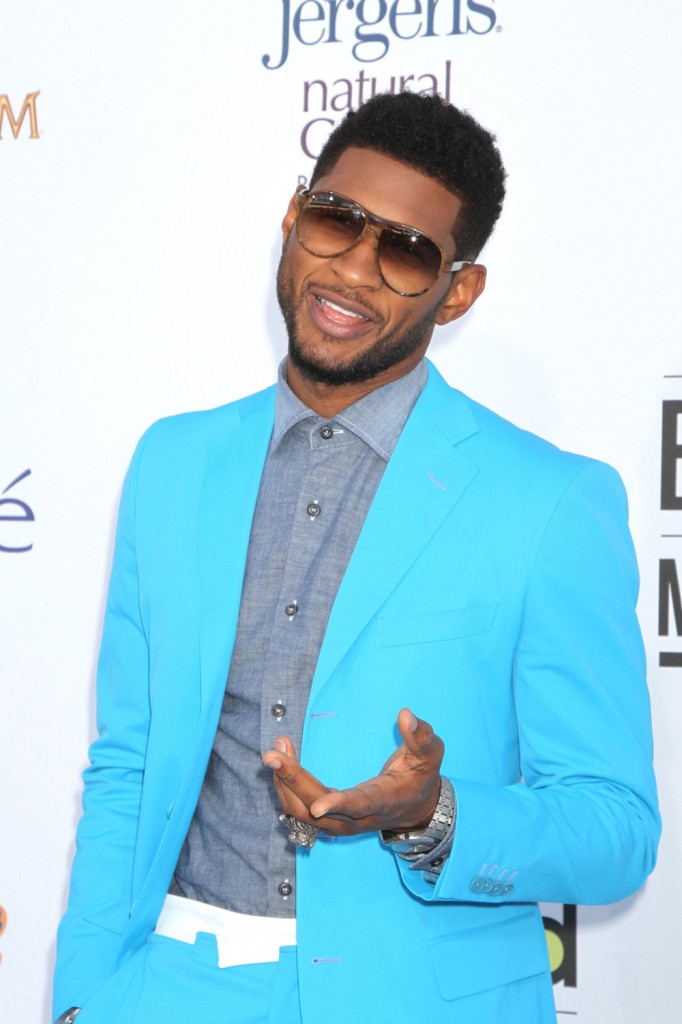 We haven't paid attention to the Usher custody drama yet, because to be honest the stories broke late in the day yesterday. This Usher story is juicy gossip-wise, but there are kids involved so that makes it more sad than salacious. As background, Usher and Tameka Foster divorced in the summer of 2009. They have two boys together: Usher Raymond V, four and a half, and Naviyd, three and a half. It's been about three years since Usher filed for divorce and they are still fighting over custody issues. It may have to do with the on-off nature of their relationship, at least toward the end of their marriage, (Usher's song "Papers" is said to be about Tameka) but it sounds more like petty fighting. If Usher's testimony is to be believed, it's all Tameka's fault.
As background, Usher, 33, has a history of dating older women and letting them take over as managers of his career. He did this with Tameka, pushing his mom out as manager, and he did this about a year ago with his current girlfriend, 44 year-old music executive Grace Miguel. Usher testified in court that during a routine hand-of of Usher, Jr., Tameka spit on Grace, took a swing at her, and threw a plate of food at their car. According to Usher, Grace was back in the car at the end of the driveway. Tameka got so mad at him for daring to bring him with her that she trounced down to the car and started screaming at Grace, saying things like "I'm going to kick your ass," and "Bitch get out of the car." When Usher tried to block Tameka from attacking Grace, she hit him instead.
Usher blasted his ex-wife in court today — testifying that Tameka Foster flew into a jealous rage, hitting him, throwing food, and worst of all … spitting on his girlfriend.

Usher took the stand in his ongoing child custody trial with his ex, and under questioning by his attorney, revealed how Tameka once went ballistic and "wanted to fight" … when he showed up at her house with his new sidepiece.

Ush testified Tameka walked to his car and said, "I'm gonna kick your ass. Bitch get out of the car. How dare you bring this woman into my subdivision in my house?"

He added, "She continued to spit. At this point she pulled the door open, tried to swing at her."

Usher claims he had to get out of the car and block Tameka … who then hit him. Usher said he pleaded with Tameka to calm down, but claims "she threw a plate of food at the car" … as he fled the situation.

You gotta hear Usher describe the intense showdown — and remember, Tameka previously testified she once told the gf, "I will f**k you up."
[From TMZ]
Usher seemed really earnest, and honest, when he was recalling this. (Video is below and available on TMZ) Either he's an excellent actor, which is possible since he's a celebrity and an entertainer, or he's telling the truth as he saw it. We've heard all sorts of stories about what a whack job Tameka is, so I believe it. Usher married her, though, and he knew what he was getting into, considering that he backed out of the first marriage ceremony at Clive Davis' house at the last minute. He probably realized within a few months that he never should have gone back and made it official.
TMZ has another clip from Usher's testimony, in which he cries over allegations that he's a bad dad and parties in front of his boys. He denied that, and it was hard to hear but I think they showed a photo of him smoking pot. He countered that he was in Holland at the time. This whole thing really made me feel sorry for Usher.
Usher is shown at the BMAs over the weekend. I actually like his blue suit. Credit: WENN.com. Tameka is shown in 2008