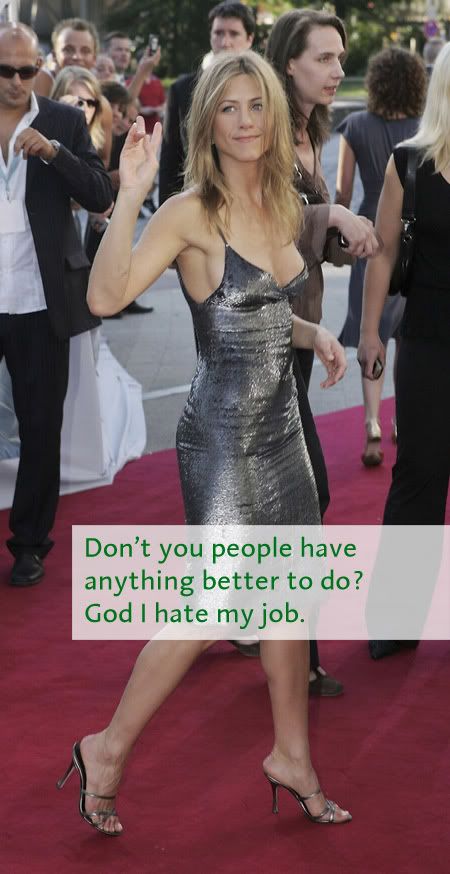 Update:
Old picture, new story. At the end of the story it's pretty clearly stated that this picture is old and that this news was circulating before.


Holy Moley, a weekly British gossip e-mail service that is similar to popbitch, is reporting that Jennifer Aniston has been visiting Vince Vaughn on the London set of his new film, and that she's quite obviously pregnant. I thought these two were broken up a long time ago, and if Aniston is in London why haven't we seen pictures? Oh, that's right, no one gives a shit about her any more.
Also, the power-players on the set (we all know it's the drivers) report than Jennifer Aniston has been dragging her huge chin there to watch her beau spin out strands of comedy magic, and she's quite obviously lugging a mini-Vince around in her womb as she's sweating for two.

The poor sods who have to do the real acting (learning words and not just standing there with a quizzical look and gurning), Paul Giametti and John Michael Higgins, are described as "lovely".
[From the Holy Moley weekly e-mail newsletter]
Holy Moley also reports that Vaughn is rewriting the script of his new film between takes, delaying production and probably costing hundreds of thousands of dollars.
I thought Aniston was pregnant when she looked a bit paunchy at the premieres of "The Break Up," back in June but that turned out not to be true. If she's pregnant now it might be just what she needs to get some publicity and get her career back on track. She most likely realizes this. I'm not saying she convinced Vince to leave the condom off or anything, but it seems possible to me – if this suspect gossip is even true. Life & Style was also calling her pregnant in June. It's possible she is visiting Vince and she just has a little bitty tummy.
Header image is from the German premiere of "The Break Up" in mid June of this year.