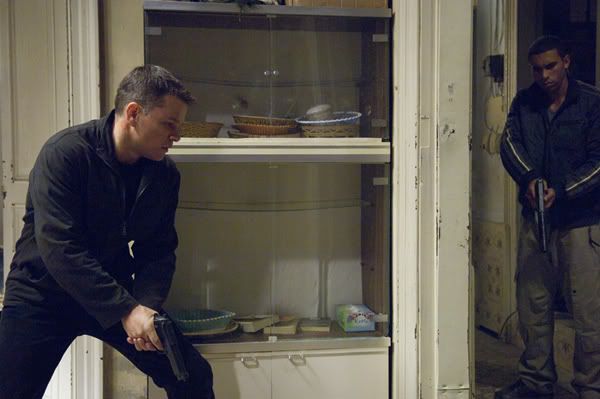 The Bourne franchise is a profitable one and Universal Pictures plans to cash in with another film following the chiseled amnesiac as he tracks down the source of the conspiracy that turned him into a killing machine. Bourne series author Robert Ludlum passed away in 2001, leaving only three Bourne books completed. Three additional books in the series have been written by Eric Van Lustbader, with another book coming out next year. There's plenty of material to create an action series to rival James Bond, and Universal has worked out a deal with Ludlum's estate so that they have exclusive rights to the Bourne character along with the opportunity to convert other Ludlum novels to film.
Universal Pictures has made an overall deal with the estate of "The Bourne Identity" author Robert Ludlum that gives the studio exclusive rights to the Jason Bourne character and first look at other Ludlum novels.

The deal with Ludlum Entertainment paves the way for more installments in the Bourne saga, which was originally envisioned as a three-picture series but has become Universal's answer to James Bond.

After the first three films grossed a total of more than $1 billion worldwide, U signed Matt Damon and director Paul Greengrass for a fourth film that George Nolfi is penning. Produced by Frank Marshall and Ludlum Entertainment chairman-CEO Jeffrey Weiner, the film will be readied for a summer 2010 release.

Weiner will take offices on the Universal lot as part of the deal and hire development executives as the company takes an active hand in developing projects, including some not based on books by Ludlum. Weiner was the author's accountant for 16 years before being tapped by Ludlum to be estate executor and to run the holding company that produces his movies and publishes his books and videogames.

"Universal has done such an excellent job with the first three films that they deserve the opportunity to keep Jason Bourne at the studio forever," Weiner told Daily Variety.
[From Variety]
I love the Bourne movies, they're such a masterful mix of action and real emotion without being too glossy.
After the third movie came out last year Damon categorically said it would be his last and that "I'm definitely done with that. I think we've ridden that horse as far as we can. The character lives on in the books and if someone else wanted to play it, I guess they could." He also said that he felt old doing the fight scenes at 36 and that "I definitely felt my age [on set]"
Damon is 38 now and he must have realized that a big chunk of cash for his growing family would make it worth it for him to revisit the character. He's back in shape after gaining a lot of weight for his role as a troubled executive in the The Informant. He'll make a good Bourne well into his 40s and there will be fans as long as he's willing to play the role.