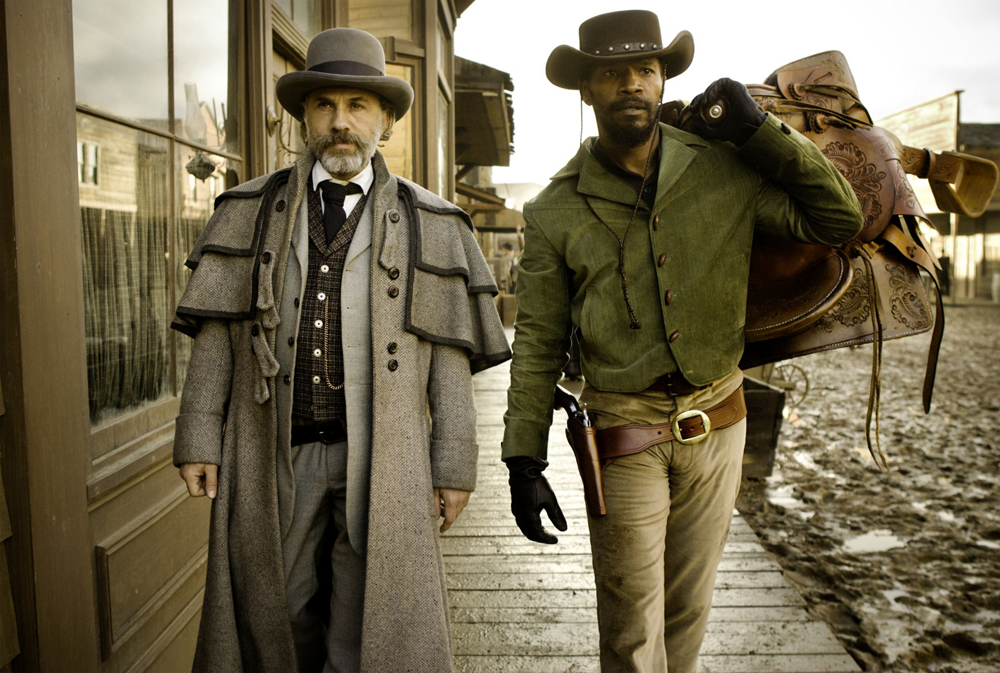 Confession time, y'all: Quentin Tarantino is my favorite director in the entire universe, and I was very ashamed for doubting his judgment after the commercial failure of Grindhouse when he really pulled off Inglourious Basterds on a (near) masterful level. For quite awhile, I was really nervous about how Basterds would turn out, but once I saw that movie's teaser trailer, all fears were immediately dispelled. So I was pretty pumped for the eventual arrival of a trailer for Django Unchained, but now I find myself somewhat deflated.
The new teaser trailer for Django Unchained debuted last night even though the movie doesn't come out until Christmas Day. First off, it seems way too early for a teaser trailer because — just last month — QT was still attempting to resolve some casting issues left by the void of Sacha Baron Cohen. Granted, Cohen was slated for a role that's something of a cameo in the vein of Mike Myers' part in Inglourious Basterds, but it still seems like a big rush to the trailer altar to get something (anything?) ready to play in front of the big summer movies. Promotion is everything these days where movies are concerned, but I just don't know here. Indeed, this trailer seems like a rushed product, which would make sense because, according to Paste Magazine, this trailer is essentially "an edited version of the ten minutes of footage Tarantino premiered at Cannes" just a couple of weeks ago. Dare I say that the tragic loss of QT's long-time editor, the amazing Sally Menke, has already had a signficant effect on QT's output? Check out the trailer, and we'll discuss below:
For those unfamiliar with the plot of Django Unchained, Jamie Foxx plays the titular Django, who is a freed slave that discovers his wife (Kerry Washington) has been captured by slave owner Calvin Candie (Leonardo DiCaprio). Django is aided by Dr. King Schultz (Christoph Waltz, actually playing a sort-of-good guy for once), a German bounty hounter. The trailer's declaration of "Life, liberty, and the pursuit of vengeance" certainly will satisfy many fans of QT's style while allowing him to also make a mark upon the Western genre with a Southern twist. Honestly, I'm not sure whether I like this trailer or not, but I'm hoping that Tarantino will prove me wrong again. Part of the problem is that I'm not much of a DiCaprio fan and have always found his acting to be overrated. Here he's mugging it up so much for the camera that it's hard to take the entire trailer seriously, and I think QT has been a bit too obvious with his choice of music as well. Hopefully, the film's further promotion will be more promising than this mess. Don't break my heart, QT!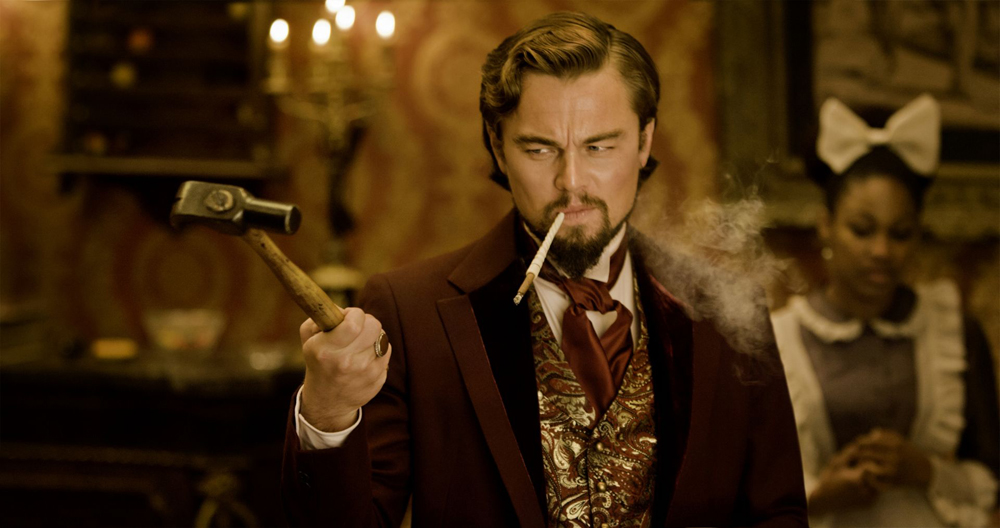 Oh and … Christoph drinking a very important beverage at a very important table during an obviously important scene in the movie? Oh Tarantino, you so crazy.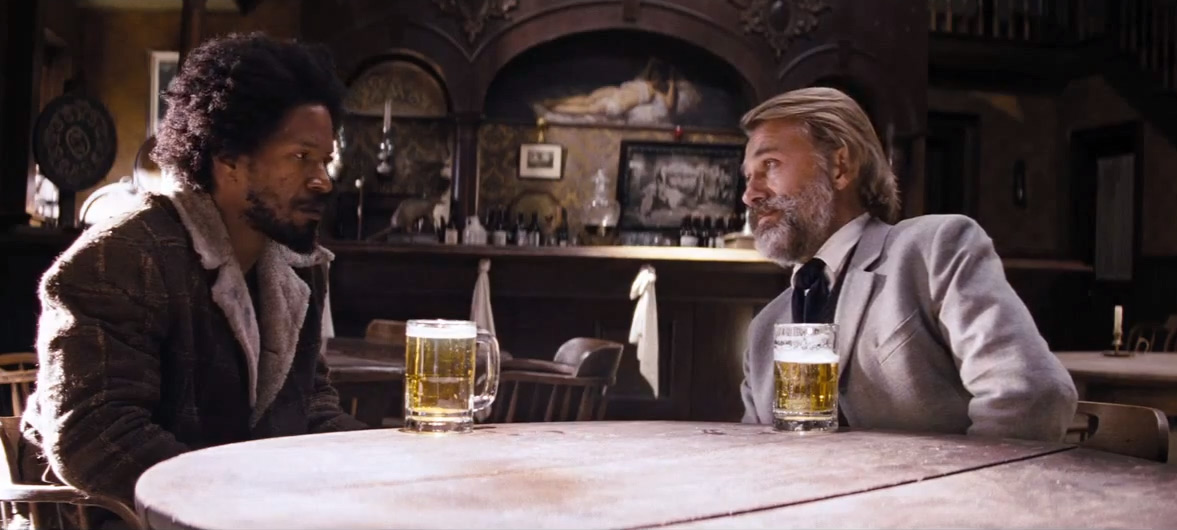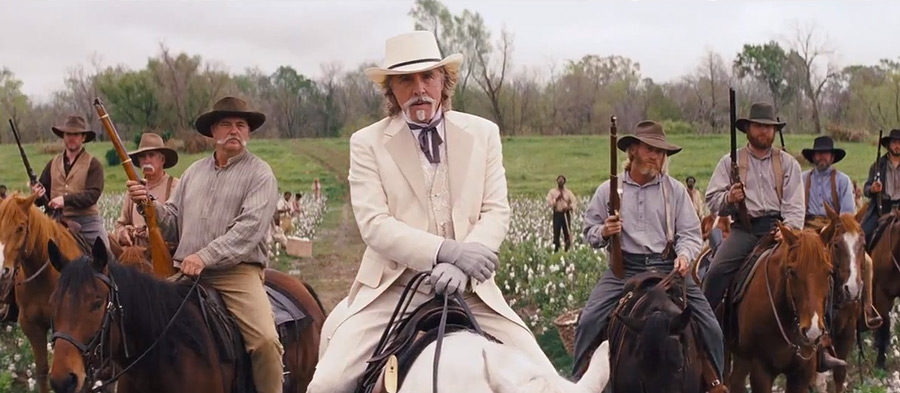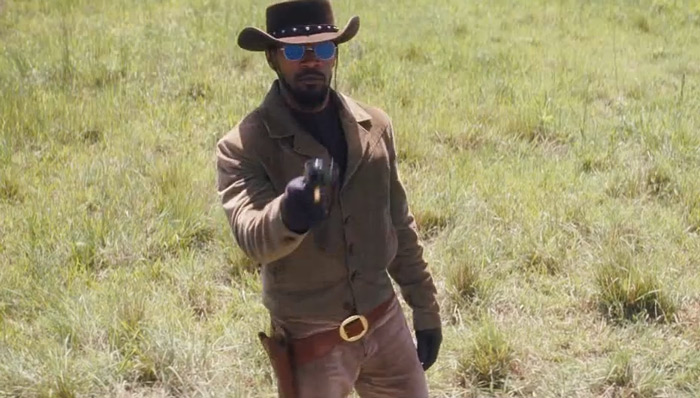 Photos courtesy of AllMoviePhoto