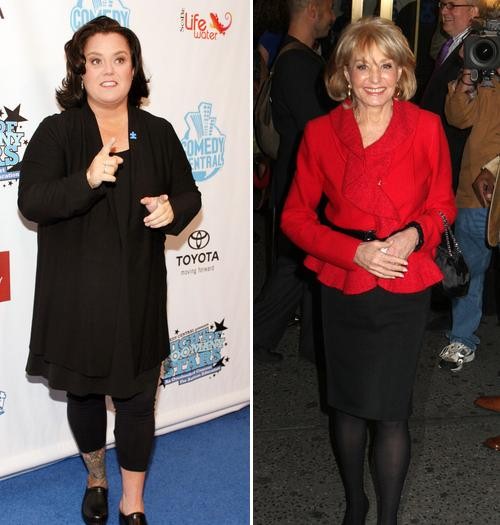 Rosie O'Donnell and Barbara Walters are in quite the feud – bashing each other publicly on various shows (and the internet). Rosie says Barbara tries to make it look like all the women of "The View" are BFFs off the set when in fact they aren't. She's not saying they're constantly fighting or anything, but they don't hang out and don't have the relationships Barbara tries to paint.
Barbara Walters, [Rosie] told reporters on Wednesday morning, "wanted everyone to believe and think and act as if [the women on 'The View'] get along and are really good friends and happy and hang out together, and, you know, that's just not the reality.

"I'm not saying they loathe each other, but the fact of the matter is, there was not a lot of camaraderie off camera." O'Donnell famously exited the ABC daytime talk show after months of politically charged bickering with her co-hosts, among them Elisabeth Hasselbeck, who came under scrutiny again in this election year as the show's only staunchly conservative voice.

But she conceded "arguing about politics is not the best use of my talent." "I didn't grow up thinking, 'I hope I can talk about politics.' If you watch my stand-up comedy, I talk about my life, my family. It only became about [politics] with the job on 'The View.'
[From the Huffington Post]
Barbara responded with an angry tirade on "The View," telling Rosie to "get on with your life."
Barbara Walters made a dig at former "View" host Rosie O'Donnell on Thursday. "There are some people who have done the show and then for years feel they have to dump on it… I resent it. If the shoe fits, lady, ladies, get on with your lives! We are not perfect. We are not always happy."

Joy Behar and Elisabeth Hasselbeck agreed and Elisabeth singled out "one [year] more difficult than others".

Within seconds Walters was being told in her ear by the control room to "get on with it" and the subject was dropped.
[From the Huffington Post]
Rosie responded to Barbara's rant with a video blog on her website. She makes a few funny jokes like implying the "lady/ladies" Walters was talking about were really Star Jones and Debbie Matenopoulos. She then plays the line from Eminem's song "Without Me," that goes, "Two trailer park girls go around the outside."

The feud seems to have ended (or is at least paused at this point) with Rosie going on Conan O'Brien's show and sarcastically joking about what great friends they all are, and how thankful she is to the show. She noted: "Everyone is real good friends. They hang out together. They all go to [TGI] Fridays and have potato skins… I don't want to dump on the show… to use it for publicity, because I didn't have a career before that show. I'm very thankful to The View, for the help it's given me in my life."
What an exercise in needless melodrama and childish behavior. I don't want to give them too much credit, but frankly I think both Barbara Walters and Rosie O'Donnell are too intelligent and too capable of doing good when they want, to sink to this level. They both appear petty and small, and it makes me lose respect for them and feel disinclined to listen when they have something worthwhile to say.