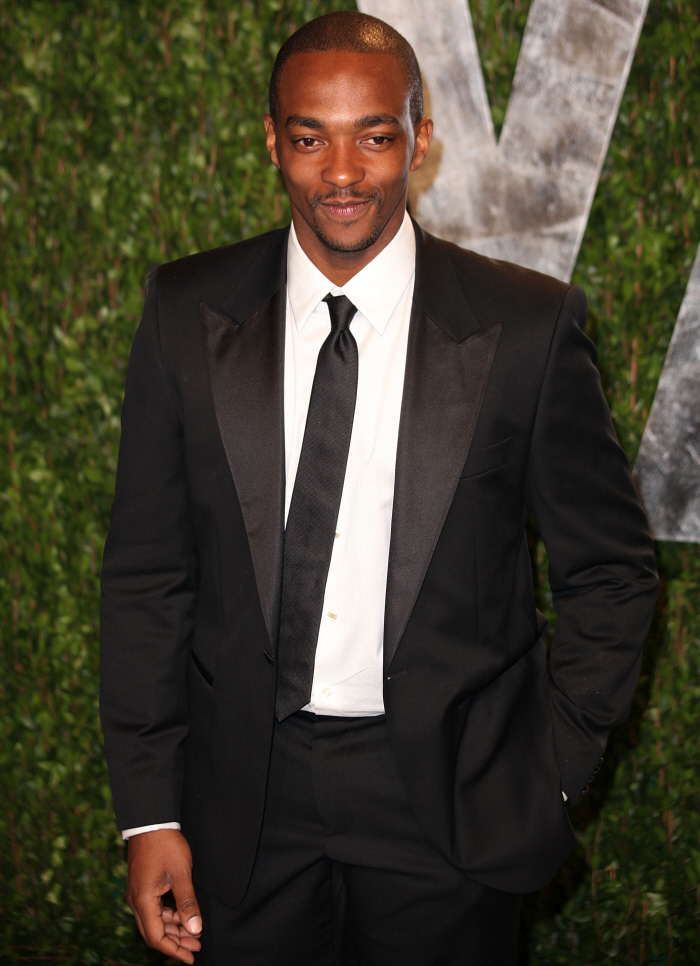 Our friend and official tabloid-scanner Stacie alerted us to this wonderful Anthony Mackie interview in the last issue of Elle Magazine. Mackie has steadily joined the A/B-list cusp over the past few years, especially since his ballsy, amazing performance in the 2010 Best Picture Oscar-winner, The Hurt Locker. Jeremy Renner got a lot of attention from that, but please remember that Mackie gave an incredible performance too. Mackie's IMDB is diverse, and he's been working constantly for a decade. But before today, I never realized that he was A) Only 32 years old, B) A true Southern boy from New Orleans and C) A graduate of Julliard. He's also a really good interview, and he gets high fives for his sexual performance. So he says! Here are some highlights from his Elle piece:
On if a woman has made him cry
When I first got out of college, I met this girl, and I was like, 'I'm getting married. This is the one.' We'd been dating for two years. She was in graduate school at Northwestern – an amazing girl from a well-to-do background. And, you know, I was me: a poor kid from New Orleans. I go to talk to her dad [to ask permission to marry her] and he said 'I would never let my daughter marry one of your people.' Whoa to the whoa! I got back to Chicago and told her, 'You need to stand up to your dad and tell him what's up.' She said… 'No.'

On if women slip him their numbers at his bar in Brooklyn (he often mixes drinks)
I have buffers to take care of that. I'm not there to meet kids.

On if he's ever had a problem with a woman and her weave (the interviewer asked)
Yeah. I'm a certified scuba diver, right? I dated a girl once, and I wanted to go on vacation and take her scuba diving, to dive these shipwrecks off the Dominican Republic. But she didn't want to get her weave wet.

On if love scenes are awkward for him
Not everybody is good in bed. Even simulating sex – if you simulate it in a bad way, it's really bad.

On if he's saying he's a good lover
In my present relationship, I get high fives for my performance.

The best advice he's received about women
My uncle said, "Listen more, talk less."

On if he compares women to his mom, who passed when he was young
I try not to, but it's inevitable. I was a mama's boy. You grow up being taken care of, and you expect someone to take care of you like that. Not like burping you and wiping your ass, but if I have a bad day, listen to me talk about my bad day. It's the yin and the yang. When you come home from work, I'll rub your feet and listen to how the women in your office are all out to get you. But people are so selfish now. There's a whole lot of yin and no yang.

On the difference between women in New York and New Orleans
Women in New York are always looking for something better. No matter the real estate I owned, the movies I did, in New York there was always the possibility that Puffy might walk in the room – and suddenly I didn't have a girlfriend anymore. In New Orleans, women are willing to take you as you are and grow with you.

On meeting his girlfriend in third grade and reconnecting
She used to beat me up for my lunch money. When we met again, I said, 'You're buying dinner because you took my lunch money for two years.'

On what turns him on about his girlfriend
She's profound. She's creative. And she has a credit score over 700. When I first meet a girl, I'm like, 'When was the last time you had your credit run? What was that score? Oh, 582? Good luck, good luck.'

On how his girlfriend supports him when he's doing theater
To close out the subject, I'm dating my third grade girlfriend because every time I do one of those plays for 400 bucks a week, she supports me 100 percent. A lot of athletes and actors are starting to come up broke because they don't know the difference between net and gross. When you hit that 50 percent tax bracket, a whole lot of sh-t becomes real.

On if he's going to marry his girlfriend, with whom he has a three year-old son
That's the million dollar question. Marriage, it's an interesting beast. All my friends who are married are desperately unhappy. Every single one of them. If they're not getting divorced, they're on the doorstep of getting divorced. And I'm as happy as a gay dude in the West Village. If it ain't broke, don't fix it.
[From Elle Magazine, July 2012 print edition, thanks Stacie!]
Sigh… CB and I are now in love with him. He seems smart and classy and interesting. And I can't imagine how ANY father would say, "I would never let my daughter marry one of your people." For the love of GOD. Do people still say crap like that? I also love the statement: "A lot of athletes and actors are starting to come up broke because they don't know the difference between net and gross. When you hit that 50 percent tax bracket, a whole lot of sh-t becomes real." I love a man who talks about money realistically. Ladies, get yo' credit score.
Update by Kaiser Anthony was talking his entire tax situation – income tax, plus the self-employment tax, plus Social Security (not really a tax, but it's still money you don't have in your pocket right now), plus state and local taxes (for properties in NOLA and NYC), plus he's part owner in a New York bar, all of which would take his tax situation close to 50% if not higher.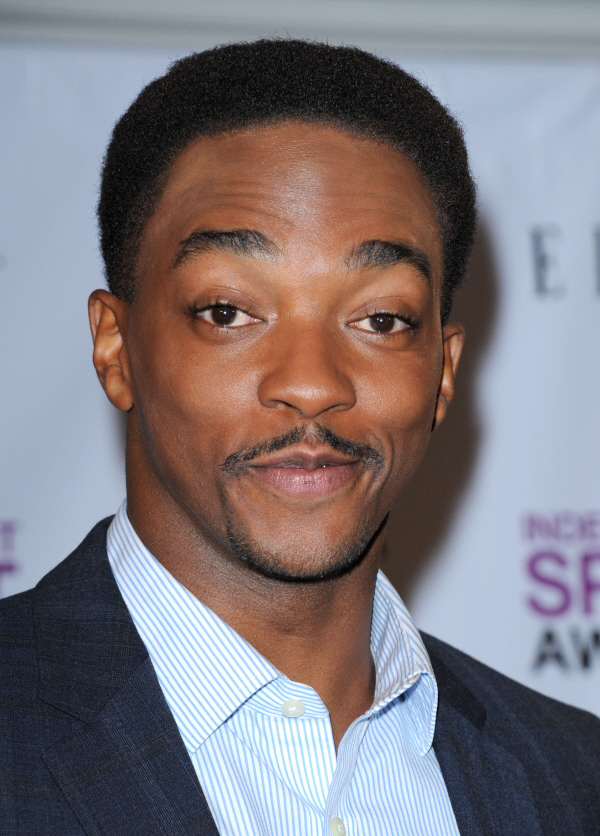 PS… the photos of Anthony in that green & black thing are from the set of 'Pain & Gain' – he's in character as a bodybuilder.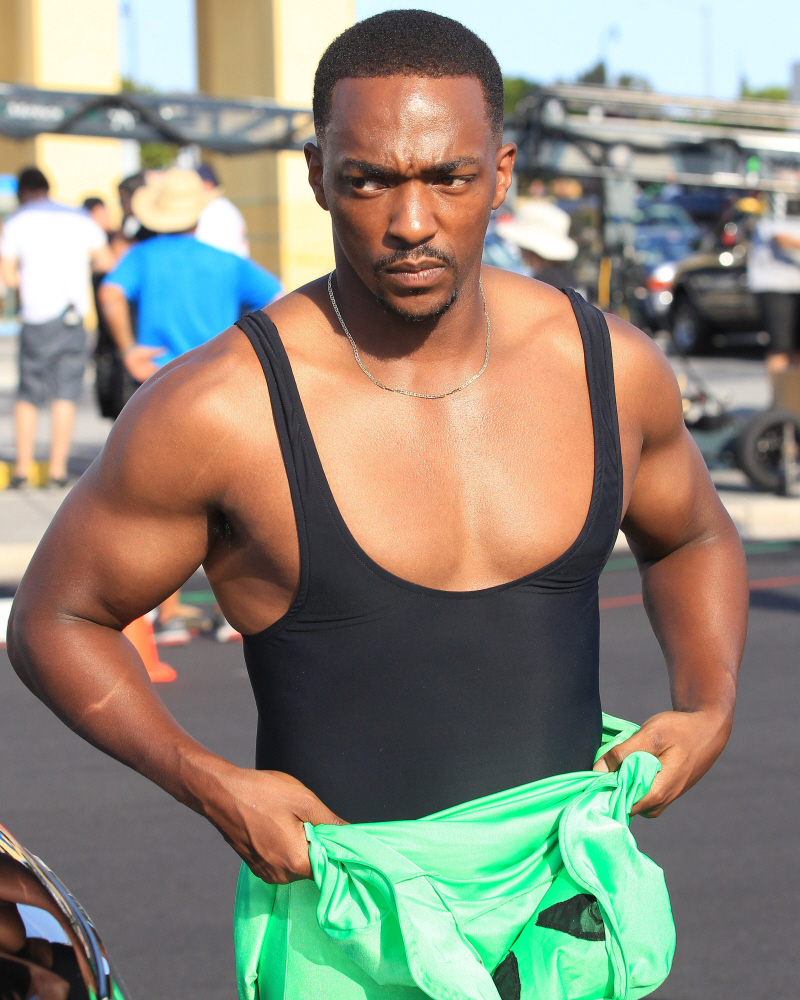 Photos courtesy of Fame/Flynet and WENN.