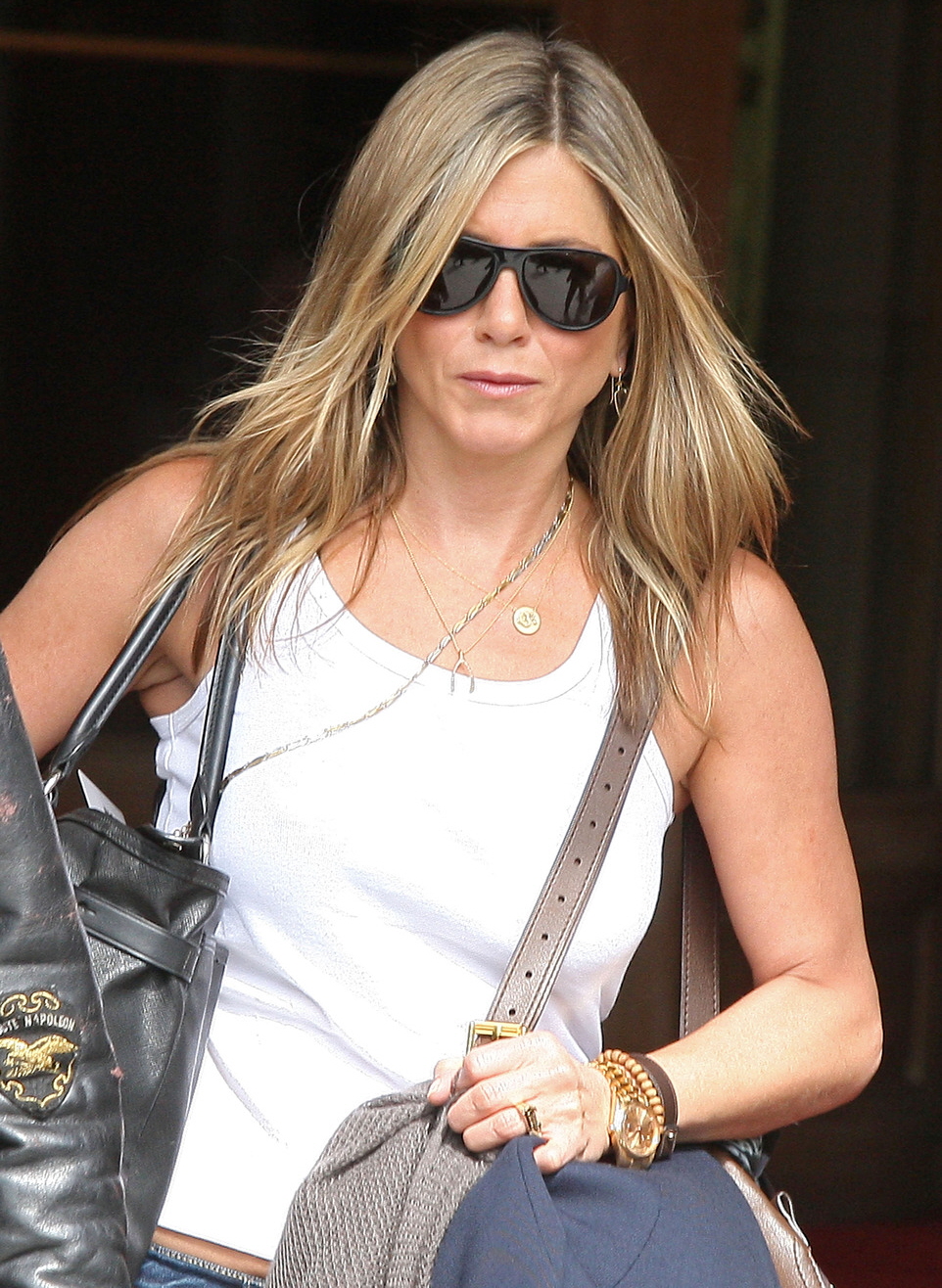 I'm not a big fan of Aveeno products. They just don't agree with my skin at all, although I know some people who swear by Aveeno, and God bless. I will say this – Aveeno has a good reputation, and they've branded themselves well. When I think of Aveeno, I think of clean-living, well-made, uncomplicated skin and hair care products. So who should be "the face" of such a brand? Someone with a reputation for clean living and an uncomplicated lifestyle? Perhaps. Page Six reports that Jennifer Aniston has been offered an eight-figure deal to represent Aveeno. Hm.
Jennifer Aniston has been offered an eight-figure deal to become the next face of Aveeno, a brand that sells natural-based skin- and hair-care products.

A source told us, "Jennifer would be great for the brand because she appears to be very natural. The deal, still being negotiated, would be worth a lot of money, certainly eight figures."

Aveeno's current TV face is dark-haired, Dutch-born model-actress Daniella van Graas. Reps for Aniston and Aveeno didn't get back to us.
It's certainly an interesting development for Aniston, and I don't think it would get in the way of her other endorsement deals – she's one of the faces of SmartWater and…? Is that it? It's sort of surprising to me that she doesn't currently have any kind of beauty contract. No makeup deal? No hair care endorsement? She did have her perfume, Lolavie, which became "Aniston by Jennifer Aniston" or whatever. And I never heard of her perfume after the initial buzz. Anyway, sure – it sounds like a good deal, and Aveeno products would line up perfectly with how Aniston has "branded" herself. And an 8-figure deal would buy a lot of booze.
In other Aniston news, the host of The Bachelorette wants Aniston. This is such a dumb story:
Would Justin Theroux get the final rose? Chris Harrison, ABC host of The Bachelorette, has put Jennifer Aniston on his wish list for the next Bachelorette — even though she's in a new relationship with Theroux.

"I've always said Jennifer Aniston would be good," Harrison told Hollyscoop, "because she seems so unlucky in love."

But a pal of the star told Us Weekly that the 43-year-old actress' relationship with actor Theroux, 40, is a big change from her exes like Brad Pitt and John Mayer. "He makes her feel safe and secure when she's with him. A lot of her insecurities melt away," the pal told Us of the Wanderlust costars. "Their relationship is completely different than any of her other ones. Everything about Justin feels right."
Yes, Jennifer and Justin are super-duper IN LURVE. It's "different"! Because it's always "different" whenever Jennifer gets a boyfriend. I believe JustJen are for real, but let's face it – she's the girl who cried (different) wolf.
PS… LOL, I just noticed that Justin is carrying a Louis Vuitton bag. OMG HE'S TEAM JOLIE.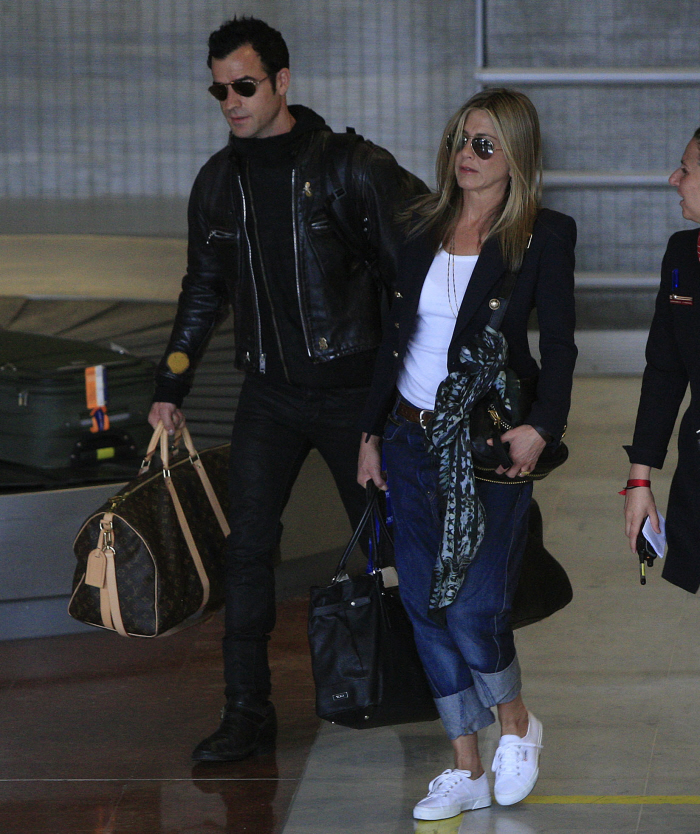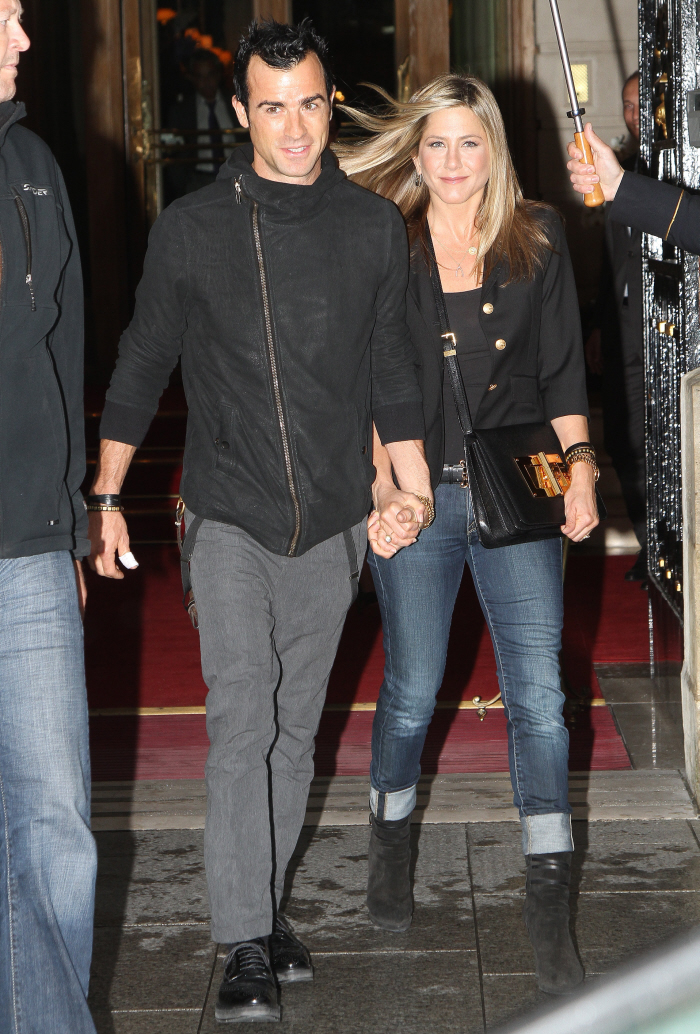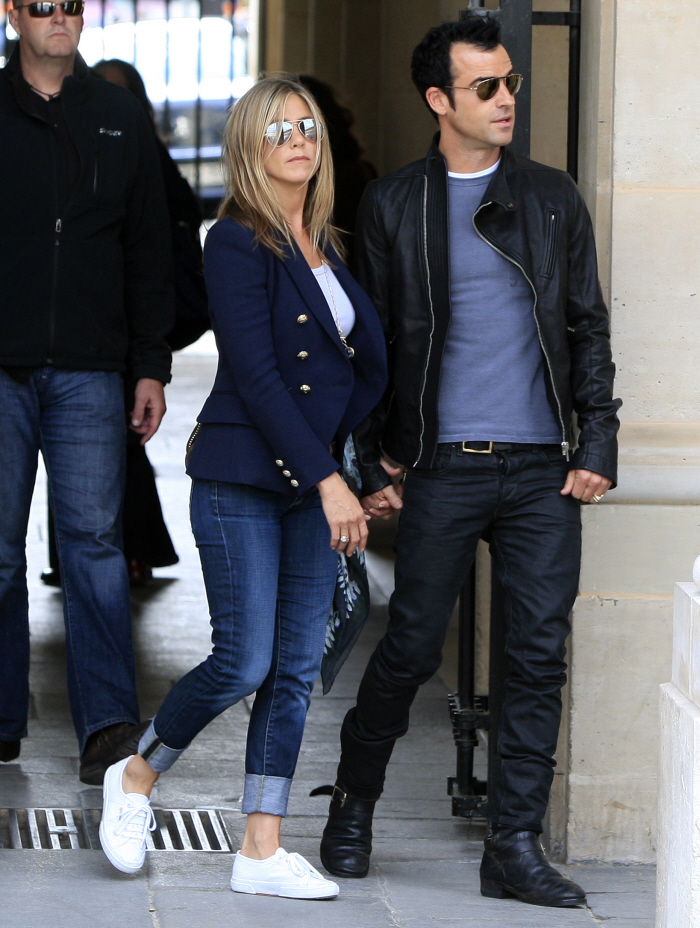 Photos courtesy of WENN and Pacific Coast News.