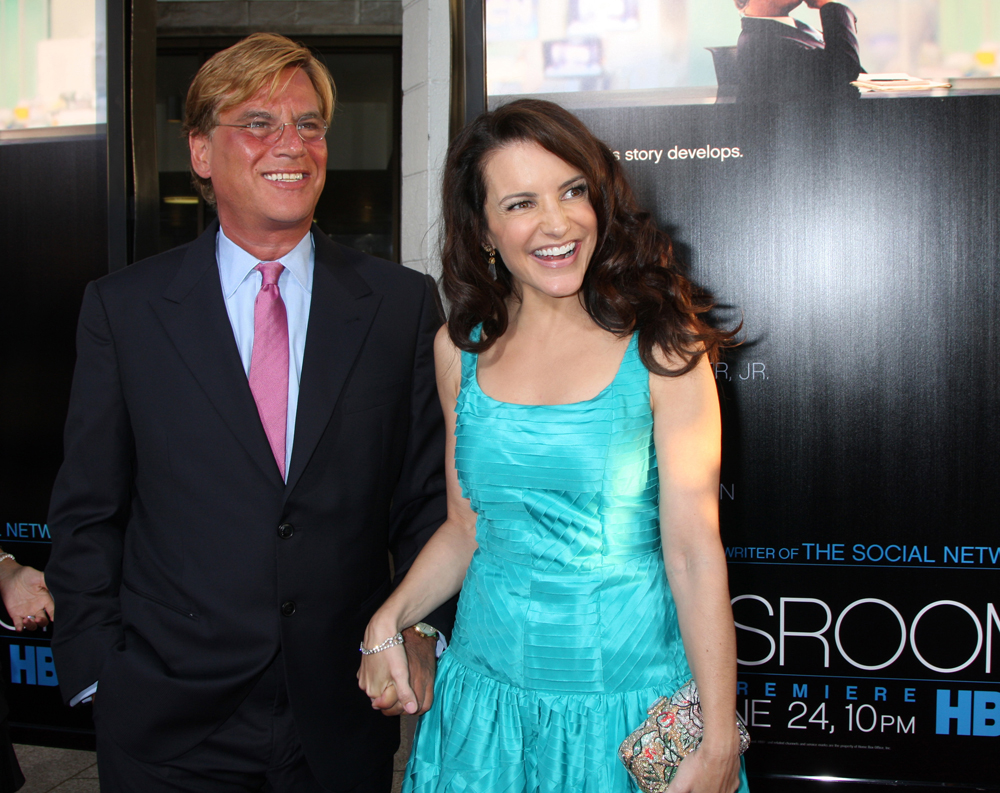 At last night's premiere of HBO's "The Newsroom," a little bit of steam was present on the red carpet, and it wasn't coming from hopeful suspect Olivia Munn. Instead, there was a hot new couple on the scene in the unlikely form of Aaron Sorkin and Kristen Davis. Okay, so "hot" is a relative term when it comes to Sorkin, but he's an obviously intelligent man, which is an attractive trait in its own right. As for Kristen, I've always found to not only be impossibly pretty but also a very underrated actress. She went from playing a psychotic, obsessive freak in the original "Melrose Place" to playing goody-two-shoes Charlotte in "Sex and the City," but she's unfortunately been relegated to "mom in the background" types of roles ever since then. Anyway, she looks quite taken with Aaron and he with her. From Us Weekly's take on the topic, it sounds like they've been attracted to each other for quite awhile and have just recently decided to take the plunge into dating in a very public way: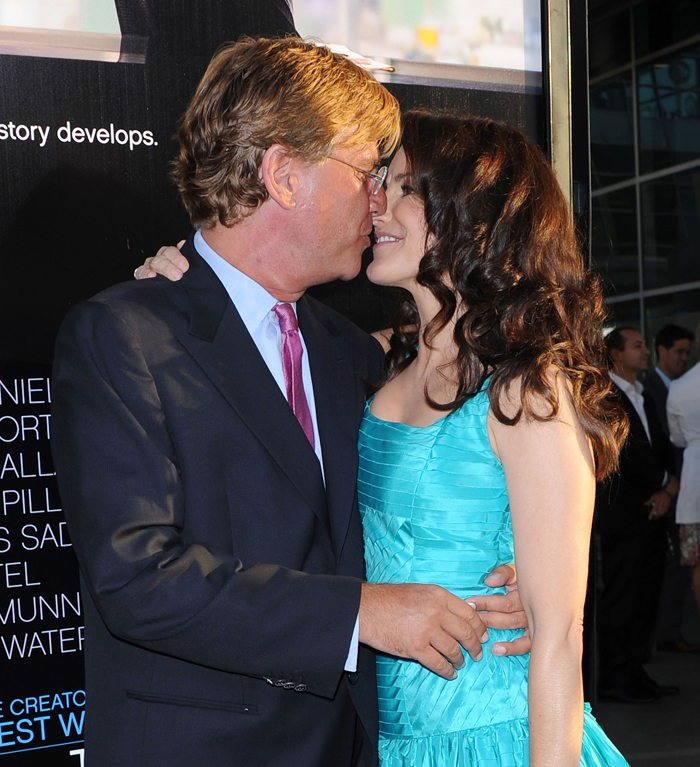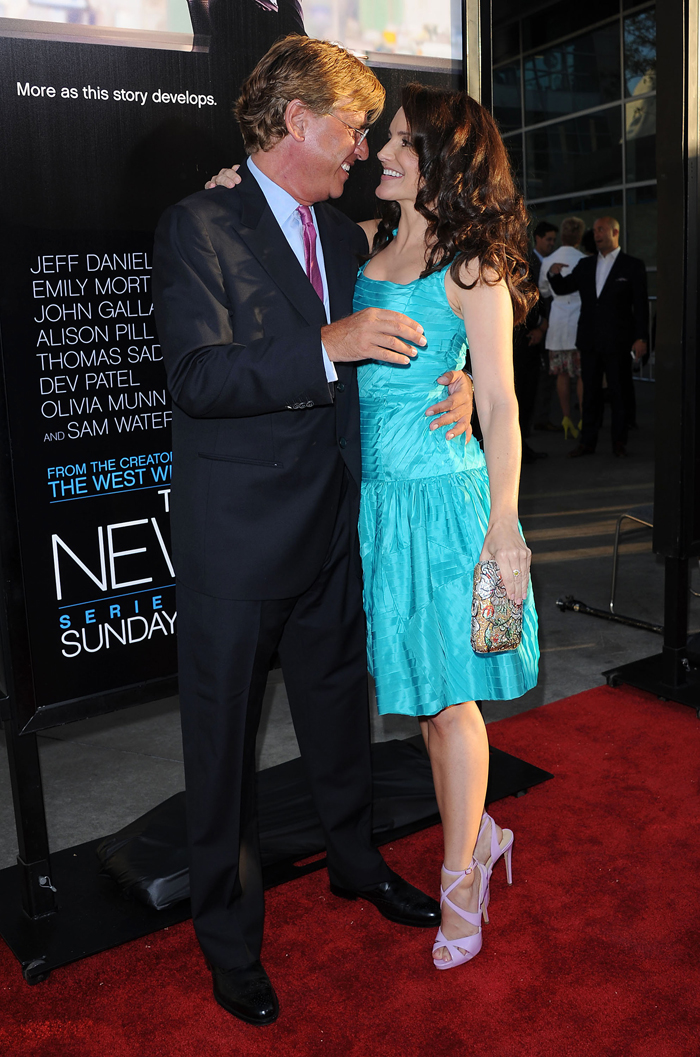 New love in the city for Kristin Davis!

After weeks of speculation, the "Sex and the City" star, 47, and famed screenwriter Aaron Sorkin confirmed their rumored romance — with a passionate kiss on the lips on the red carpet at the Los Angeles premiere of HBO series "The Newsroom" Wednesday night.

With plenty of cameras present to capture the moment, 51-year-old Sorkin (creator and executive producer of Newsroom) grabbed Davis and gave a long, lingering kiss. Davis, pretty in an A-line aquamarine dress and strappy stilettos, grabbed her new man by the shoulders.

"They are really happy," a source told E! News in late May. "They have actually known each other a while through mutual friends and would sometimes bump into one another at industry events, but it has only just turned into something more."

The Oscar-winning screenwriter divorced Julia Bingham back in 2005; they share daughter Roxy, 12. Never-married Davis adopted a baby girl, Gemma, last year.
[From Us Weekly]
Good for Kristen and Aaron. They have that look of smitten romance, and who knows? This could be something real. As for "The Newsroom" vamp-in-residence, Olivia Munn, she was there too and gorgeous in white but also looking pretty full of herself as well. Kaiser mentioned that Olivia was holding herself out as if "she's arrived," but I'd like to note that her name isn't exactly top billing on that poster behind her. Still, this show is a great opportunity for Olivia to show her stuff, if she's got it, and only time will tell on that note.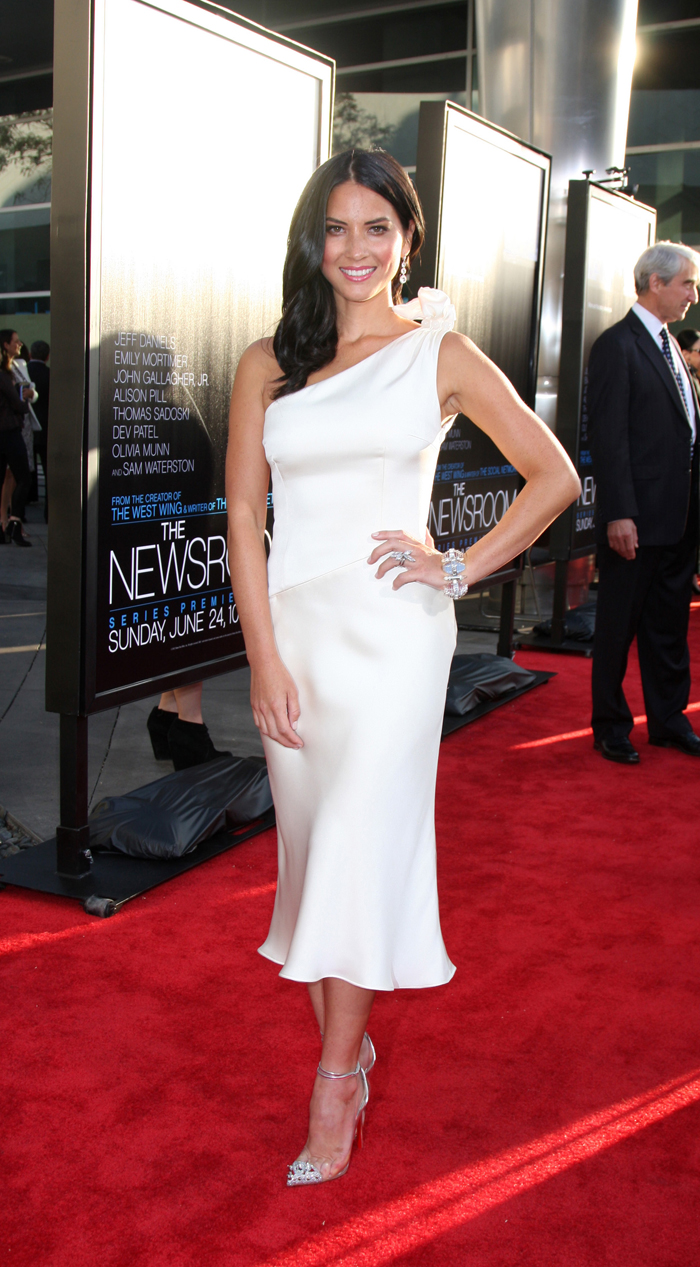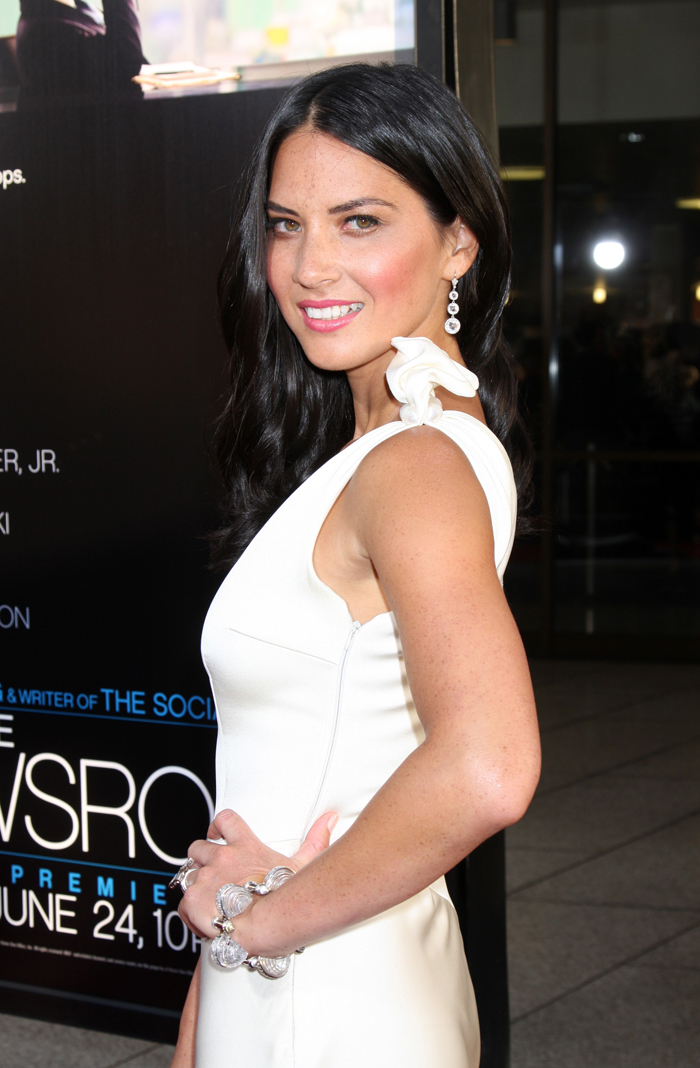 Photos courtesy of WENN