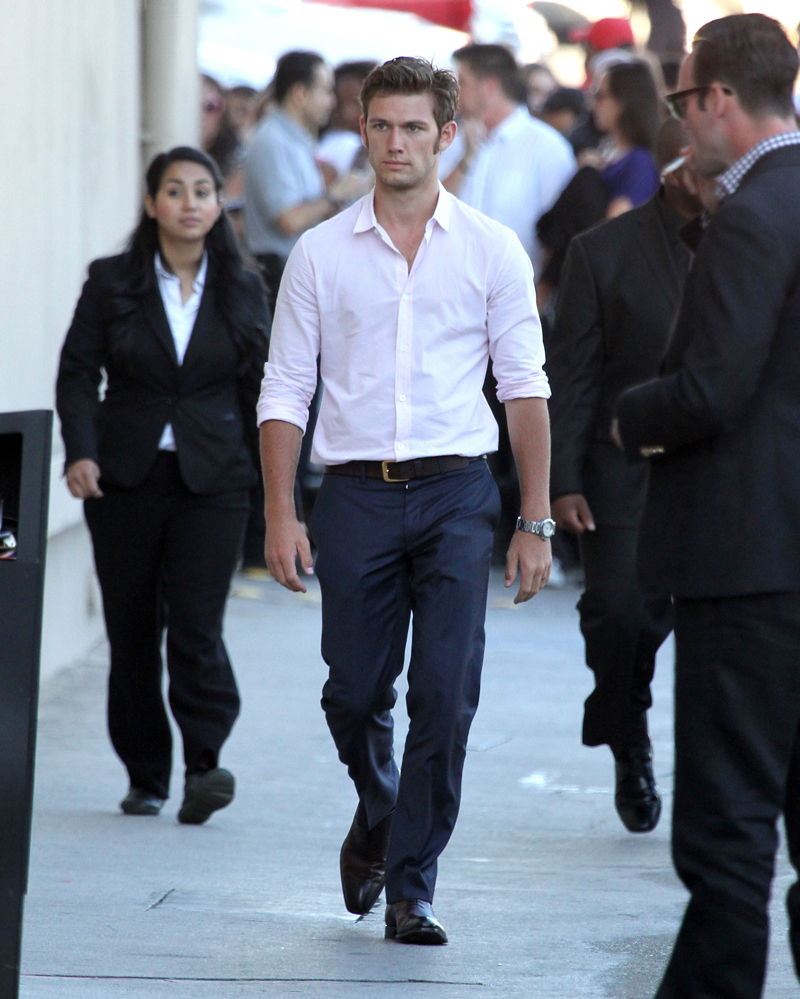 Here are a few photos of Magic Mike actor Alex Pettyfer during his visit to "Jimmy Kimmel Live" to promote the male stripper film that comes out this weekend. Throughout this press tour, Alex has been a very good boy (with a sexy accent), and Kaiser has noted that Alex is playing it pretty safe as opposed to the douchetastic things he usually says during interviews for his other movies. This time around, however, is all about impressing the public (after a few box-office disasters, namely I Am Number Four and Beastly) and staying in good graces with director Steven Soderbergh. So for now, we shall attempt to forget that Alex has a "Thank You" tattoo above his crotch and just focus on the words … maybe. Well now Alex is telling us that he wants to be objectified. Should we humor him, or is our collective lust genuine?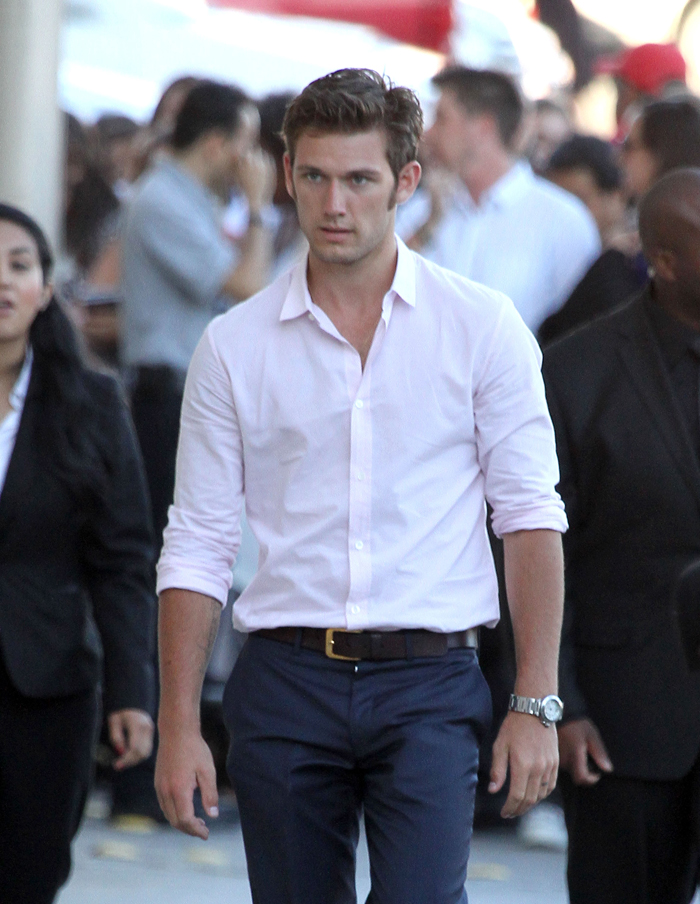 Oh, Magic Mike — we just can't seem to get enough info about this surprisingly complex comedy about male strippers.

The R-rated film is loosely based on star Channing Tatum's real-life stripper past, was directed by Oscar-winner Steven Soderbergh and features a very attractive ensemble cast including "True Blood" werewolf Joe Manganiello, "White Collar" star Matt Bomer, Alex Pettyfer and leading lady Cody Horn.

When MTV News caught up with the cast recently, we asked them to address the subject of male objectification and whether the guys felt any discomfort in playing sex objects or from all the screams and cat calls from the female extras in the audience for their stripping scenes.

"There's no such thing as male objectification, and I think that's what we're exposing with this movie," Manganiello said. "It doesn't exist. We really don't care. I think for the most part, it's just about having fun. It's like, 'Leave all that outside.' " "It's an interesting story to be a part of with an amazing director and a great cast that I've wanted to work with for a long time," Bomer added. "However that's going to be marketed and perceived is sort of out of our hands. We just had a great time telling the story."

"I want to be objectified, but I don't feel it," Pettyfer said.

Somehow, in the midst of all that unabashed admiration for their stripping, the guys just can't come to terms with any of that enthusiasm being negative, and we are almost inclined to agree. Relative newcomer Cody Horn, who plays Tatum's love interest and Pettyfer's sister in the film, offered an insightful perspective on the subject.

"They are objectified as a whole, as a group, but it was fun. It was fun as a girl to be a part of something that objectifies men," Horn said. "Because whether they know it or not, maybe that's just a testament to that they have no idea what it feels like. … I think they had such fun doing it that it doesn't feel the same as when a woman is objectified."

"I don't think anyone gets tired of screaming girls," Pettyfer pointed out.

"It's high time that those tables be turned!" Bomer said.
[From MTV News]
Yes, it's all well and good that Pettyfer wants everyone to drool over him during his inaugural stage performance — stripping to "Like a Virgin" — but I think many of us are prone to be distracted to Matt Bomer's presence within that interview. Yes, let's turn those tables, Bomer. Now bend over.
In the meantime, Collider has a fetching video compilation of of 12 new Magic Mike clips that just might satisfy curiosity until the movie comes out in two days. Do I sound like a PR agent for this movie? Sorry. My excitement cannot be helped. If anyone is in need of a cold shower, however, Joe Manganiello is happy to supply the goods:
The "True Blood" cast and crew are used to Joe Manganiello strutting around without much clothing on.

Even so, they weren't about to let his role as Big D*ck Richie in Magic Mike go unnoticed.

In fact, Anna Paquin, Stephen Moyer and Alexander Skarsgård got in on some of the stripping fun…

"They knew what I did on my hiatus so as soon as I showed up back on set, they were all pointing and doing the body rolling," Manganiello, 35, tells me. "There was a week on set where Steven, Anna and Alex and I were working together and we were humping chairs, humping the trashcans. We were humping everything in sight on set. It become a huge joke to the point that I was skipping onto the set and saying, 'Did somebody order a werewolf?'"

We could only imagine what they'll do once they see the scene in which Manganiello is shown, um, fluffing himself with a plastic p-nis pump.

"It's like a medieval torture device," he said. "I tell everyone that we were such a low-budget film we couldn't afford fluffers so they were like, 'Here ya go.'"

Manganiello imagines the day he dies and he's included in the Oscars' in memoriam package. "I want the frosted clouds around the edge of the screen and then you just see me pumping," Manganiello cracked.

Even with all the big-screen nakedness, Manganiello also said, "Honestly, between that and what I do this season on True Blood, I don't know what's worse."

Oh?

"If I wasn't on Cinemax's radar yet, I should be now," he laughed. "I'll have a very impressive soft-core porn reel by the end of the summer."
[From E! Online]
Yuck. I'm usually all about the physical hotness of Joe Manganiello (and the return of "The Man"), but I have to admit that the thought of him humping a trash can really kills the latent desire. Were these used trash cans or brand new ones? My OCD demands an answer. No matter what, this interview just qualified Manganiello as a candidate for the Douche Club.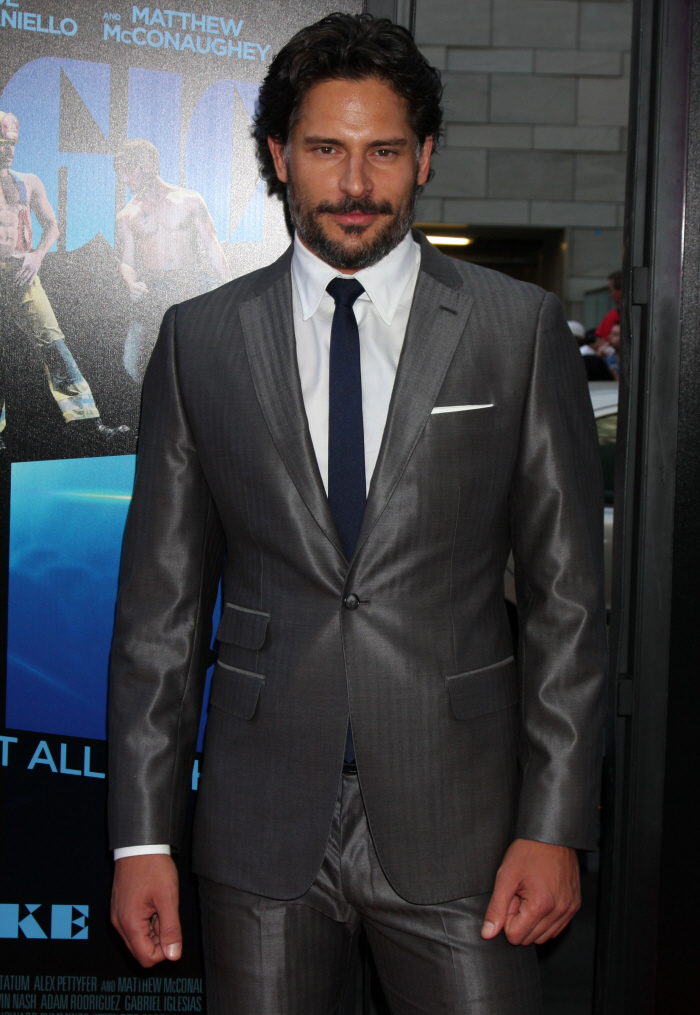 Photos courtesy of Fame/Flynet