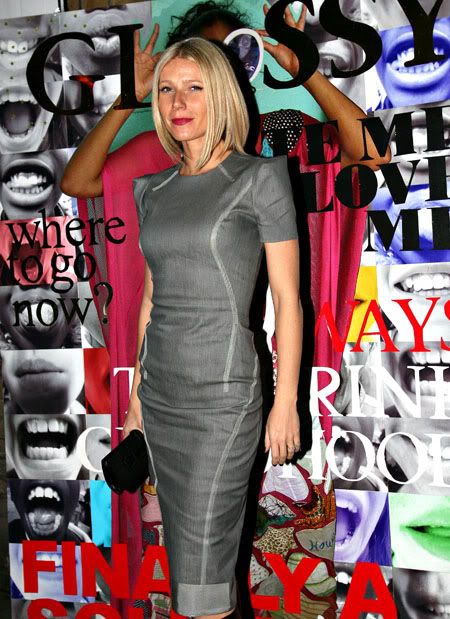 Gwyneth Paltrow has finally updated her Goop advice website with the content of the newsletters she's been sending out over the past few weeks. I learned about this amazing development from reader Granger, who e-mailed me a tip with the introduction "I just visited and nearly died laughing – but in a horrified kind of way… I can't help picturing the women who would take her site seriously, and they all went to prep school with Gwyneth, or met her while sipping champagne at a Donatella Versace party. Too funny."
Browsing the site, I found it just a little more self-important than the average high end women's magazine, but not glaringly more so. We're often encouraged to covet things that are way out of our price league and given advice about how we should live our lives. Usually it comes from a team of writers, though, and not one high profile woman who thinks her lifestyle is so wonderful that we should all aspire to be like her. With that in mind, here are the pros and cons of the site.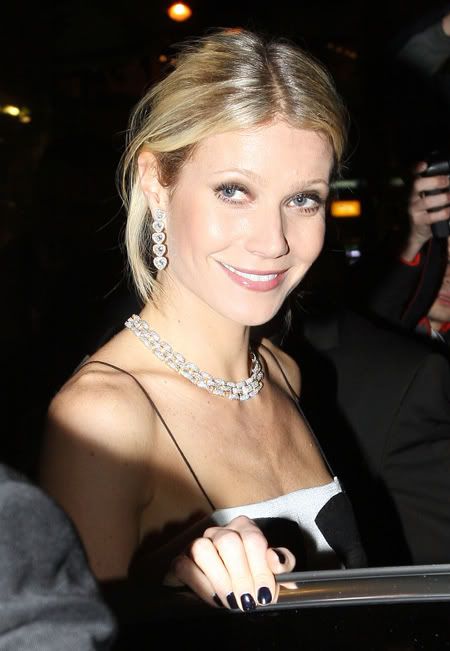 Annoying
Gwyneth's high end taste Gwyneth makes recommendations for hotels and restaurants in London that are beyond many people's means. She seems to realize this, because she acknowledges in her introduction that "the hotels are on the pricey side, but my GOOP girls are doing some research into some more affordable places."
In the fashion section, Gwyneth recommends designer clothing that only rich women, or women who make significant sacrifices for fashion, can afford. She does include one or two low priced alternatives, like an American Apparel tank top and a Topshop dress, but her emphasis is on high end shoes and accessories. She talks about leaving her Chanel dress to her daughter, and calls it "the dress you save up for and pass down to your daughter because it never goes out of style."
Gwyneth's sense of importance
Gwyneth writes in a way that assumes people want to immediately start living and dressing like her. It was like she was compelled to launch the site because there were so many people clamoring for her advice.
"Many of my friends, or friends of friends, have asked me for 'my London' so that when someone is traveling here, or lives here but wants some extra info, it is compiled in one place." [From Goop]
"Here are some suggestions for several interesting exhibitions to go see, possibly in a city near you. Some of them I have been to and loved. And some of them came from friends who I trust in all matters of culture." [From Goop]
The site's format – The site is difficult to navigate and confusing. This is a real sticking point for me as a former web designer. Goop is made up of seemingly arbitrary sections like "Make," "Do," and "Be" with little icons that aren't easily identified with each category. The content doesn't intuitively belong in a specific section because the names are so vague. Once you're inside, the icons remain at the top as navigation but don't include the name of the section they're supposed to represent.
Links for recent articles can also be found to the right of each second level in the site, but not all the sections are there and you have to use a pop-down to get around. If you get down one level deeper to the full article the navigation disappears and you're just left with Gwyneth's words of wisdom and no way back. Some full text sections are presented as images of text and others are just text. Overall it's a poorly designed site without a clear way to get around or find your way to a specific story.

Tolerable
If you compare Gwyneth's site to a women's fashion and designer lifestyle magazine, like Vogue, it's not all that different. She has recommendations for us and what makes them obnoxious is the way they're presented, not her tastes, which are understandably expensive because she's become richer than most of the world by working a few months at a time.
I appreciate the museum section as public art is something that everyone can experience, and her recipes are explained well with ingredients that seem accessible for most people. Her fashion section, while full of designer goods, does include useful tips for dressing like her. She has a unique sense of style that mixes classic staples with risky pieces.
She quotes several experts in her health and well being articles. While some statements from the experts will cause you to roll your eyes, they do include useful advice about living well and being happy.
Maybe if Gwyneth would have launched a regular blog instead of this bloated confusing site she would be winning more fans instead of confirming people's negative opinions of her. She should also learn to write in a more conversational and friendly tone. All I can picture when I read this is Gwyneth wagging her finger at us, her eyebrows raised and mouth in a perfect O as she talks about her favorite things. It's as if her life is so superior to our everyday experience that we should immediately start adopting some of her practices so that we can have a taste of her designer enlightenment.
Gwyneth is shown in the header at a charity event on 11/7/08, and on 11/4/08 at the premiere of Two Lovers in Paris (head shot) Credit: Fame. She is also shown in Miami on 11/14/08 (white dress), London on 10/20/08 (fur stole) and Italy on 9/24/08. Credit: Bauergriffin.