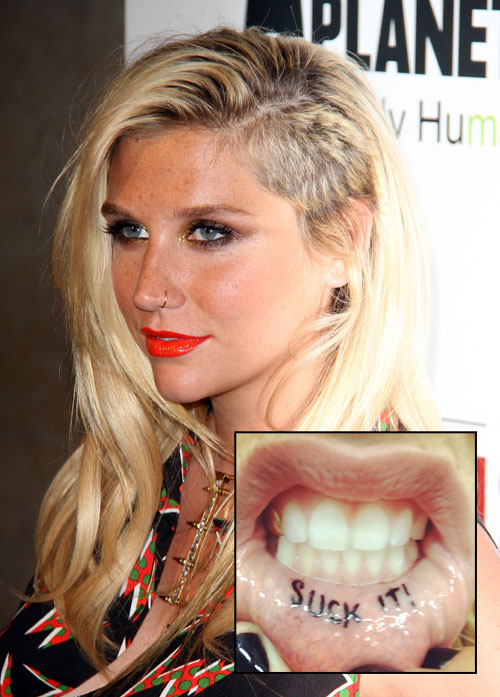 Singer Ke$ha, 25, just got the words "suck it" tattooed in her mouth. She tweeted the charming inset photo above, along with a picture of herself with the tattoo artist. The tattoo seems kind of dumb and useless, (and obvious) but at least she's not going around with it tattooed above her mouth, you know? The Daily Mail has this report, along with the claim that it's "painful" to get tattooed there and is permanent.
The American star, 25, had the provocative phrase 'suck it!' etched in black writing along her bottom lip during a late night tattoo session in Los Angeles.

After going under the needle, the Tik Tok singer posted a photograph of her new artwork on her Instagram account for all to see.

The words 'suck it!' is likely used by Ke$ha whenever she receives negative comments.

As well as being incredibly painful on the sensitive interior of the lip, Ke$ha's tattoo could be prone to infection because there is so much bacteria in the mouth.

She wrote: 'New tatt!!!'

Ke$ha had the tattoo at Alchemy Tattoo Parlour in Sunset Boulevard late on Tuesday night.

Last year, she said she considered herself a role model to her wide fanbase: 'People gravitate towards the party girl thing but in my expression of myself, from the way I dress to how I speak and act, I am trying to show that I want people to feel they can be themselves.

'I grew up in Nashville, which is very religious and conservative and not at all open-minded.

'I want to encourage kids to be themselves, feel free to express themselves and have their eccentricities encouraged who have lyrics in music that can be interpreted to have deeper meanings, but how deep can you dive into "Brush my teeth with a bottle of Jack?'

The lip etching brings her tattoo collection to a total of six.

She already has a tattoo of an anchor, skull and crossbones and a cross on her wrist.

The anchor was done when she was 18 when she 'snuck into Cuba' – as an American citizen she is generally not allowed to travel to the Communist island.
Two of her tattoos are actually homemade using a safety pin and pen.

She told Details magazine: 'I had just finished my record, so that night we got a little crazy, and we thought it was a really good idea to give each other tattoos to symbolise such a special event in my life. So he gave me a cross. Or one could call it a t. Or an x.

'And then this is pretty embarrassing, but – it's fading – my friend tattooed YEAH! on my foot.'

She also has a dollar sign on her hand.
[From The Daily Mail]
I like Ke$ha and I enjoy her music. She just seems like a wacky chick who likes to party, not like she's going off the rails or headed to the dark side or anything. She's a little out there but you get the impression that she's always been that way and she's having fun with it. Plus her music is huge but you don't see her showing up for every event or famewhoring around. She's just doing her thing, getting dumb tattoos and laughing about it.
As for whether these type of tattoos are permanent and painful, a tattoo artist writes on Yahoo! that they do fade, since "it's mucous membrane… it's always moist [and] the skin quickly regenerates." Some commenters who have them say that they hurt less to get than tattoos on other places of the body. I got a couple of tattoos when I was around 20, but I'm done getting them. From what I remember they hurt like a bitch. At least I had the foresight to get them in places that you can't see everyday. Just like Ke$ha and her "suck it" tattoo, which would look way trashier, and have a different meaning, if it were on any other part of her body.