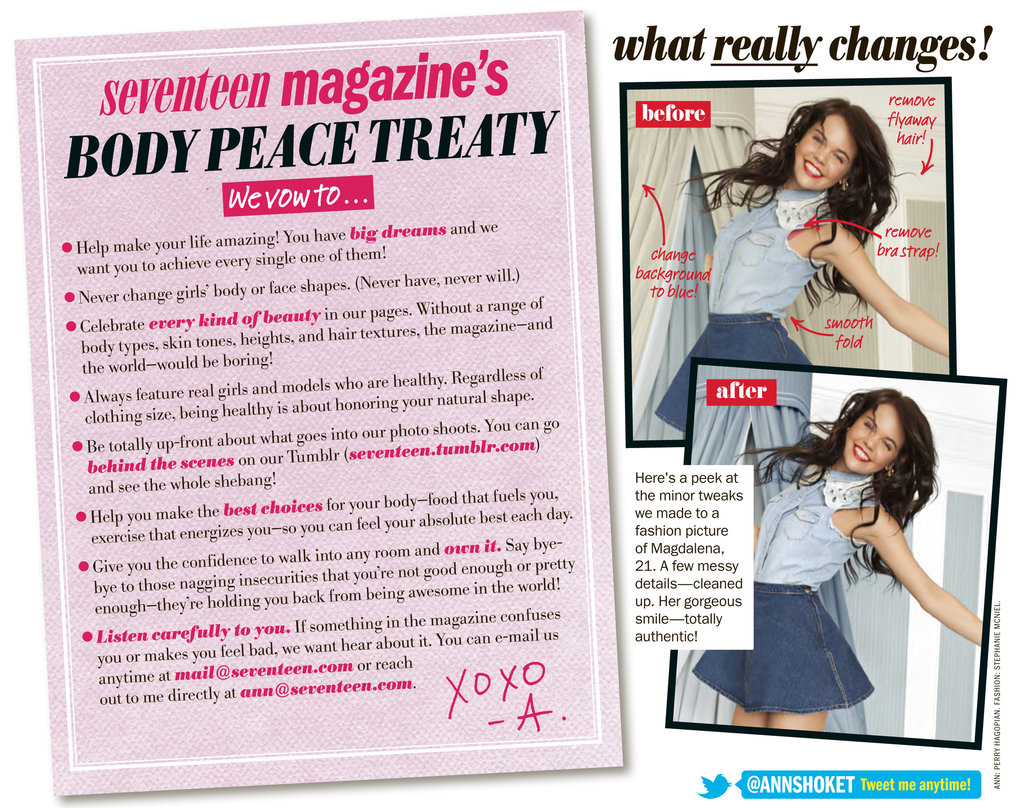 There's a lot of rejoicing over this story that Seventeen Magazine has responded to a plea by an eighth grade girl to stop Photoshopping the young women in their magazine. A girl named Julia Bluhm started a petition at Change.org asking Seventeen to commit to presenting just one photo spread a month without Photoshopping. Seventeen's editor in chief responded by issuing a statement they would not change girls' faces or bodies in the entire magazine, and that they never have. I'm not really buying that and think that it depends on your definition of "change," but good for them for taking this seriously and making a commitment to boost positive images of girls. Seventeen's editor also says that they're committed to representing all types of "beauty" in the magazine, including "body types, skin tones, heights and hair textures." Here's more:
Seventeen magazine, which in recent months has been inundated by pleas from teenage girls to publish photographs of models that don't look touched up, said on Tuesday that it would be more transparent about its photo shoots and promised to "celebrate every kind of beauty."

Ann Shoket, the magazine's editor in chief, wrote in the editor's letter in the August issue that the magazine had drafted what it called a Body Peace Treaty, after she heard from girls "who were concerned that we'd strayed from our promise to show real girls as they really are."

She said the entire staff signed the eight-point pact, in which the magazine promises that it will "never change girls' body or face shapes" and will include only images of "real girls and models who are healthy."

It also said it would provide more transparency about its photo shoots by posting images of the shoots on the magazine's Tumblr blog so readers could see the progression of the pictures.

The retouching of photographs to improve a subject's appearance has long been a source of debate and anguish in the magazine industry. Editors often speak of balancing the pressures of presenting authentic photographs while also showing subjects in a way that can attract and inspire readers.

The policy points outlined by Seventeen represent a victory for young women who have been encouraging the magazine to present more realistic images of women. Their views became widely known through an online petition started by Julia Bluhm, a 14-year-old from Waterville, Me., who blogged about her frustration with how many girls in her ballet class were complaining that they were fat.

"While we work hard behind the scenes to make sure we're being authentic, your notes made me realize that it was time for us to be more public about our commitment," Ms. Shoket wrote in her letter to readers.

She also included an example of "what really changes" in photo shoots by showing a photograph of a model before and after the image was altered. Seventeen's photo editors removed some flyaway hairs, a bra strap, a fold that made the model's blouse look untucked and an altered background. Ms. Shoket described them as "a few messy details — cleaned up." She added "Her gorgeous smile — totally authentic!"

The campaign to bring about changes in Seventeen began on April 19, when Ms. Bluhm started the online petition using Change.org, asking Seventeen to print one unaltered photo in its magazine each month.

The results were striking. Within days, Ms. Bluhm had 25,000 signatures. Ms. Shoket invited Ms. Bluhm and her mother to visit Seventeen's offices in late April for a talk.

Ms. Bluhm's supporters were quick to share their stories of how altered photos made them feel. Annette Okonofua, a woman who signed the petition, wrote: "I know that most of these girls on magazine covers are photoshopped, airbrushed and edited but yet, when you're looking at those photos physically, you can't help but think, 'Wow. I wish I looked like that.' "

By Tuesday morning, the petition had attracted 84,168 signatures. And Ms. Bluhm reacted enthusiastically to news of the magazine's policy statement.

"Seventeen listened!" Ms. Bluhm wrote on her petition page, under the headline "How We Won." "They're saying they won't use Photoshop to digitally alter their models! This is a huge victory, and I'm so unbelievably happy."

"It's even more than what we asked," said Ms. Bluhm in her lunchtime break at ballet camp. "The important thing is they agreed to do what we asked them to do. However they want to say it in their magazine is O.K.," she said.

It's still unclear how these pledges will change Seventeen's actual content. Ms. Shoket stressed in her letter that the magazine's editors "never have, never will" change girls' body or face shapes.

Shareeza Bhola, a spokeswoman for Change.org, she was pleased that Seventeen was giving readers "a new level of transparency on photo shoots that they've never had before and a companywide commitment to diverse representations of young women." She added that Seventeen would be watched closely over the next six months to make sure it keeps its promises.

In outlining its initiative, the magazine said it had worked with groups like the National Eating Disorders Association.
[From Blogs.NYTimes.com]
That's incredible, and it really shows Seventeen's commitment to this cause. I'm impressed that they brought Bluhm and her mom to their office within just a few weeks after she started the petition. I spent a little time on their website, and they've had this "body peace" movement, which involves advice for girls on self esteem and body image, since 2007. They also have a "Body Peace Treaty" which is different from the excerpt above, in which they invite readers to sign a pledge with statements celebrating their current shape and place in life. An example: "Not let my size define me. It's far better to focus on how awesome I look in my jeans than the number on the tag." I actually felt better about myself after I read all that, really!
Inspired by the changes at Seventeen Magazine, two teenagers from New York have created a petition asking Teen Vogue to make the same commitment to presenting girls that are not Photoshopped. In May, Vogue proper banned models that are "under 16 or who appear to have an eating disorder." Getting even the Teen version of Vogue to stop Photoshopping seems very unlikely, but at least people are trying.
This image is from Seventeen.Tumblr.com