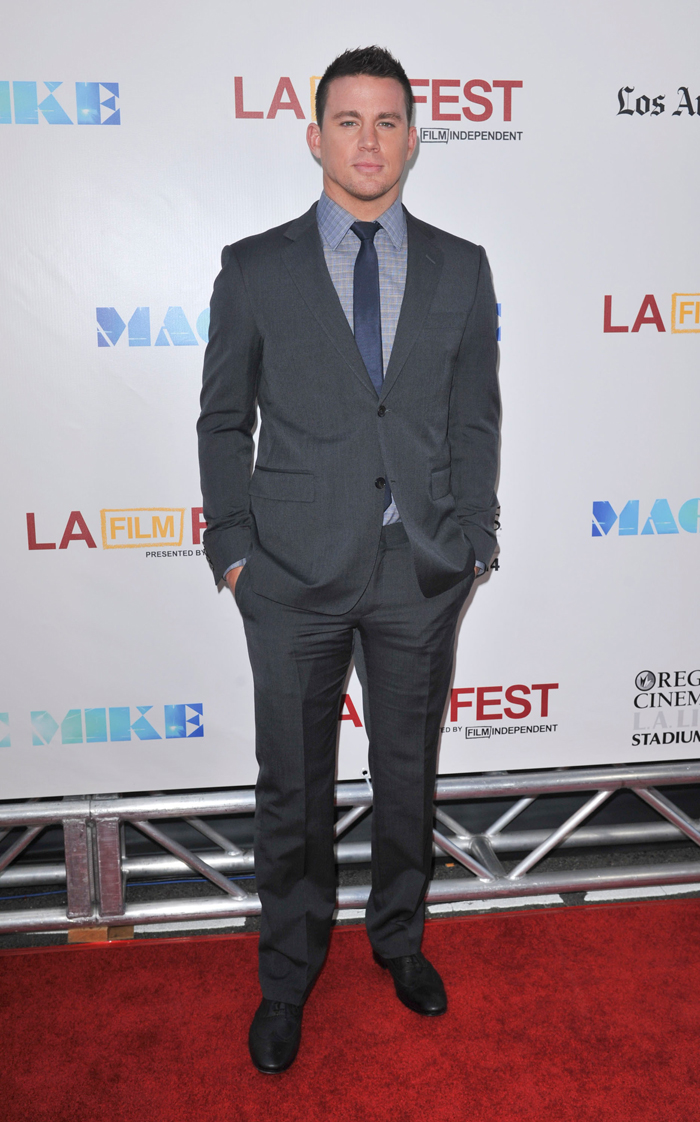 Everyone should know that bitchfights aren't just for girls, and a new story in this week's Us Weekly would have us believe that the set of Magic Mike was consumed with epic, "massive fights" between co-stars Channing Tatum and Alex Pettyfer. Of course, Channing was the real star of the movie, and Alex played his up-and-coming stripper replacement. So maybe some of the plot transferred into real life in some weird, oddly explosive ways, but it's possible that these two actors might really hate each other. Although it's hard to imagine Channing not getting along with everyone since he's so laid back; well, except for his old stripper buddies say he stole their moves even though he really didn't. As for Alex, we were talking yesterday how he's working hard to hide the douchiness in his interviews of late, so maybe Alex was just too much for a nice guy like Channing to handle. Here's the story from Us: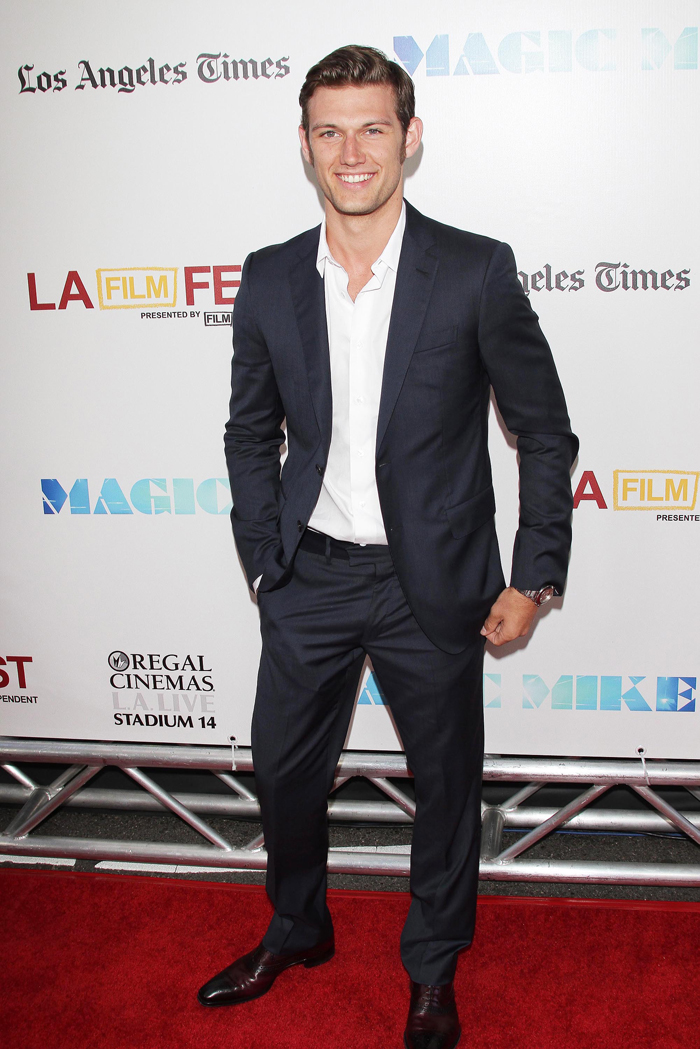 When Channing Tatum bares his true feelings about Magic Mike costar Alex Pettyfer, it's not pretty. "He hates Alex," a source tells Hot Stuff. "They had massive fights on set." The beefcake to blame, insists another insider, is Pettyfer, 22, who plays a character based on former male revue dancer Tatum, 32. "Alex was a jerk to everyone during filming for no reason," says the insider. "He thinks he's the star of the movie, not Channing or Matthew McConaughey."

Tatum, a coproducer of the stripper flick, retaliated by cutting a Pettyfer scene and, according to a source," went on a rampage about it!" And at Magic's L.A. premiere June 25, the pair still hadn't patched things up. The actors barely interacted and posed on opposite ends of the cast line. Says a source, "Channing refuses to do appearances alone with Alex — and he'll never work with him again."
[From Us Weekly, print edition, July 16, 2012]
I think there might be some truth here, and maybe Channing was put off by Alex's notorious attitude just enough that it caused some on-set altercations. Or perhaps the redneck in Channing didn't get Alex's British mannerisms. I don't know — I'm merely trying to figure out why these two guys would bother with being catty with each other when it was an otherwise fun film set.
As for the so-called "evidence" of Channing and Alex refusing to pose together on the red carpet premiere at the LA film festival, I don't know how much weight that should give to this story. It really wasn't a grab your dude and pose sort of event, and most of the time, all of the actors posed solo except for Matthew McConaughey, who managed to grab some bro time with both Alex and Channing. Who could really resist McConaughey (except for a certain Esquire journalist)? I guess one could say that McConaughey is Kryptonite for bitchfights.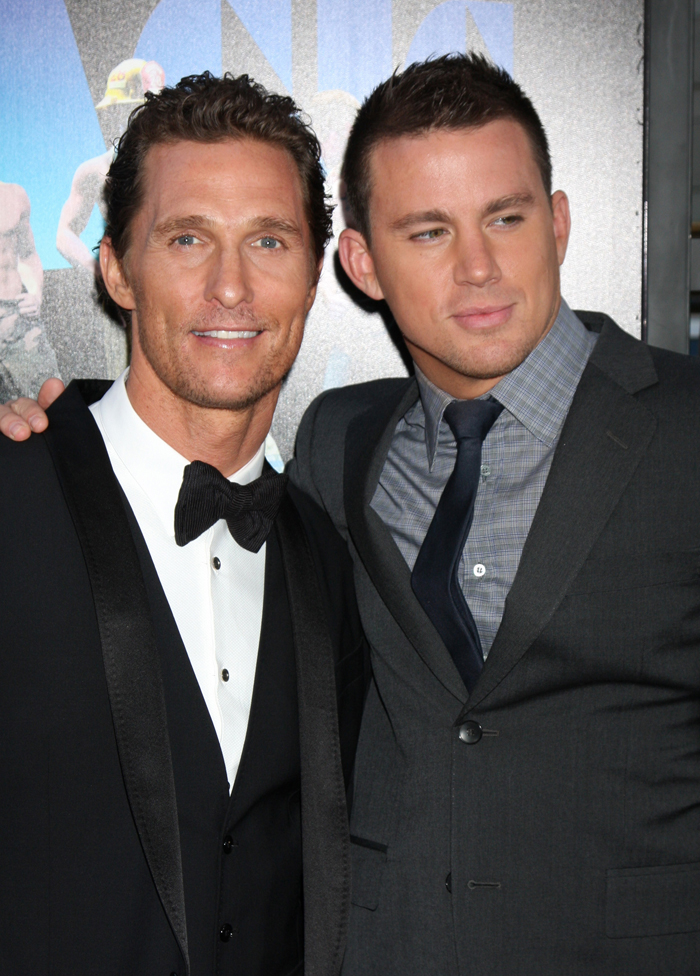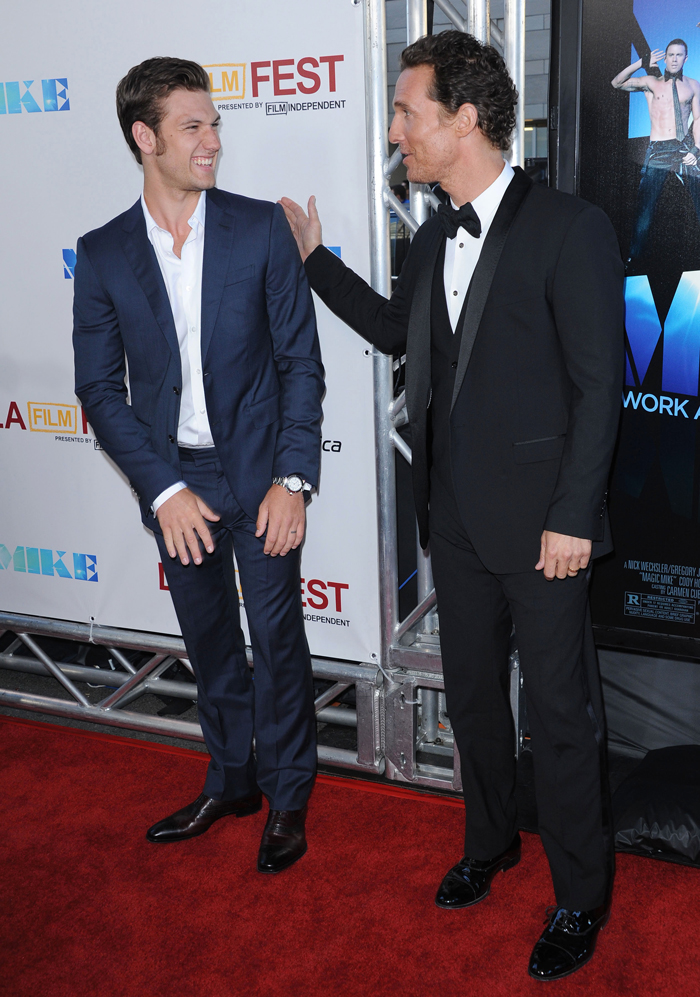 Photos courtesy of Fame/Flynet and WENN