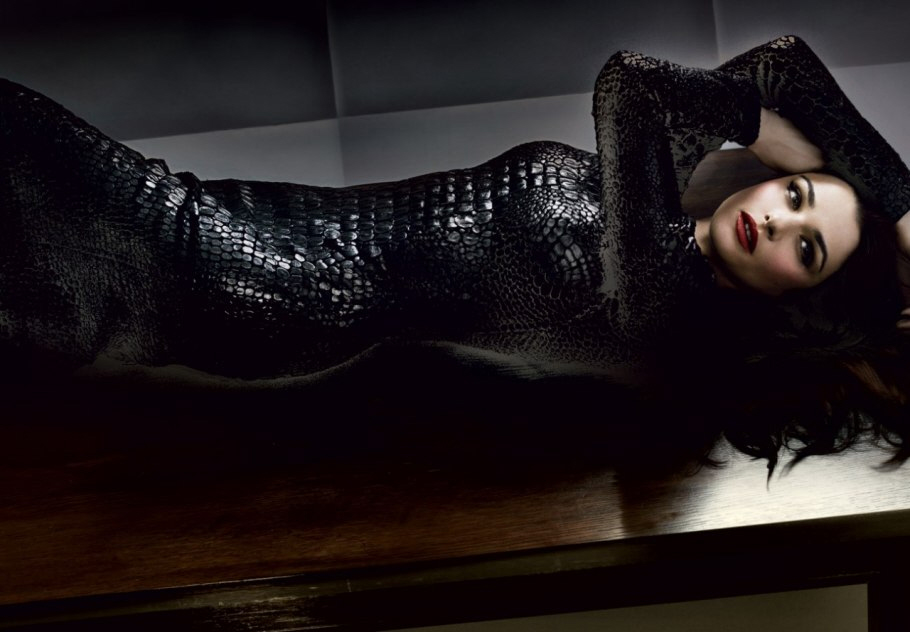 Rachel Weisz has a really beautiful photo shoot in the August issue of Vanity Fair. The photos are so pretty, I kind of wonder if Rachel wasn't the original cover girl for the August issue, and someone decided that The Rage Monster should get the cover instead. Note to VF: I would much rather see Rachel Weisz, an Oscar-winning beauty with an interesting life and a good career, on the cover as opposed to Alec Baldwin. Anyway, Rachel is promoting The Bourne Legacy, where she's the love interest/friend/associate of Jeremy Renner's assassin/spy. Here's her brief VF interview:
"It's much scarier; there's a whole world behind the one you've watched in the first three," Rachel Weisz says of The Bourne Legacy, the fourth installment of the Bourne thrillers, in which she plays virologist Marta Shearing. "I could identify with her character, ill-equipped to deal with the high-stakes drama. We are lone survivors, me and Jeremy Renner, and all the science is possible. It is not sci-fi — the level of realism is very, very high."

The London-born Weisz, who took home an Academy Award in 2006 for her supporting role as Tessa Quayle in The Constant Gardener, now lives in New York City with her husband, Daniel Craig, and her son from her previous marriage. The veteran actress has appeared in more than 30 films and four plays in theaters on both sides of the pond, most recently earning accolades for her performance as Blanche DuBois in the 2009 London revival of Tennessee Williams's A Streetcar Named Desire.

Weisz describes working with writer-director Tony Gilroy as "very exciting, a dream job. He loves chaos—raw, edgy, out-of-control acting. He also has a complex, wordsmith mind, so it's a great cocktail, more like being in a band. It felt like an independent movie."

Gilroy, in turn, is equally mesmerized by Weisz. "Rachel thrives on everything going wrong," Gilroy says. "She provokes chaos. She has her own navigational system that clicks on like an emergency beacon when everything's going wrong. I've never put a character through such an ordeal before." So what are we to expect?

"It all has to be plausible. Rachel has got to convince us she's an accomplished scientist, be able to convey a shattered personal life, bring a mantle of dead ends in her life to the screen. And in the end she has to kick some f–king ass!"

It's a tall order—but the job is vintage Weisz.
That was always one of my favorite parts of the Bourne films – they felt real, or realistic enough that you didn't have to suspend your disbelief too much. For the first Bourne film especially – the story felt like almost plausible. And with the third film (Supremacy), I liked how they brought the story around to full-blown Bush-era (and now Obama-era) NSA/CIA/Homeland Security counterterrorism efforts, like rendition and enhanced interrogation, etc.
What's also interesting is that the Bourne franchise is often used an example of where the James Bond franchise has gone off-kilter, too dependent on toys, exotic locales and crazy storylines and not enough real espionage. It's especially funny because Rachel is married to the current James Bond! When Rachel was asked about the "rivalry" between the Bond and the Bourne franchises, she said, "Oh gosh, that's an unfair question! How do I answer that? Where do my loyalties lie? To both. I want them both to do well. I don't have to choose do I? People can see them both. I would like them both to sell an equally enormous number of tickets." Cop out!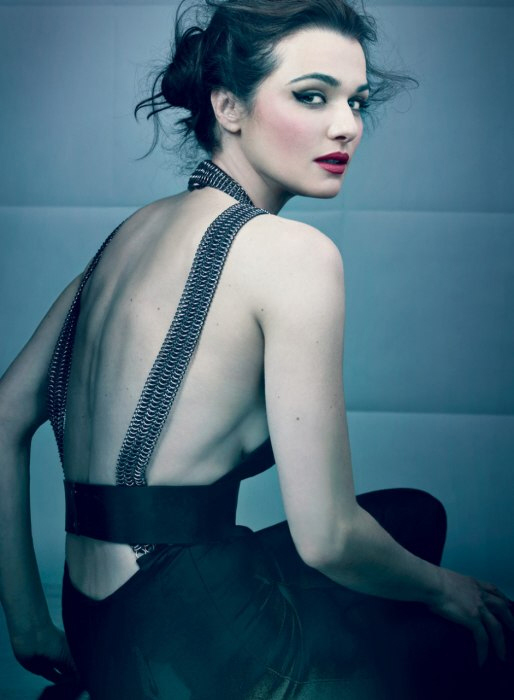 Photos courtesy of Vanity Fair.