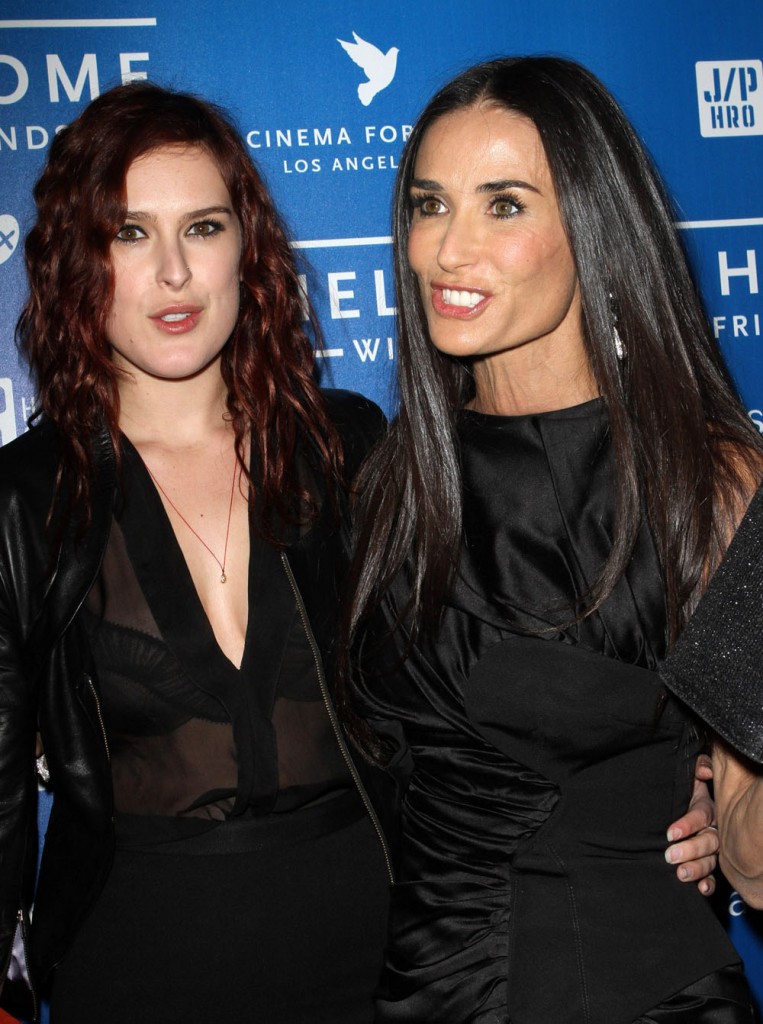 Last week, Radar ran a story about how Demi Moore's three daughters, Rumer, 23, Scout, 20, and Tallaluh, 18, weren't talking to her. This report came on the heels of months of stories about how Demi's daughters were embarrassed by her and wanted her to get her act together. Apparently Tallulah's high school graduation was the final straw for the girls, who were upset at their mom's behavior. A source told Radar "None of the girls wanted Demi there but she turned up anyway and it was really strained. They had a huge fight afterwards and the girls decided it would be in their best interests to take a break from Demi for a while." To complicate things, the girls are said to want to continue to see their ex step dad, Ashton Kutcher, while Demi is dead set against them having any sort of relationship with him.
The latest issue of US Weekly also carried this story, and they had some more details about how poorly the graduation went. This is kind of supported by photos taken at the time, which show Demi looking pissed off all by herself while the girls hang out with their dad, Bruce Willis. Here's some of US' story:
"There's a wedge between Demi and her girls," says a source. "Demi spends most of her time in Idaho, not L.A." [The girls], says the source, are tired of "walking on eggshells" around Moore, 49, who went to rehab in February after her split with Ashton Kutcher, 34. At Tallulah's high school graduation, says a witness, Moore sat away from her family, "didn't speak to them" and left before her daughter got her diploma."
[From US Weekly, print edition, July 23, 2012]
That's good that Demi is in Idaho, it's probably better for her there, but she's away from her daughters too. Things are worse than that, if you go by Radar's latest story. Demi is said to be desperately trying to contact her daughters, and they've shut her out entirely. Supposedly they were fighting a lot, Demi was being too needy, and now her daughters won't talk to her at all. She's said to be "devastated" and "beside herself." Here's more:
"Demi is beside herself over the situation," a source close to the family tells RadarOnline.com. "She hasn't spoken to Scout, Rumer or Tallulah for weeks now, they won't return any of her calls, emails or texts.

"The girls have cut off all contact with Demi, and she is absolutely devastated by it. She has returned to work and is trying to hold herself together, but this is a really tough time for Demi."

As previously reported, Demi's daughters severed ties with their troubled mother after months of drama with no end in sight.

"Rumer, Scout and Tallulah just don't want to deal with the drama at the moment," a source close to the family previously told RadarOnline.com. "Since breaking up with Ashton, Demi has been a mess. The girls were there for her through it all — the split and the rehab but now they just feel like they need a little distance.

"Demi is just being very needy right now and the girls are tired of it, they want a mother not another little sister. They are all concerned that she is going to relapse and head back to rehab and they can't deal with the stress and worry of it."
[From Radar]
I would feel more for Demi if we knew she was sober and trying to get her act together, but recent reports suggest that's not the case at all. Maybe her daughters are fed up with seeing their mom like that and have no idea what else to do except to avoid her.
Demi is back working again. She was seen on the NY City set of Very Good Girls, with Dakota Fanning, Elizabeth Olsen and Richard Dreyfus, earlier this week. All we have are these photos of her covering her face though. Would it kill her to let them get a few photos and to smile?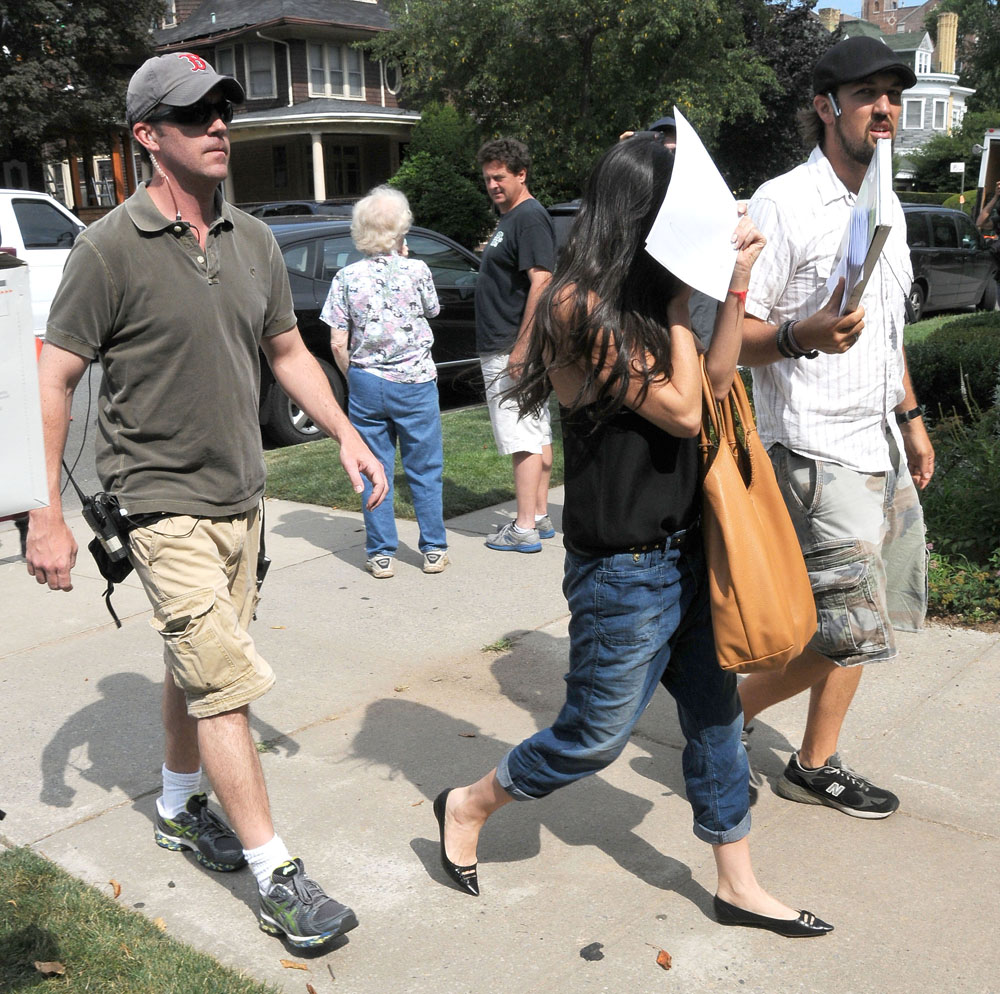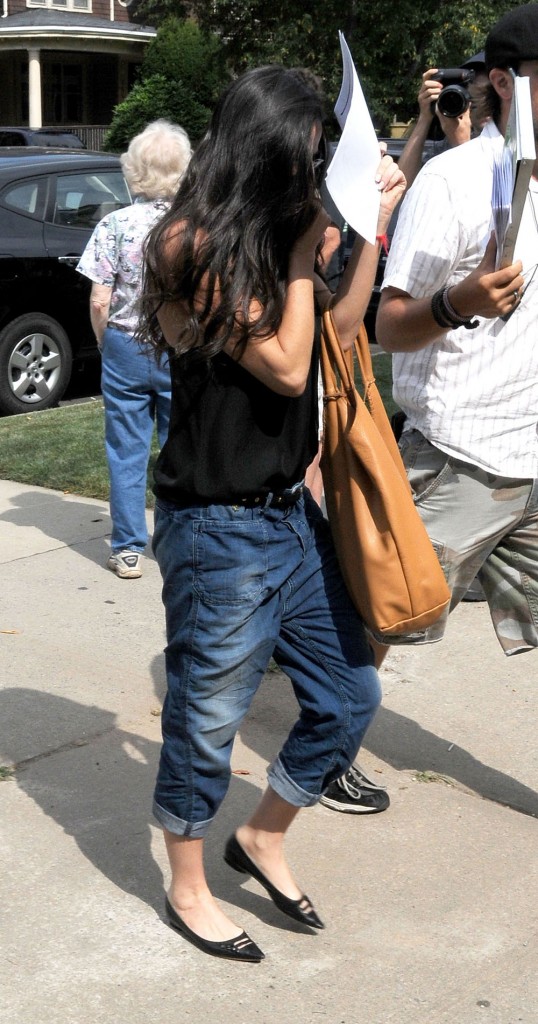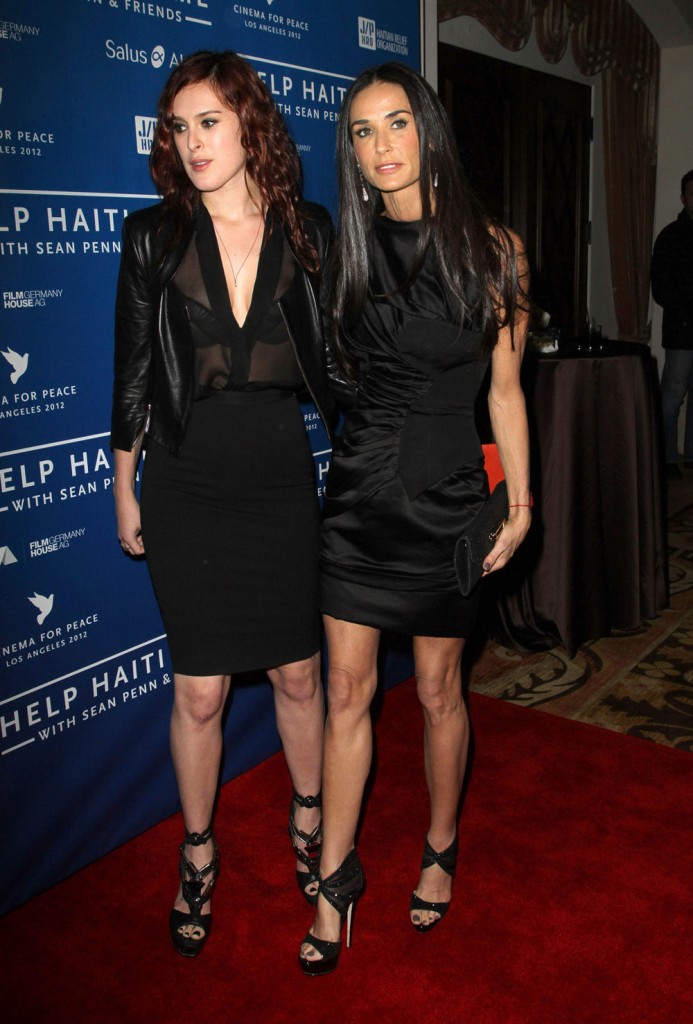 Photo credit: TNYF/WENN.com