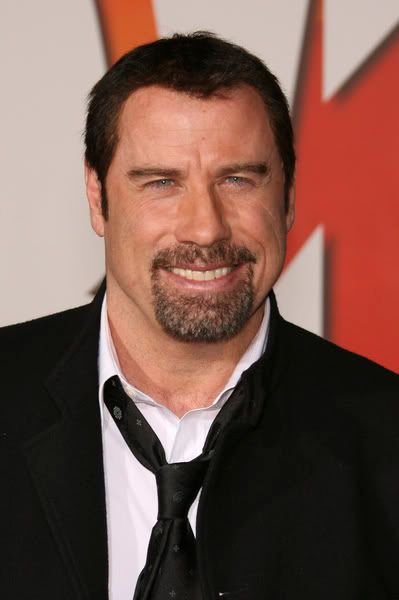 John Travolta has an interview with Reuters in which he promotes Bolt, his new animated film in which he plays the lead dog. The film came in second at the box office this holiday, falling behind the Vince Vaughn and Reese Witherspoon comedy Four Christmases. Travolta waxes poetic about all the great roles he's turned down in his career, but he has no regrets because he realizes he had to step aside to let other actors shine. According to Travolta, he's personally responsible for the careers of Tom Hanks and Richard Gere because he turned down big roles that subsequently went to them:
Q: You have four more movies coming out in 2009. Is quality or quantity most important to you?

A: "You can't control the quality of projects that are coming to you, so if you get several in a row that are quality you take them. The money has been made. I just need to do good work now. You put as many positive eggs in the basket and hope for the best and that the basket doesn't fall. I was offered several big movies recently that I just couldn't do anything with, so I turned them down. And I was proud of myself."

Q: Which parts do you most regret turning down?

A; "'Chicago' probably (Travolta was offered the role of Billy Flynn). I wasn't all that into the stage show. It was a lot of women who hated men and I like women who like men. (laughs) The stage show was kind of vicious but the movie had a heart. 'Green Mile' I probably should have said yes to and 'An Officer and a Gentleman'. But I gave Richard Gere and Tom Hanks a career! What you turn down can be a gift to someone else. There is enough to go around."
He doesn't just say he's glad that the roles were filled by talented actors, he says "I gave Richard Gere and Tom Hanks a career." As Courtney Hazlett at MSNBC's The Scoop points out, Chicago and Officer and a Gentleman were seminal roles for Gere, but Tom Hanks would have had a great career without Green Mile. At least Travolta is able to magnify his greatness in his own mind. They probably teach that in Scientology lessons. The Scientologists are the only ones who can achieve greatness. All success in non-Scientologists can be attributed to a cult member deciding to forgo some achievement out of the kindness of his heart.
John Travolta is shown at the Bolt premiere in Hollywood with Miley Cyrus on 11/17/08. Credit: David Gabber / PR Photos