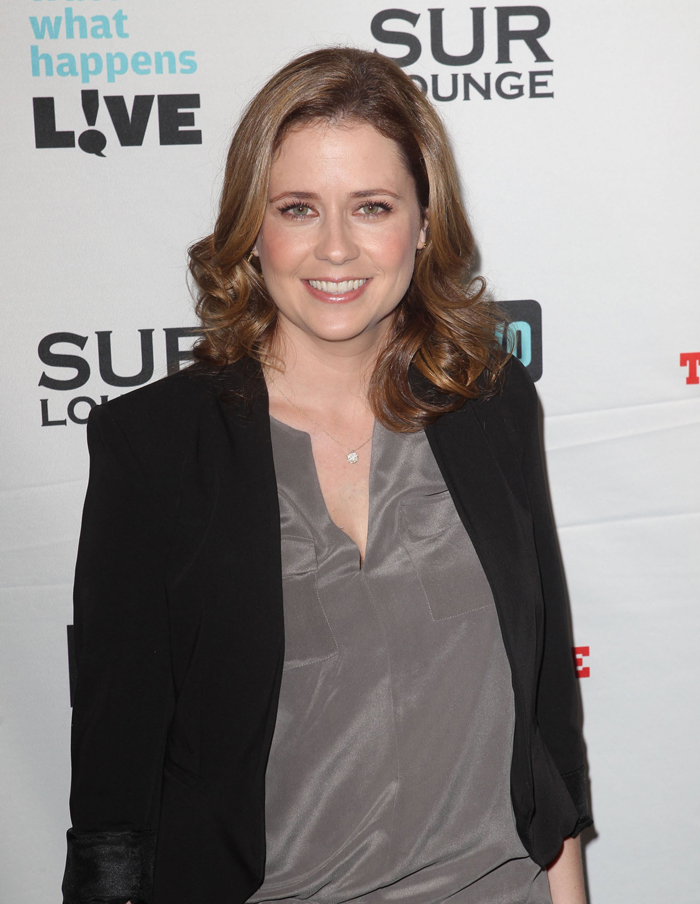 Jenna Fischer is saying great things again about how women shouldn't have to confirm to ridiculous body ideals immediately after giving birth. Last year, she spoke of standing in solidarity with those who don't leave the hospital wearing size 2 jeans, and a few months ago, she admitted to being angered by the trend of posing in a bikini at six weeks postpartum. Her reasoning is that bringing another life into this world is something that women shouldn't necessarily rush to hide, but of course there's always going to be that awful pressure for celebrities and non-famous people alike.
Well now Jenna has lost her baby weight, and she asserts that it took ten full months for her to lose the extra pounds. She insists that it just wasn't a priority to her because she's busy raising her son and working too. So she basically spends all of her off-set time with her baby, and she doesn't rely on a nanny or a chef to give her more opportunities to get back in shape really fast. It's basically impossible not to like this woman, right?
Jenna Fischer rose to fame thanks to her role as Pam Beesly Halpert on NBC's hit show "The Office," but she doesn't view herself as a celebrity.

"It's so funny because I think there's the perception that every [famous] woman has a driver and a chef and a personal trainer and a nanny," the actress, who's mom to 10-month-old son Weston Lee, tells PEOPLE.

"I don't have any of those things. Like other working moms, I'm trying to figure out how to balance it all."

Adds Fischer, "When I say I'm going jogging with my son or eating certain things or whatever, there's a tendency to be cynical and say, 'Of course, because someone cooked it for her' — or 'Of course she's on a date, because she had her nanny watch the baby.' No, absolutely not. I want people to know that."

The actress, who acknowledges that she's "fortunate to have steady work, health insurance and a paycheck," says that even so, "I'm just trying to figure out how to do [everything] myself."

Because of her lack of outside help, Fischer, 38, has to sacrifice things like working out in order to devote time to her son. Instead, she focuses on eating healthy. "I didn't start exercising until Weston was six months old and was taking regular naps," she says. "When I go back to work on the show, I'm probably just going to have to take a break from any of that extra working out. I think just getting through the day will be enough."

Fischer, who is now back to her pre-baby weight, says the process did not come easy but that slow and steady did, in fact, win the race. "It's taken me every day of 10 months to lose the weight," she explains. "I did it slowly and I did it moderately. It was important for me to lose it. I was a fit and active person before I had my son, but if there's one thing I could do for a new mom, it'd be to alleviate her of any guilt or any stress over the idea of having her body look a certain way."

Fischer says having a blissful family life leaves her more fulfilled than having a smaller pant size. "Making me a happier mama is just being with my baby," she says. "It's such a weird thing that after having a baby, you're supposed to look like you've never had a baby. Well, I'm proud that I had a baby! I don't see any harm in celebrating that."

With her husband Lee Kirk and their new addition, life for Fischer is pretty much perfect. "It looks like I need to get some new goals because I'm kind of living my dream right now," she admits. "[My husband] is amazing. He's such a good father. I'm very lucky. I came to Los Angeles and wanted more than anything to be on a comedy TV show like Cheers. My other goal was to marry a great man and have a family."
[From People]
I do recall that after having my daughter, all I wanted to do was be with her while I wasn't working, and the idea of heading out to a gym at that point was a fully impossible one. Sure, my mother-in-law would have gladly taken care of her for a few hours, but I couldn't bear to leave my girl's side. Things are different now, and I go to the gym while my daughter's at school, or I take her with me, which is an adventure in itself. So I'm glad that there's at least one celebrity out there who will admit that it's not the most important thing in the world to have a fantastic set of abs right after popping out a kid. Jenna also words things so well in terms of "celebrating" her son's birth and not seeing the point in hiding her maternal pride.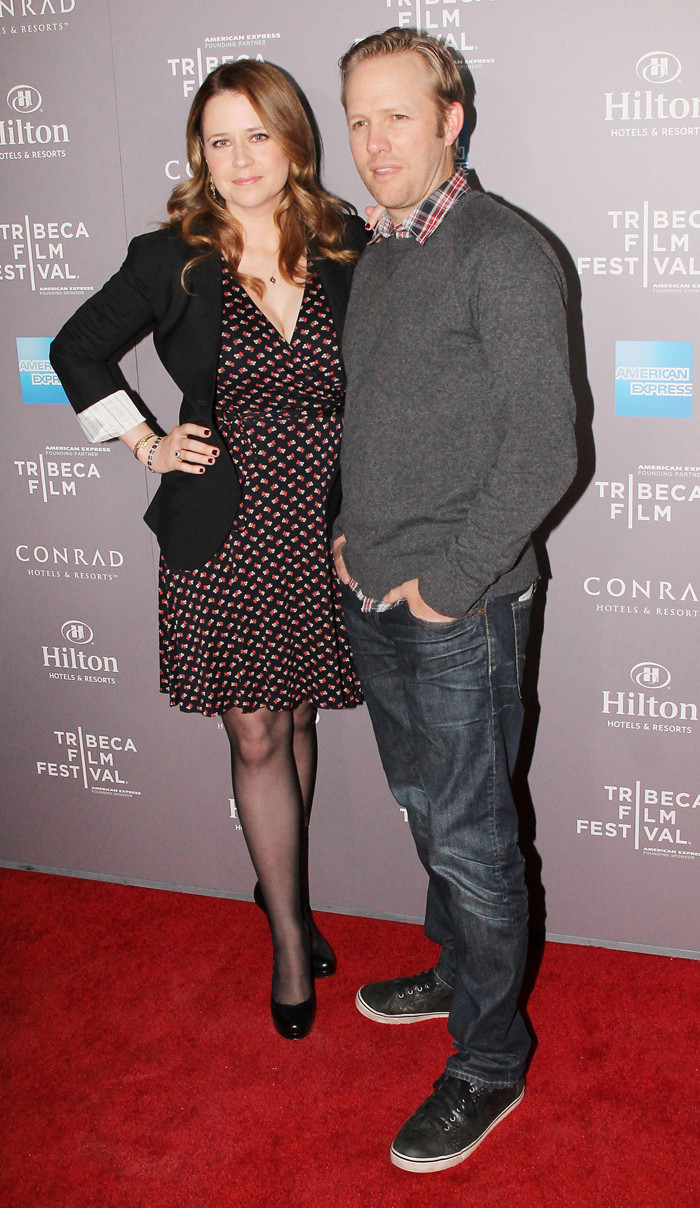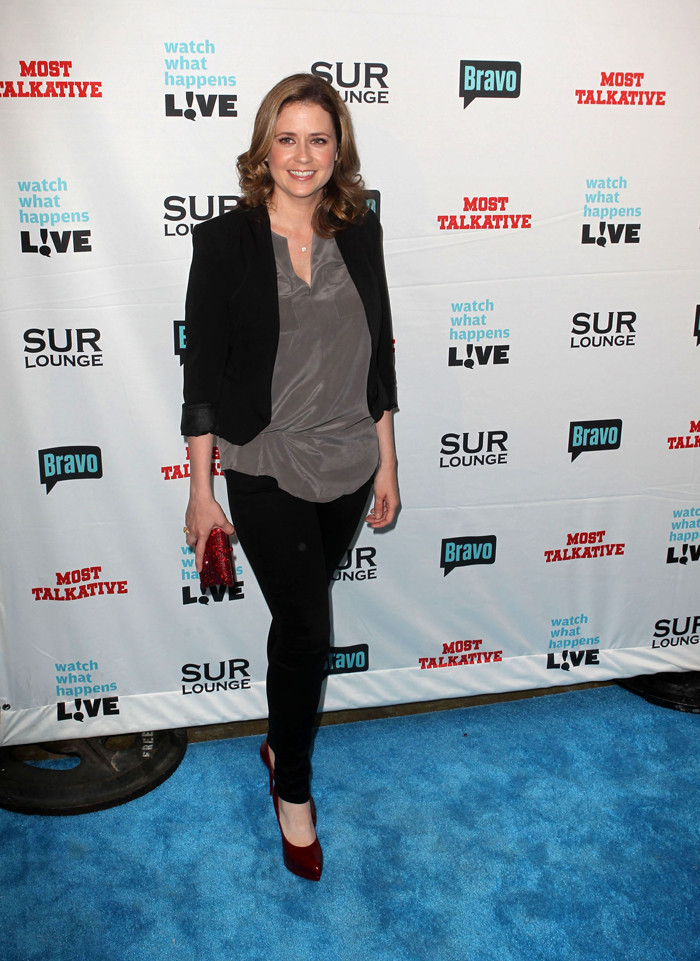 Photos courtesy of WENN