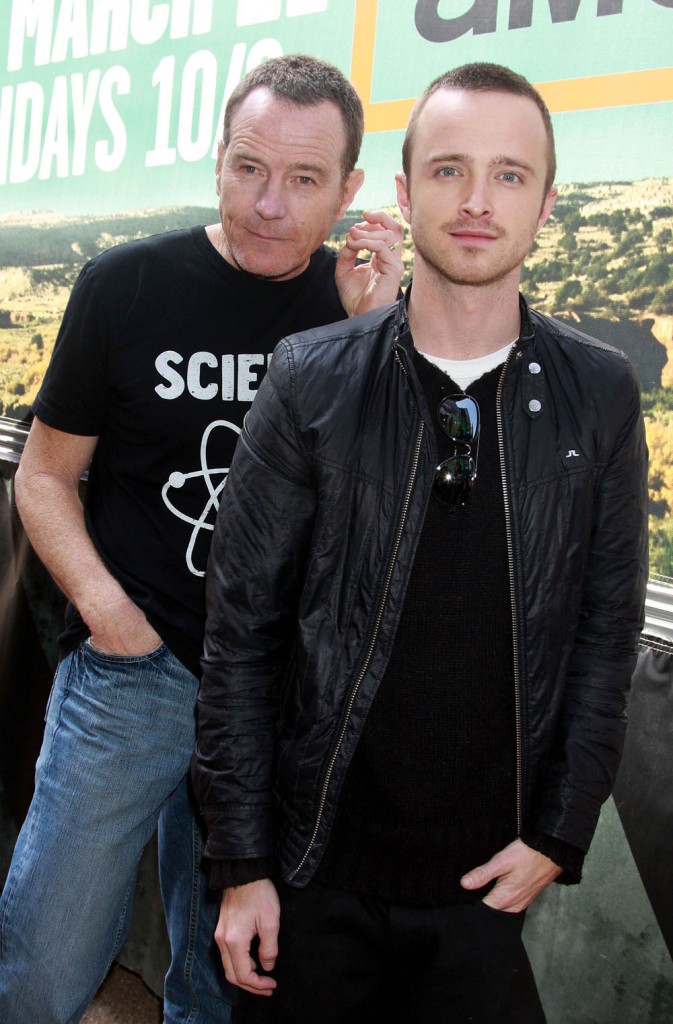 I can't tell you how happy I am to see Aaron Paul and Bryan Cranston on the cover of Rolling Stone this month. These two helm one of the best shows on television, one that doesn't get enough recognition as far as I'm concerned. I know "Breaking Bad," specifically Paul and Cranston, have won some well-deserved Emmys, but it still feels like the show deserves more acknowledgment for how groundbreaking it is. Plus this is the last damn season. They've split it up into two parts, but that's not enough to prolong the inevitable.
Rolling Stone has some excerpts online from the interview, and they got a lot of good quotes from these two. Cranston admits losing his virginity to a hooker when he was just 16 and was on some field trip to Europe. Paul says that he had a girlfriend who ended up getting addicted to meth and turning into a "hollow shell" of who she once was. That makes me wonder: did he draw on that experience when he had to deal with (spoiler for past episode of BB) the fate of his girlfriend on the show? That was heartbreaking, and he played it so well. Paul is such a superb actor anyway, I have a feeling he could play just about any character. Here's more:
Update: Thanks to Birdie for mentioning that Paul used to date Samaire Armstrong. Samaire went to rehab in 2008 and this blind item from E! is thought to be about her.
Breaking Bad stars Bryan Cranston and Aaron Paul get loose in Rolling Stone's new cover story, which hits newsstands on Friday, August 3rd, and goes behind the scenes of one of TV's all-time great shows. The story, written by Brian Hiatt, also profiles show creator Vince Gilligan, who one crew member calls "a complete and total control freak." "I fear for the day when this is over," says Gilligan. "I honestly fear that this will be the highlight of my career. And you don't want it to be!" Here are some of the story's highlights:

Cranston lost his virginity to a professional at age 16 while on a "teen police explorer" trip to Europe: "Beer is a nickel, and the hookers are cheap – it was 24 guilders, which I think was $8, to get laid. We're all writing home to our parents for more money, 'We're having such a good time, Mom and Dad! Please send more money! We promise to pay you back! We've got to protect the citizens from the hookers!'"

Cranston says that the rage he expresses as Walter White comes from his parents' messy divorce: "I have some anger issues," he says. "There was alcohol abuse. And there were broken lives. There were two broken people. It was ugly. I didn't see my father for 10 years."

Cranston feared that he was going to lose the part of Walter White to Steve Zahn, who was up for the role: "If Steve Zahn did Walter, we'd go, 'Oh, my God. Steve Zahn is the guy! Can you imagine anybody but Steve Zahn doing it?' And you wouldn't be able to."

Unlike his character, Aaron Paul is against drugs – with the exception of pot. "The first time I actually felt it, it was around Halloween time, and I ate an entire bowl of Reese's Pieces and I couldn't stop laughing. It was incredible," he says. "Now I rarely smoke." He has a medical-marijuana card, though, which he says he actually uses for medicinal purposes: "If I go to the dentist, I'll get an eighth. I am against pills. I don't even take Advil. I think pot 100 percent should be legalized."

Paul had a girlfriend who became a meth addict, an experience he draws on for the show. "It went from coke and then it escalated to meth. Meth is the one that grabbed, like, nails-deep into her soul and slowly just ripped it out. She was this beautiful being, turned to this hollow shell."
[From Rolling Stone]
I agree with Aaron, pot should be legalized. I hate how it makes me overthink things, though, so I wouldn't be smoking it instead of taking an Advil. I think a lot of the differences in opinion on marijuana use are east coast vs. west coast attitudes toward it. As an east coaster, I can't really relate to getting a prescription for it.
Rolling Stone also had this video of Cranston and Paul being interviewed. It's fun to watch to see their dynamic off screen. Cranston teases Paul about a fan letter he received in which the fan told Cranston she wanted to have sex with Aaron Paul and have him watch or something. He took the letter and framed it for Paul to keep, he thought it was so hilarious. Cranston also makes it clear that he's thrilled to be on the cover of Rolling Stone. We're thrilled too!
Also, I need to add this segment from Aaron Paul on The Tonight Show a couple weeks ago. It's AWESOME, and I don't usually use caps like that but it's wearing off on me from Kaiser. Paul was on The Price is Right back in 1998 with his buddies, and I won't spoil it for you but they had a ton of clips from when he was on the show and it was SO much fun. Especially the ending. I just love him.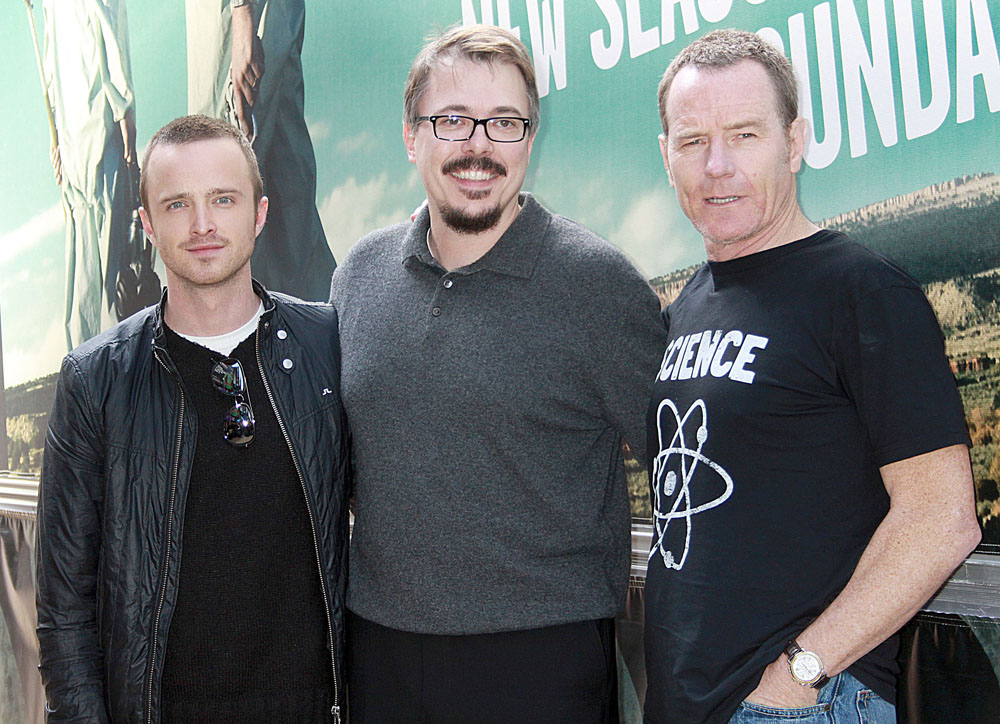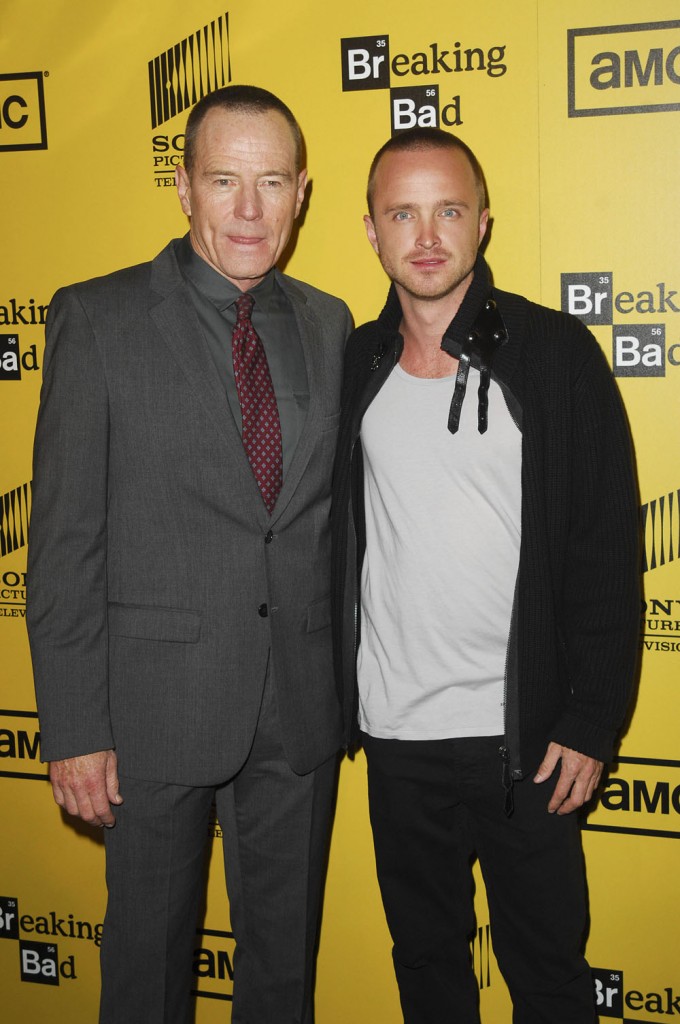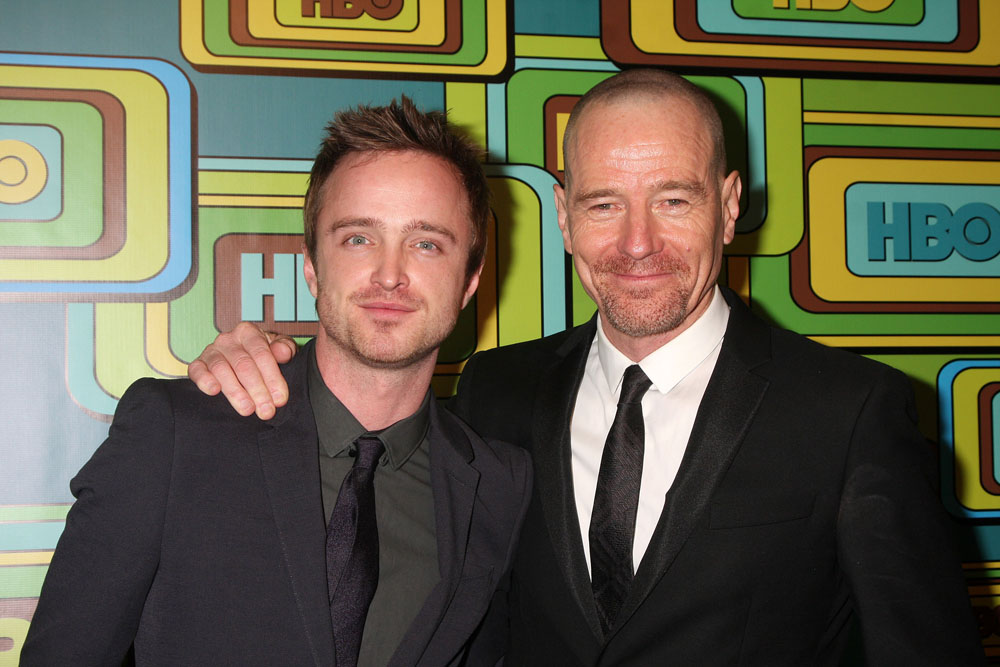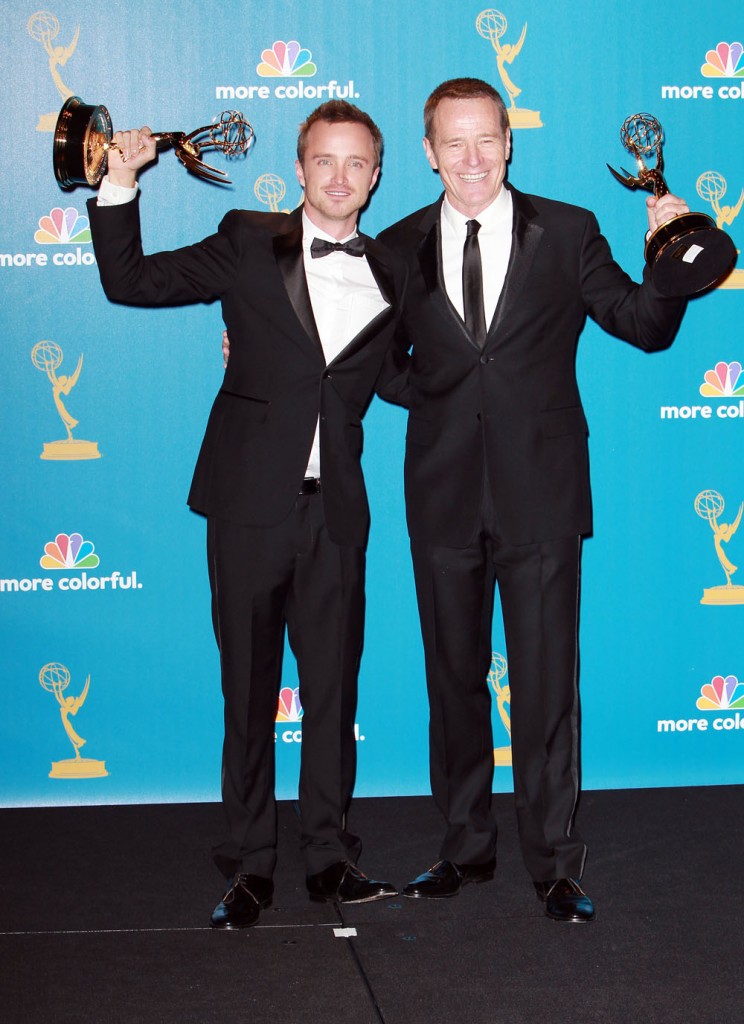 These photos are from 2010 and 2011. They're shown with Breaking Bad creator Vince Gilligan. Credit: WENN.com and FameFlynet