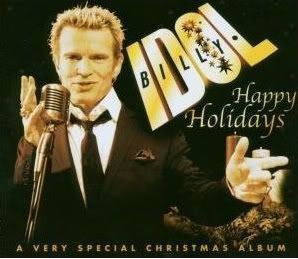 80s punk rocker Billy Idol has a new Christmas album out. His myspace includes video and a clip from the album along with an interview about it. He seems to be aware his latest release might come off as a bit lame, but he doesn't really care. Idol says he has bills to pay too, and that it's a gift for his friends and family:
A Billy Idol Christmas album is one of those ideas so profoundly wrong; it's right — so deeply uncool that, in the end, it's strangely cool. Now ready for wrapping, Happy Holidays is not just another Billy Idol album; it's a revealing and even heartwarming Yultide expression of love….

Happy Holidays is an excellent Christmas gift, but who's it for?

Well, I see this album as just a massive happy holiday's greeting card. It's a musical gift for my loved ones, but everybody else has to pay. Hey, I have bills to pay too [laughs]. Really, it's just meant as my way of saying "Happy Holidays" to my fans and my family.

Were you always a big Christmas fan?
Not at all. In the 70s and 80s, I would just get stoned for Christmas – a very different way of celebrating. But during the 90s, my parents, my kids and some of the rest of the family started coming to my house in L.A. for Christmas. I basically became the hose, the guy in charge of the music – The Christmas DJ. And that's the best gig in the world because you get to find a soundtrack that gets everybody in the Christmas spirit
The album includes Christmas favorites like Silver Bells, White Christmas, and Let it Snow. There are two new Christmas songs from Idol titled Happy Holiday, and Christmas Love.
Reviewers on Amazon note that it's typical holiday fare and doesn't have the rock edge they expect from Billy Idol.
You can judge for yourself from the video clips below, found through Idol's myspace.
Here's Idol's version of White Christmas

And here is his original song, Happy Holiday:

It's kind of a disconnect to me to see Idol doing Christmas songs, but he still looks hot and he seems to have a sense of humor about it.