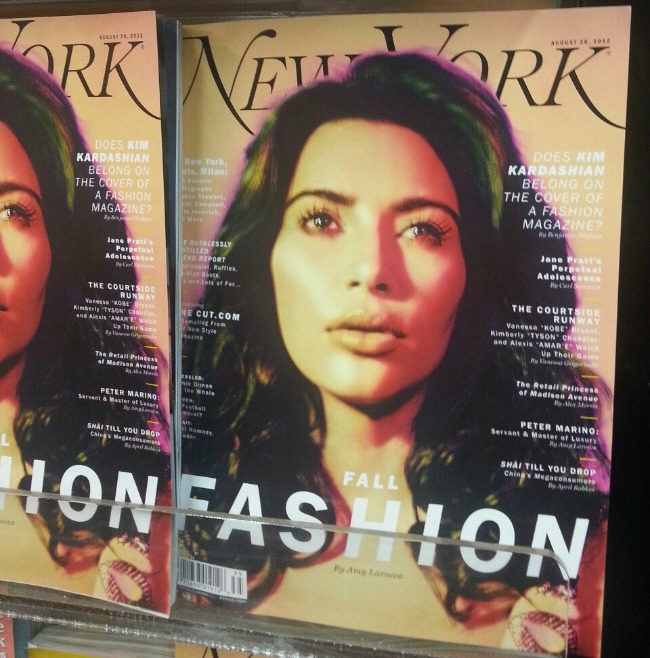 Kim Kardashian is the cover girl for New York Magazine's Fall Fashion issue. The cover tagline is "Does Kim Kardashian Belong on the Cover of A Fashion Magazine?" Which is meta, considering they put her on the cover of their fashion magazine. They actually did an artsy photo shoot with Kim too, and they did a long-ass interview (go here to see the complete NY Mag piece). Will you forgive me for not caring enough to read the whole seven-page interview and lovingly extract excerpts from the junk? Because I really don't care that much. Just skimming the NY Mag piece… it seems like they don't care much either, or at least they don't care about alienating the Family Kardashian, because the first part of the piece reads like a greatest-hits of Why and How People Dislike The Kardashians. The moral of the story? "There's a sense that everything is for sale, and nothing should go un-monetized." That really is the gist of it – it's less an interview with Kim and more about Kim's relationship to the fashion industry, and how real fashion people shun her:
Recently, Kim has been making inroads in the fashion world. She comes by her fashion interest honestly, having started out as a wardrobe stylist, and she and her sisters own a popular chain of clothing boutiques called Dash and a one-off "lifestyle boutique," in Las Vegas, called Kardashian Khaos. They have clothing lines at Sears (Kardashian Kollection) and QVC (K-Dash), as well as nail polish (Kardashian Kolors) and makeup (Khroma Beauty, launching this winter). ShoeDazzle, an e-tailer Kim co-founded in 2009, has raised more than $60 million in venture capital. As a model, Kim has appeared on the covers of W and Harper's Bazaar and l'Uomo Vogue. Elizabeth Taylor was her glamour icon, and Kim spent $65,000 on jewelry at Taylor's estate sale last year. "I love designing," Kim tells me. "All morning I was talking to my sisters about different designs."

[The second time Kanye showed in Paris] though, Kim was with him in Paris, though not publicly his girlfriend. Kimye, as the tabloids call them, could be poised to become a fashion power couple. And yet Kanye, for all the criticism, has still been greeted with considerably more enthusiasm by fashion's gatekeepers. Marc Jacobs is known to be a Kim fan, but his is a decidedly outlying opinion. In May, it was reported that Wintour "hates Kim" and had banned her from the Met Costume Institute Gala (which Kanye did attend); Kardashian's rep denied this was the case. Soon after, Wintour's muse André Leon Talley told a crowd that "not even Kim Kardashian could take away from fashion."

While the attacks may derive partly from a good-faith aesthetic response to some of the clothing she wears, at least as much of it seems to stem from an aversion to non-eating-disorder body types and a broader snobbery and classism. Fashion likes to celebrate and appropriate street culture and even trash culture, except when it doesn't. Neiman Marcus did the previously unthinkable when it recently announced a collaboration with Target for the holidays. "To go from luxury to mass, or high to low, has become acceptable and even desirable," says Ed Filipowski, a prominent fashion publicist. "But when you start mass, either as a product or personality, the doors to luxury don't open easily; the keys to the kingdom are held tightly. That's what makes it luxury."

Kim and Kanye brightly stand on opposite sides of the line between fashion's dos and don'ts. With Kim, says a fashion executive, "I think she sees fashion as another means for making money. I don't think she's ever going to want to go to a fashion show for her love of clothes. She's going to want to get paid for going to that show."

The boundaryless ambit of the Kardashians is the precise obverse of the fashion world, with its exclusionary fences and rigid caste distinctions. Fashion is androgynous, anorexic, self-punishing, full of security-blanket snobberies. It wants to be transcendent, above mass commerce. It hates sex, even as it sells it (coldly). It hates flesh. Kim Kardashian—a sexpot with curves and a prodigious behind, a sybarite as well as a full-on capitalist—is an affront to everything it holds dear. It's hard to imagine a model who converted her looks into a business empire being perceived as anything other than impressive—an entrepreneur—but for this world Kim may be the wrong kind of model.

What would Kim need to do to gain acceptance? "Quit all your other jobs," the executive says.
During the "interview" part of the piece, Kim talks about how she's Zen and chilled out now, admitting that she doesn't read the tabloids as much anymore, she canceled her Google Alerts, and she started having the occasional drink after she turned 30. She says, "I used to be so involved with what's going on around, what's up with this person. I just really truly feel so much more calm now, and I just don't care." When asked if she would ever like to be on the cover of Vogue, she just says, "I don't really have goals as far as, I want to be on a cover or something like that. I think my goals are more just expanding my line, and having my line be really successful. That's the ultimate goal, I think, for me. I don't say, 'Oh, I want to be on this magazine or I want to do this.' It's all fun." So… Kim Kardashian is more Zen about it than Victoria Beckham. Good to know.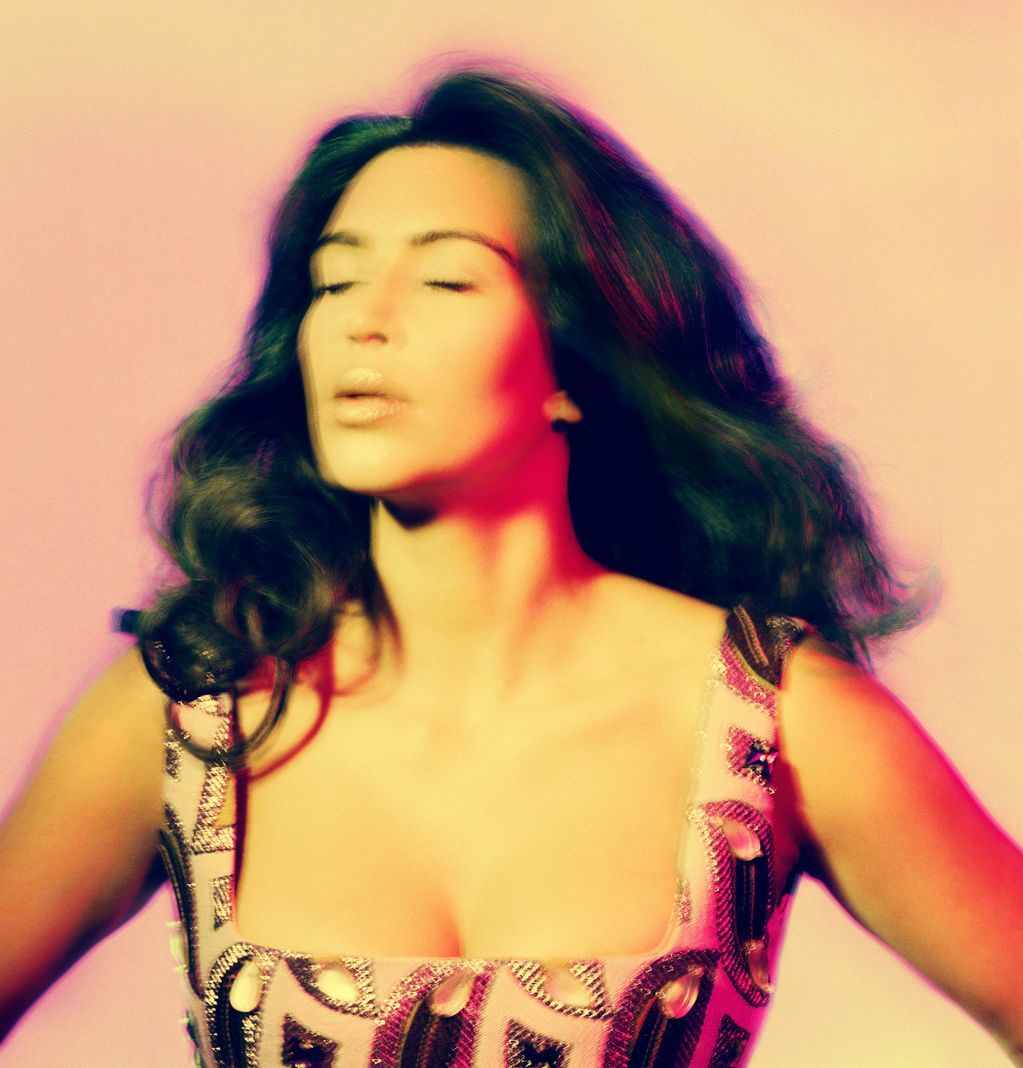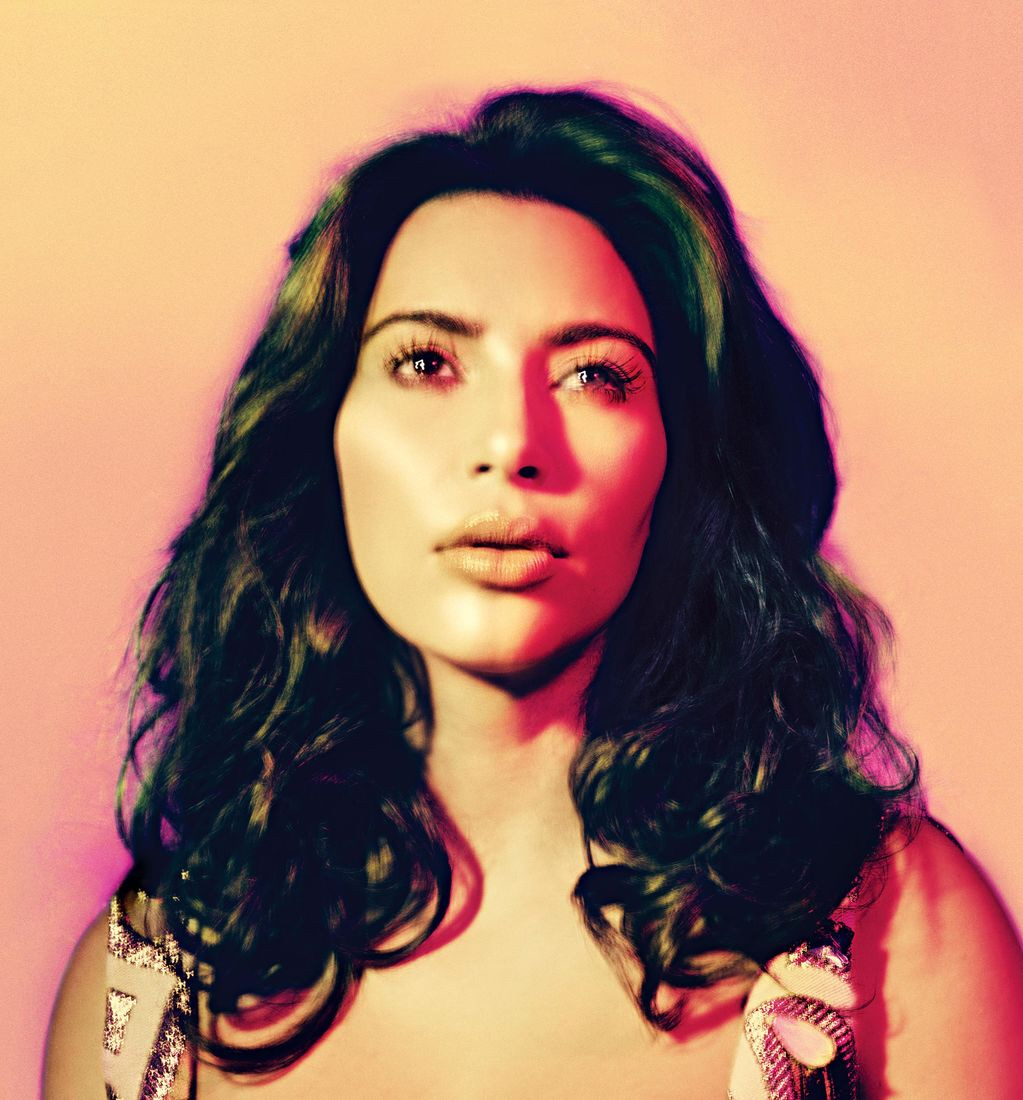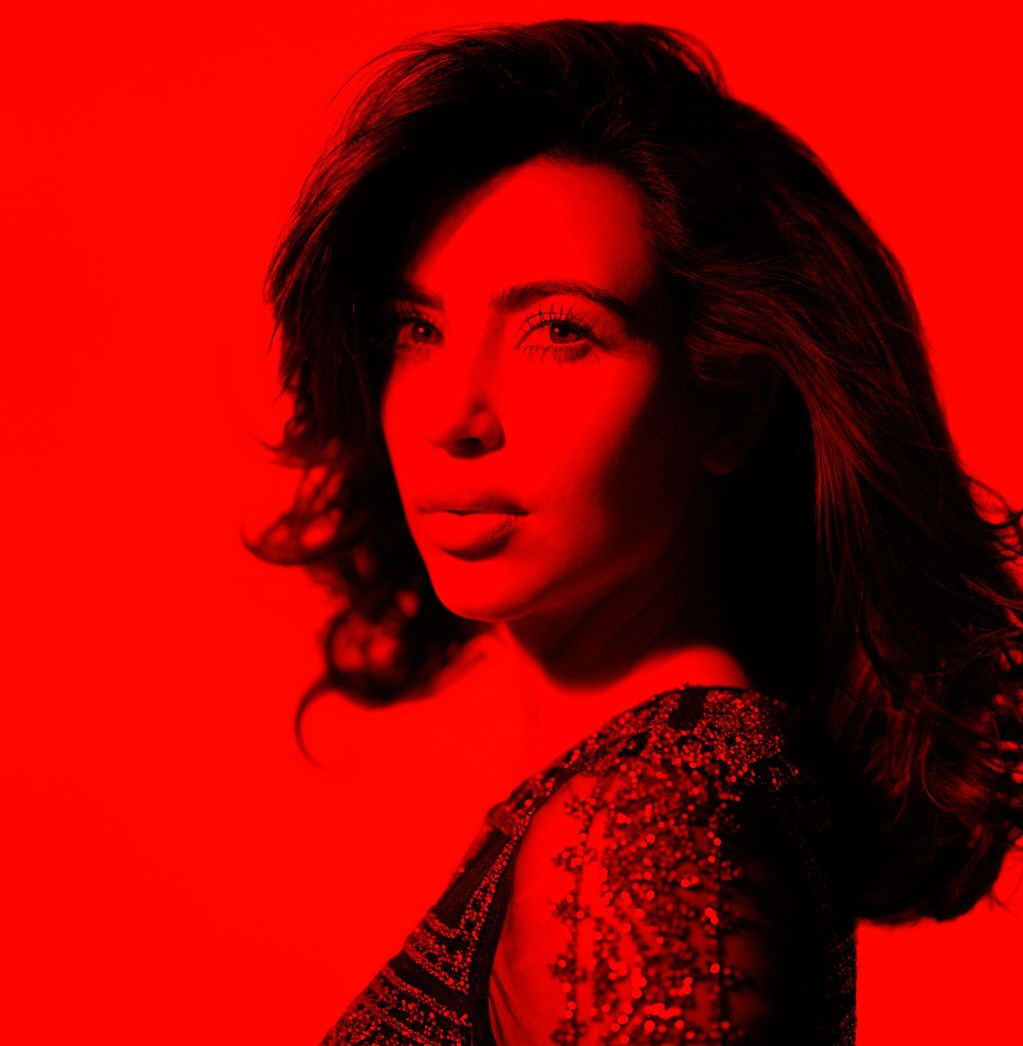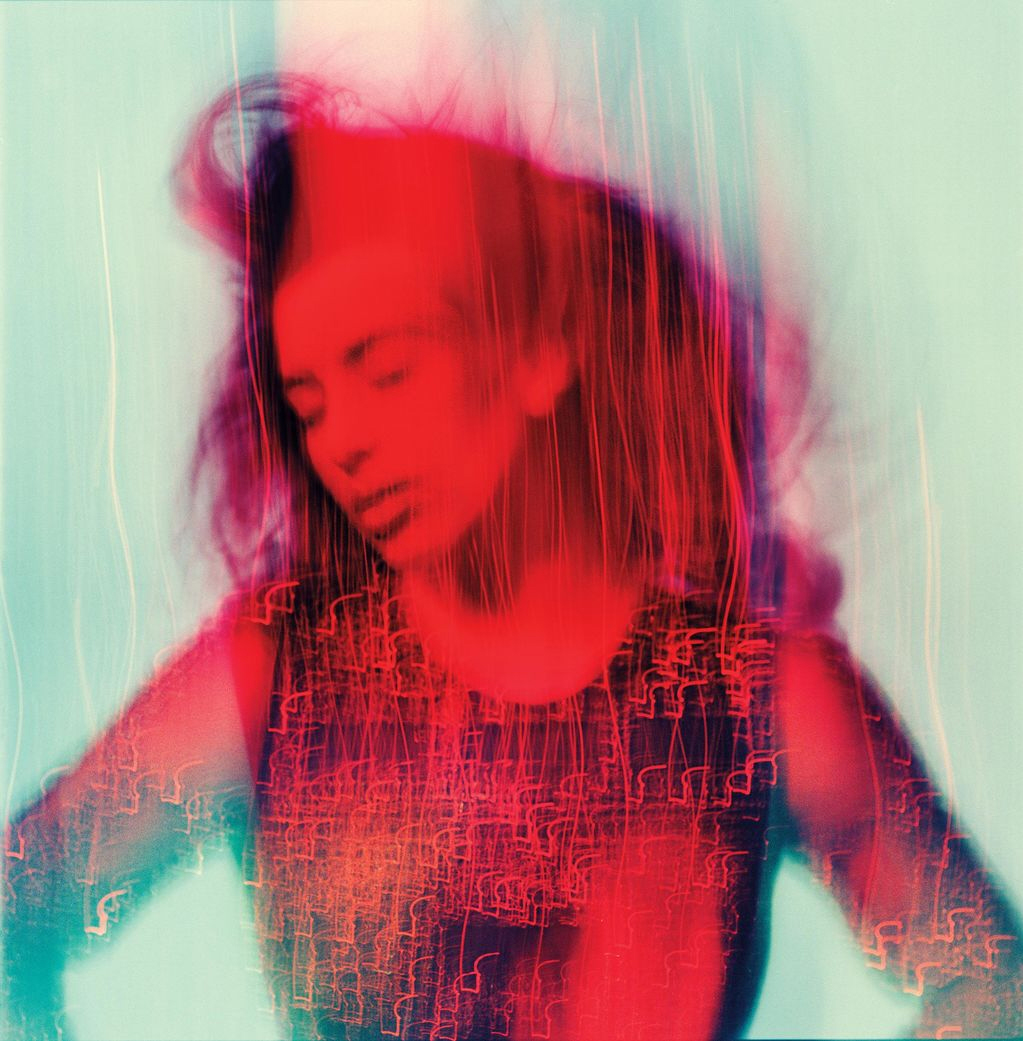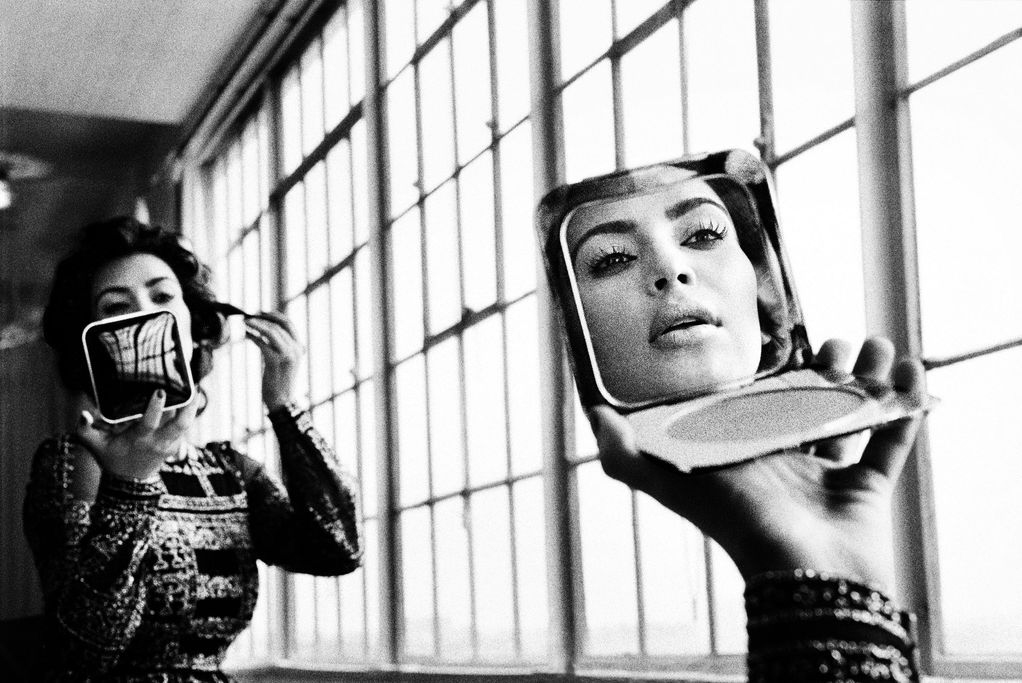 Photos courtesy of New York Magazine.