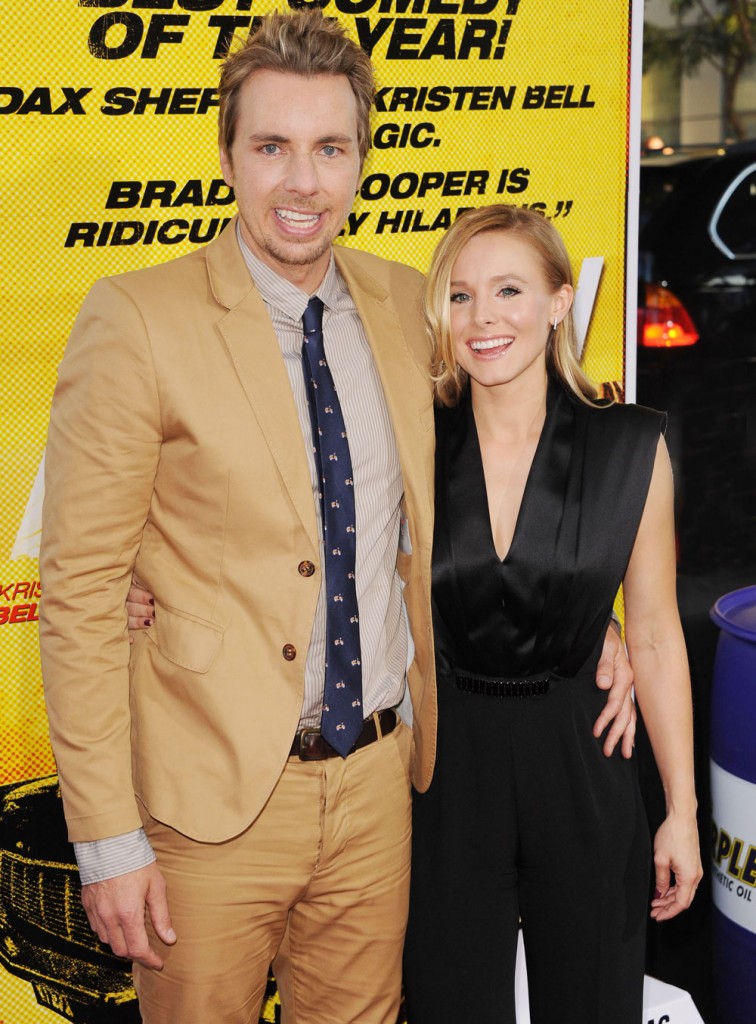 I love Kristen Bell and Dax Shephard as a couple. I know she seems a little high strung and over-emotional, judging by her viral video featuring her reaction to the mere mention of a sloth on Ellen. (Seriously, watch it if you haven't yet.) But she also seems cool to me, in the way that a friend who's over the top makes life seem like an awesome adventure. Maybe you couldn't take it to hang out with her every day, but she seems like a hell of a lot of fun. (Check out this recent profile of her in Esquire, which confirms my impression of her.) Dax Shephard is also the highlight of my favorite drama, "Parenthood," and I've been impressed with him in the interviews I've seen. He kind of reminds me of my brother, which is probably why I think he's so cool.
So I'm glad to have a chance to write about them, and to help promote their movie. They're co-starring in Hit and Run, an action movie also featuring Bradley Cooper, Kristen Chenoweth and Tom Arnold. It was written and co-directed by Shephard, and the trailer is below. It looks fun as anything. Hit & Run is out next week.
As part of promotion for the film, Celebuzz asked these two when they were going to get married. They got engaged a whopping two and a half years ago, over the holiday season in 2009/2010. Earlier this year Kristen said "We consider ourselves already married. We already wear the rings. I don't want a wedding. It's too much stress." Now she's saying that they're waiting until same sex marriage is legal in California:
They met in 2007 and he popped the question on Christmas day 2010, [sic: it was Christmas, 2009] but Kristen Bell and Dax Shepard aren't ready for a stroll down the aisle just yet.

"This is very much up to the State of California," Bell told Celebuzz when asked about her wedding plans.

"We've been very vocal about not wanting to be married in a state that doesn't allow that right to all of its citizens. We'll wait until California gets on the right side of history."

A union of another kind came early for Bell and Shepard as the two star in Hit & Run their first movie together since 2010's When in Rome. Directed by Shepard and starring his good friends Tom Arnold, Bradley Cooper and his Parenthood costar, Joy Bryant, the new movie fulfills one of the actor's lifelong ambitions.

"Seeing the man I love really accomplish one of his dreams, which is directing a real car chase movie, I wanted to give him the best performance," said Bell. "I wanted to be able to do what he wanted to see. So there wasn't ego involved when he was directing me."

Not this time, but there might have been. Working with a loved one can be bliss or it can be hell. Chemistry in the home can turn into chaos on the set, especially when budgets are as short as the shooting schedule.

"We disagree on almost everything," said Bell.

"But not work," added Shepard. "We typically like the exact same movies. We have the same opinion on scripts and on television shows. In that respect, we've very, very aligned."
So earlier this year Kristen said that it was too much stress to get married, and now she's saying she's postponing the wedding in solidarity with same sex couples. Maybe she's just happy with the way things are and doesn't want to mess it up. They live together (next to Justin Bieber) and it sounds like they're doing well – I hope! I was ready to praise them for taking a stand on an important issue, but now it sounds like Kristen has her own reasons for not wanting to make it official yet. Whatever works for them.
Here's the trailer for Hit & Run. I think Bradley Cooper is a solid actor, and this looks really funny.

These are photos from the Hit & Run premiere last night, also including Bradley Cooper. I really dislike that jumpsuit on Bell, but I'm not going to focus on that. Credit: WENN.com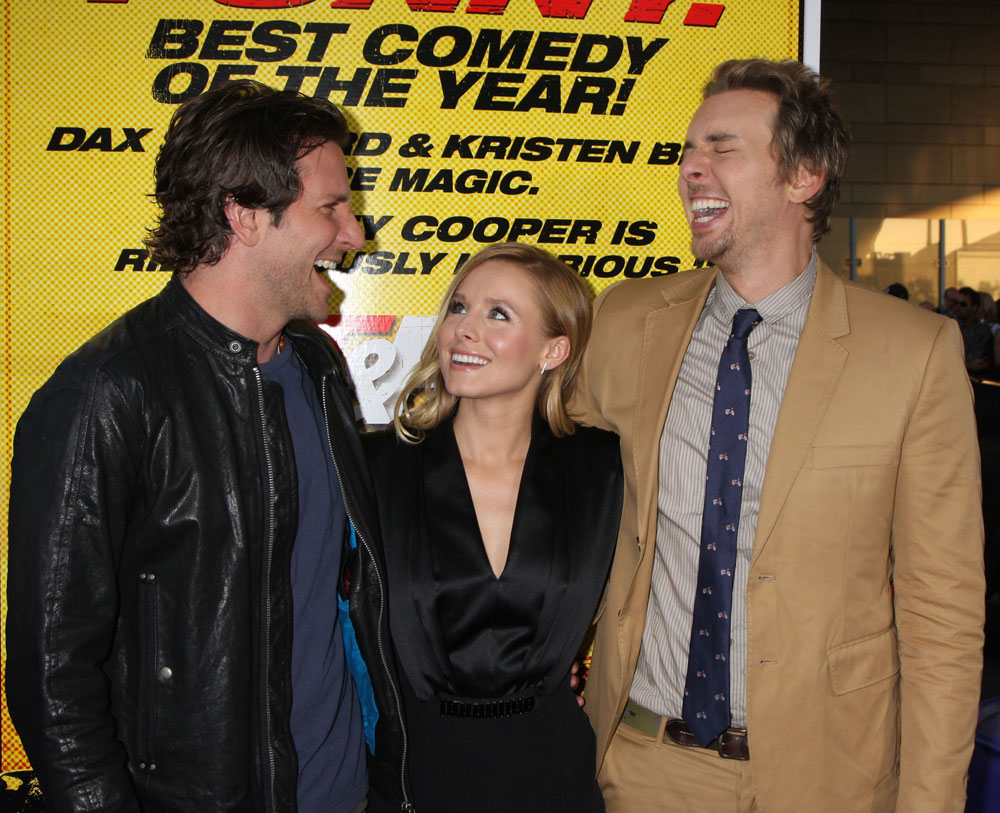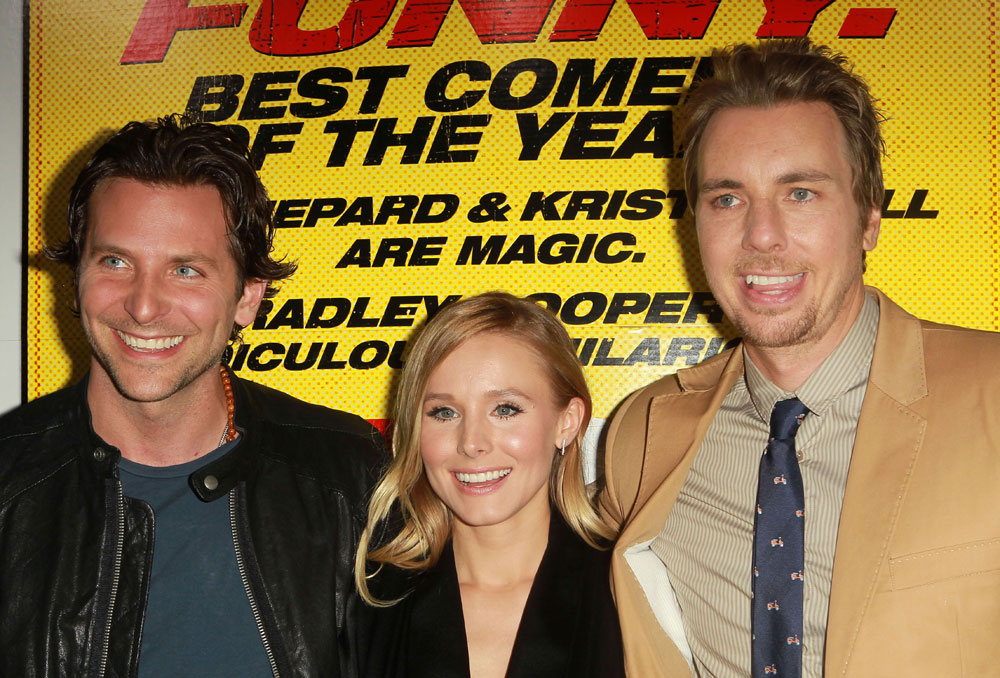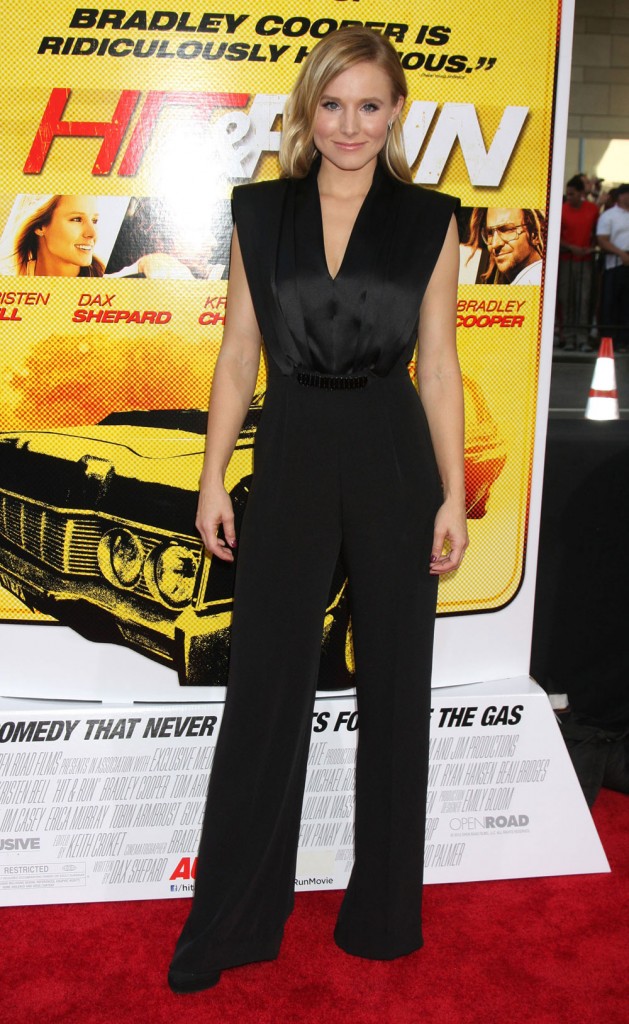 This is a still from Hit & Run. I used it for the front page because there's such a height difference between the that I had a hard time finding a photo where their faces were side by side