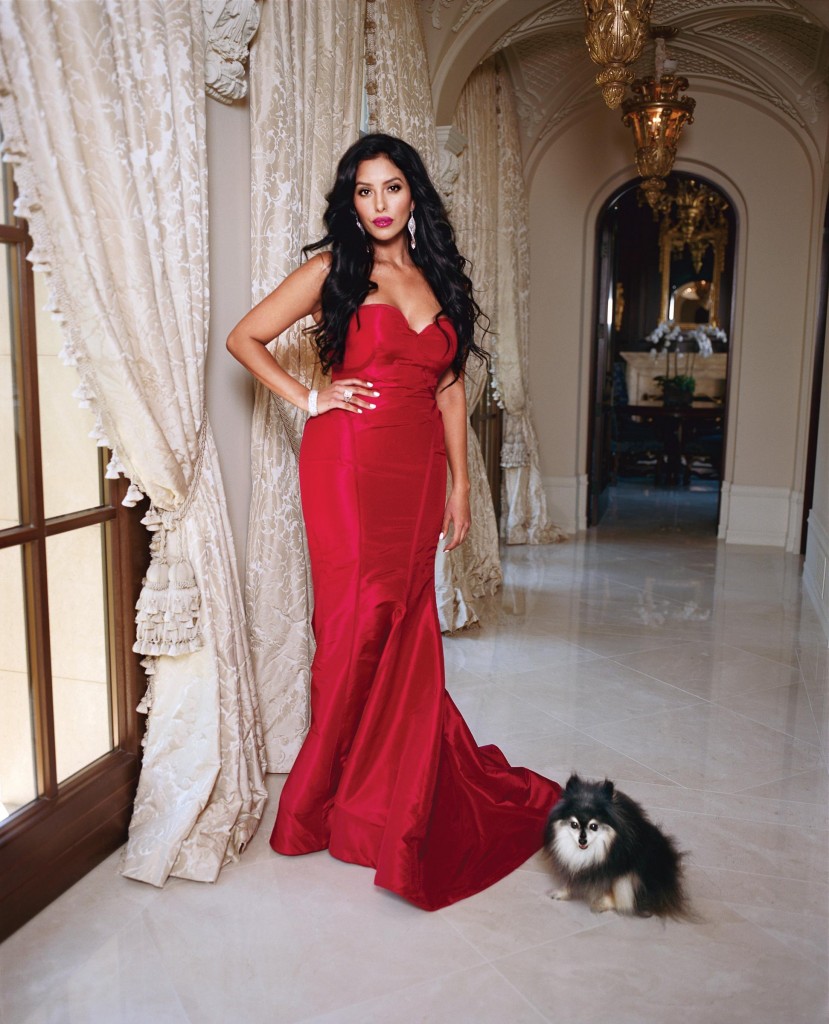 I saw this story over at D-Listed and I couldn't resist covering it. In case you were wondering why Vanessa Bryant keeps taking Kobe back after his serial cheating, she gives more than enough reasons in a new interview with NY Magazine. It's not just multi-million dollar jewelry, designer labels, and living the high life. Vanessa loves the power that comes with being Mrs. Kobe Bryant, and she revels in it and yet tries to front like she's above it all. It's really amusing how haughty and yet clueless she comes across. Here are some choice excerpts:
On how Birkin bags are passe now:
"I'm not really a handbag person anymore," says Kobe Bryant's wife, Vanessa. "I've collected Birkin bags, Chanel 2.55 jumbo flap bags, and the Marc Jacobs Stephen Sprouse collection for Louis Vuitton since I was a teenager. But now, as they say, everyone and their mom is buying a Birkin or a regular size 2.55 bag in black, taupe, or beige. I've been sticking to a magenta suede Proenza Schouler bag."

On how she rarely speaks to the press
Of all the NBA wives, there are few more well-known yet less vocal than Vanessa Bryant, part of a class of female sphinxes like Huma Abedin and Silda Spitzer, her public profile shaped by the events in Room 35 of the Lodge and Spa at Cordillera. Bryant rarely speaks to the press, but as the spotlight shifts to NBA wives, she'd like to say something, though she's wary of revealing what has been hidden. "I thought things would go away, if you don't feed into the b.s., and no one would think about you," says Bryant, sitting on a black horseshoe-shaped couch on the palazzo outside of her pastel Newport Coast mansion, the Pacific spread beneath her, a Pomeranian named Gucci at her feet. "Now I realize I do have to talk about certain things. Still, I don't like the limelight. There's a lot of good you can do with fame, like creating awareness for a foundation, but a lot of negativity comes along with it."

On if she's still with Kobe
"Um," she says, "yes. We're working on things."

On how she works so hard and doesn't have a nanny
"I think people imagine that I sit at home with all the time in the world to do my hair and makeup, but that's certainly not the case," she says. "I'm up at 6:30 in the morning with my kids. I'm taking them wherever they need to go." She doesn't use a nanny—"That's the way I was raised"—and says that she has never missed a sports game or practice of her daughters, 6 and 9. This afternoon, she's checking on the portable nebulizer her daughter uses for her asthma to take overseas. The medicines that doctors push for asthmatics make her uncomfortable, and she's interested in starting a foundation for alternative treatments. "I'm not sure where she got asthma from, but I'm really careful," she says. "When their dad's over and he sprays deodorant, I ask him to go into another room. My youngest daughter has allergies to olive trees. We had twelve olive trees on this property, and after we took her to an allergist, I had them excavated."

Claims she doesn't hate Khloe Kardashian; is the head bitch of the basketball wives
When we start talking about the rumors that have gone around about Bryant, like that she and Khloé Kardashian have almost come to blows, she waves a hand. "Everything is false," she says. "Khloé was at my 29th birthday. I don't get involved in the drama. I've been with Kobe since I was 17, so I've seen plenty of players, and plenty of wives, come and go. It wouldn't benefit me whatsoever to have an issue with any of them, whether they were a girlfriend, or a wife, a person-of-a-month, or … you know. And I think that's why the Lakers as an organization give me the access that I have, that other wives don't have." She talks about the tunnel on the way to the locker room that she stands in to give Kobe a kiss after games, the one that cameras always pan to. "If you notice, I am the only one allowed in that tunnel," says Bryant. "I don't like standing outside and giving him a kiss in front of all the cameras. So I stand in there to get away from them. But then the cameras end up following. And if the girls are there, sometimes, that's their kiss good night for Daddy, and when he comes home, they're asleep."

On how she wouldn't be married to a non-championship winner
"I love basketball. And I know what goes on behind the scenes, so I have a different perspective on things, but still, I do. I certainly would not want to be married to somebody that can't win championships. If you're sacrificing time away from my family and myself for the benefit of winning championships, then winning a championship should happen every single year."


On how Kobe wooed her when she was in high school

Bryant declines to get more personal, choosing instead to talk about how much she enjoys New York—"I looked for a place there, just for a quick vacation home for my kids, but we love staying at the Plaza"—and about the old days, when she fell in love with Kobe. They met after he saw her at a video shoot; she was only a senior in high school. "He'd come to school to get me in a black Mercedes, and flood the school with roses," she says softly. "My curfew was 10 p.m., and he got done with practice at 2 p.m., so that's how we'd see each other."
I looked up those Proenza Schouler bags and the large suede ones retail for a little under $2,000, so in this woman's mind she's probably being super thrifty. Also, maybe Vanessa doesn't have a nanny because a) she doesn't want a young woman around her husband and b) she treats staff so horribly that she can't keep anyone around. It was much better for Vanessa's image when she just kept her mouth shut and scowled. She pretty much confirmed here that she's as much of a stuck up superficial gold-digger that people assumed.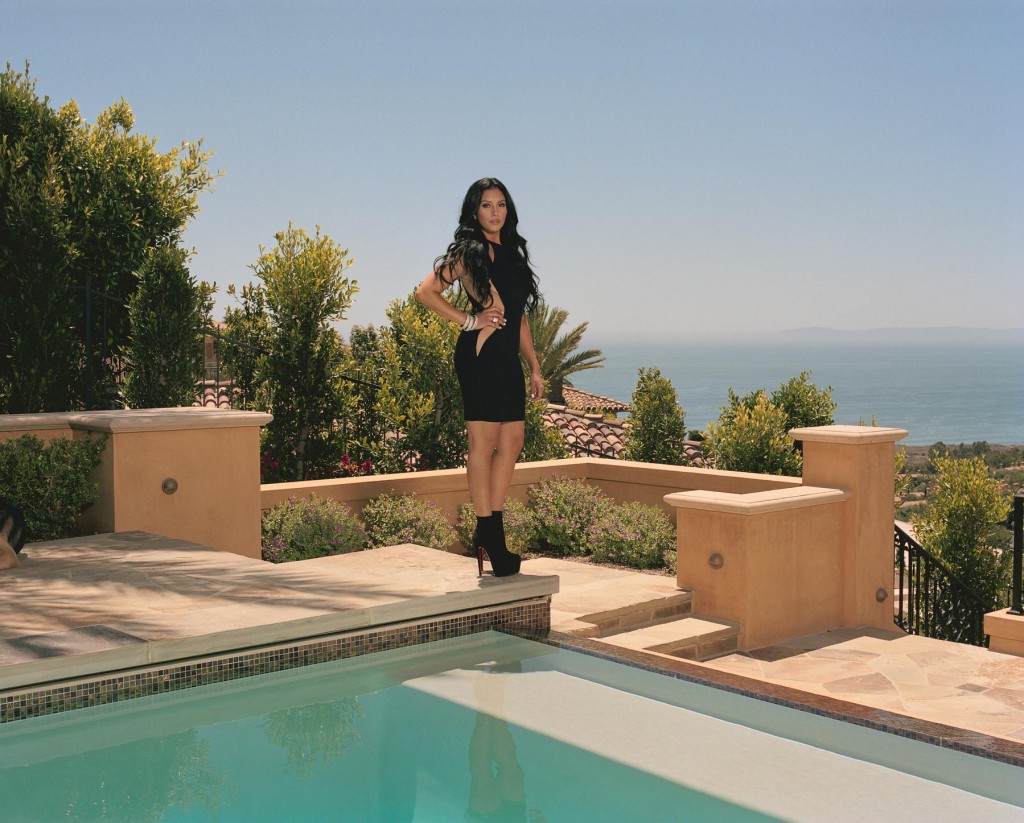 This is my favorite picture of Vanessa, at the ESPYs in 2009. Credit: FameFlynet