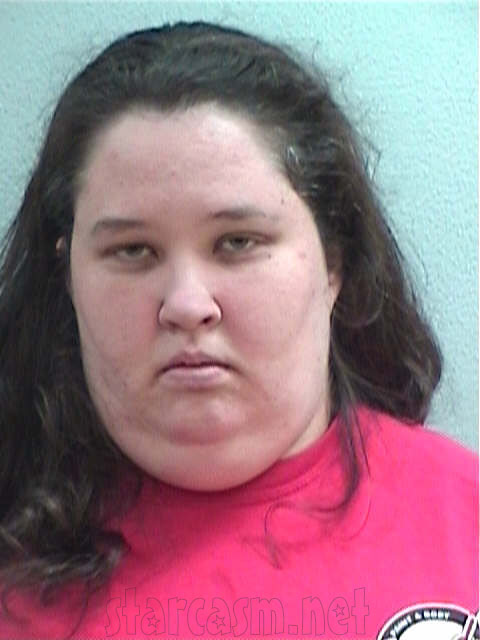 Honey Boo Boo's mom's mugshot from an unrelated arrest, details below
You know how everyone is always saying that the "Toddlers & Tiaras" moms need to be investigated for child neglect for all the spray tans, teeth bleaching, and overt sexualization they subject their daughters to? Well it happened to at least one family. "Honey Boo Boo," the six year-old star of a new spin-off on TLC that some have deemed exploitative, had her home life evaluated by social workers. Her case was about to go to trial when her family's court-appointed lawyer was successful in getting it dismissed. So they probably didn't find anything beyond what we saw on the show.
This article contains a spoiler for Honey Boo Boo. Skip over the rest of this story if you'd prefer to be surprised by this development:
"Here Comes Honey Boo Boo" premiered to huge ratings on Aug. 8. The show follows the lives of the Thomp­son family from rural McIntyre, Ga., including TLC's new runaway star, Alana, aka "Honey Boo Boo." The network decided to give the unforgettable little girl her own series after videos of her appearances on the cable network's "Toddlers & Tiaras" went viral earlier this year.

BUT production of the show nearly came to a screeching halt shortly after filming began in March when investigators from Georgia's Division of Family and Children Ser­vices made an unannounced visit to the family's home.

"Honey Boo Boo's upbringing raised eyebrows with neighbors," a source told The ENQUIRER.

"The parents feed her energy drinks, cheese puffs for breakfast and brag about how they cook roadkill for meals. She even eats roadkill with flies swarming around her head!"

But the authorities didn't get in­volved until a videotape of Honey Boo Boo dancing for dollars on a ta­ble in a bar was posted online.

In the scene, which was not filmed by TLC, mom June defended her daugh­ter's actions by explaining that it was a college bar, not a "sleazy" one.

Investigators found reason to bring the case to court, but June's court-appointed at­torney was able to convince the judge to throw it out, and film­ing resumed in May.

The first episode of the show – which showcases a whole lot of belly-slapping and gas-passing – drew an impressive 2.2 million viewers, but it also received a con­siderable amount of criticism.

And that criticism is bound to increase later in the season after Alana's 17-year-old sister Anna, aka "Chickadee," gives birth to a baby girl with two right thumbs – and grandma June makes fun of the defect!
[From The National Enquirer]
I was ready to report this story as a predictable one until I got to that end part. Honey Boo Boo's 17 year-old sister has a baby with two right thumbs, which her family then makes fun of. Of course they do, and of course they put it all on tee-vee. That poor baby and her mom, who likely had no say in the matter.
As for the CPS investigation, it's what you would expect. They can't mandate that people not give their kids Mountain Dew mixed with Red Bull, not let them dance on tables, and not teach them witty phrases that hookers would say. As long as the kids aren't in grave danger, there's nothing they can do. Pimping them out in pageants and on a reality show doesn't qualify.
Meanwhile, Starcasm found that Honey Boo Boo's mom, June Shannon, has an arrest record in Georgia, most likely from missed child support payments. It's thought that her oldest daughter, the one who is pregnant on the show, might have a different father than the man June is currently married to. Which is good news, because it means it wasn't statutory rape when she conceived the girl at 15. You can read about it at Starcasm. [Via Crushable]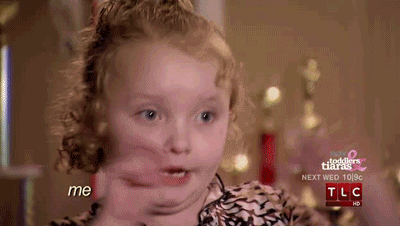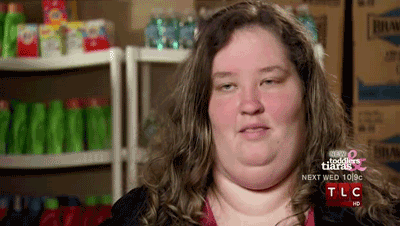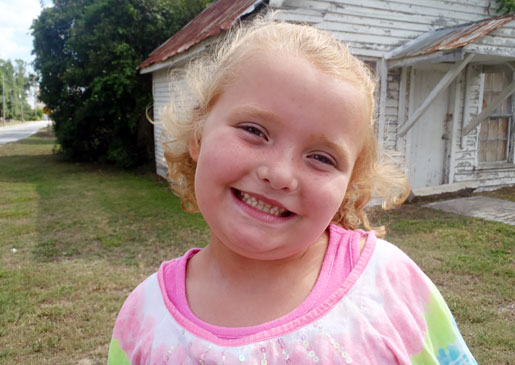 This is a TLC promo pic. Again, I didn't just pick the worst one