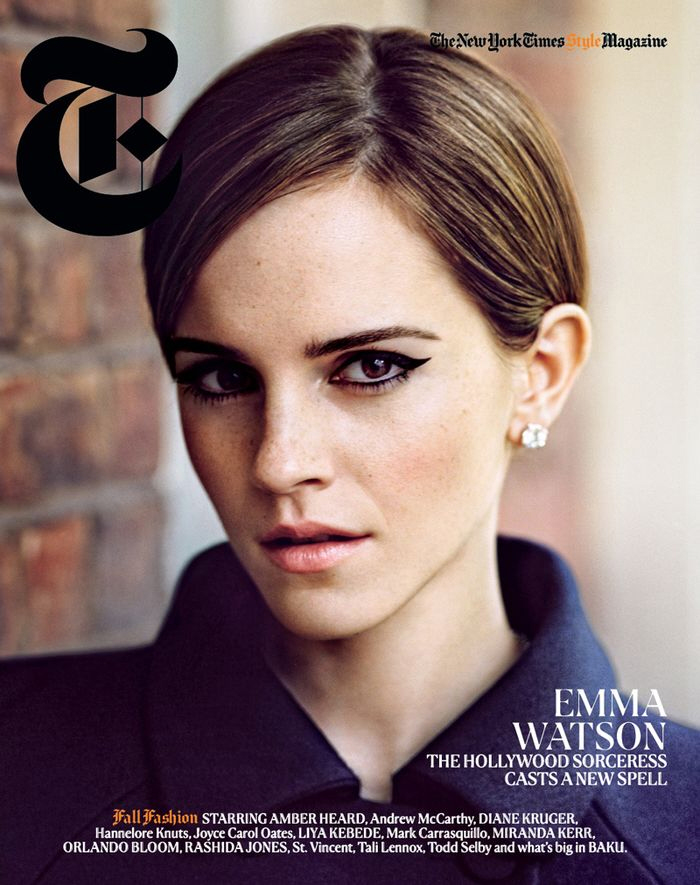 I've come to the conclusion that no matter what I say about Emma Watson, good or bad, Emma's fan-girls are going to throw hissy fits. So I might as well just get on with it. Emma covers the New York Times "T Style Women's Fashion Fall 2012" issue, which I believe is the NYT Magazine cover this weekend. I like the photos, generally speaking. Emma's hair is growing out nicely, I love the diamond earrings and some of the clothes featured in the shoot. My only two complaints? Her eye makeup is too heavy (the liquid eyeliner looks worse than Duchess Kate's), and I dislike the Kardashian-esque open-mouth pose. You can read the full NYT profile of Emma here – she's on the cover because she's promoting The Perks of Being A Wallflower, where she's trying out her American accent for the first time in a film. The NYT piece is kind of meh – it's written by a man who is not an Emma fan-girl, so it comes across as "making the effort not to fawn on this young actress." Some highlights from the piece:
Her American accent: "My grandma said — when I was really young and I'd sing along to the radio — why do you sing in an American accent? I guess it was because a lot of the music I was listening to had American vocalists. And that was something [m director Steve Chbosky] said to me as well: try singing the lines in an American accent. That kind of opened me up. Then I worked with a dialogue coach and I just put in the time to really, really listen and just go over it and over it and over it until I could do it without thinking about it too hard. And I just knew it was really important."

Why hasn't she done more films before now? "I think at first I didn't because I was always either studying or filming, I didn't have time to go off and do other films or other things to sort of show people that, Oh, she is not just Hermione, she is an actress and she can go and do these other parts and roles. . . . I didn't, because I was so focused on, you know, on my GCSEs and on my AS and on my A-levels and then getting in to university and then whatever, I didn't really have time to do any of that."

How did she enjoy Brown University? "My first two years at Brown weren't easy, not because I was bullied or because anyone gave me a particularly hard time, but just because, you know, without the collegiate system . . . and at Brown everyone does completely different things and very much chooses their own path, which is great, but it's also much more difficult, too. You're not with a group of people all the time at one time."

Parental advice: "Yeah, I think I've been lucky in that neither of my parents got swept up in it, it wasn't something they wanted for me, it wasn't something that they were overawed by. They gave me the best advice they could, and I think they gave me very good advice. But my mum particularly said, 'Right, you're going to go into these interviews and they're going to ask you anything they feel like asking you, and every time they ask you a question, think about whether you'd be comfortable discussing it with a stranger.' "

Finding her career on the upswing: "I'm not really sure how I've managed to do it." But then she got a little more real: "I guess weirdly in my head I knew what I wanted, I didn't know how it would or if it would ever happen. But before 'Bling Ring,' I said I'd really wanted to meet Sofia Coppola and — this is before I knew that she had a film in mind — ended up meeting her. And Darren was someone who actually I met a good year ago. And then I'm doing a film with Guillermo [del Toro] next summer, and I went to him and said Warner Brothers have given me the script for 'Beauty and the Beast,' but the only way I'd really want to do it is if you did it. And then miraculously he said, 'Oh, funnily enough 'Beauty and the Beast' is my favorite fairy tale, I can't let anyone else do this, I'll start putting a team together.' "

Fame: Nowadays, while she can walk around fairly happily in quiet areas of London or New York, there are plenty of other places that are off-limits: "If I went to somewhere busy, I wouldn't last very long. I can't go to a museum, I'll last 10 or 15 minutes in a museum. The problem is that when one person asks for a photograph, then someone sees a flash goes off, then everyone else sort of . . . it's sort of like a domino effect. And then very quickly the situation starts to get out of control to a point where I can't manage it on my own."
See? It's not a particularly dishy interview. I did find her answer to the Brown Univ. question interesting – she reiterated that she was NOT bullied and no one "gave me a particularly hard time" – meaning that some people teased her but it didn't bother her, I wonder? As for the discussion of "At Brown everyone does completely different things and very much chooses their own path, which is great, but it's also much more difficult, too. You're not with a group of people all the time at one time." I'm not sure what this means? Are British universities really that different in how they treat first and second-year students and the general curriculum? Or is this Emma's way of saying that she was just unaccustomed to the wildly different atmosphere of American college life, and she basically had culture shock?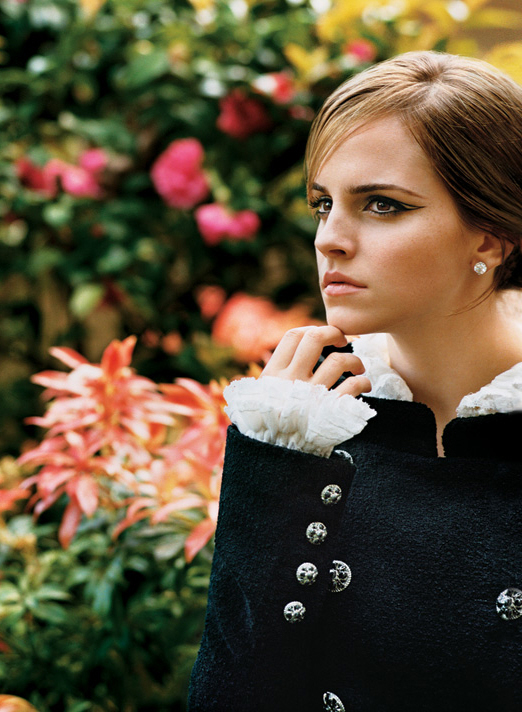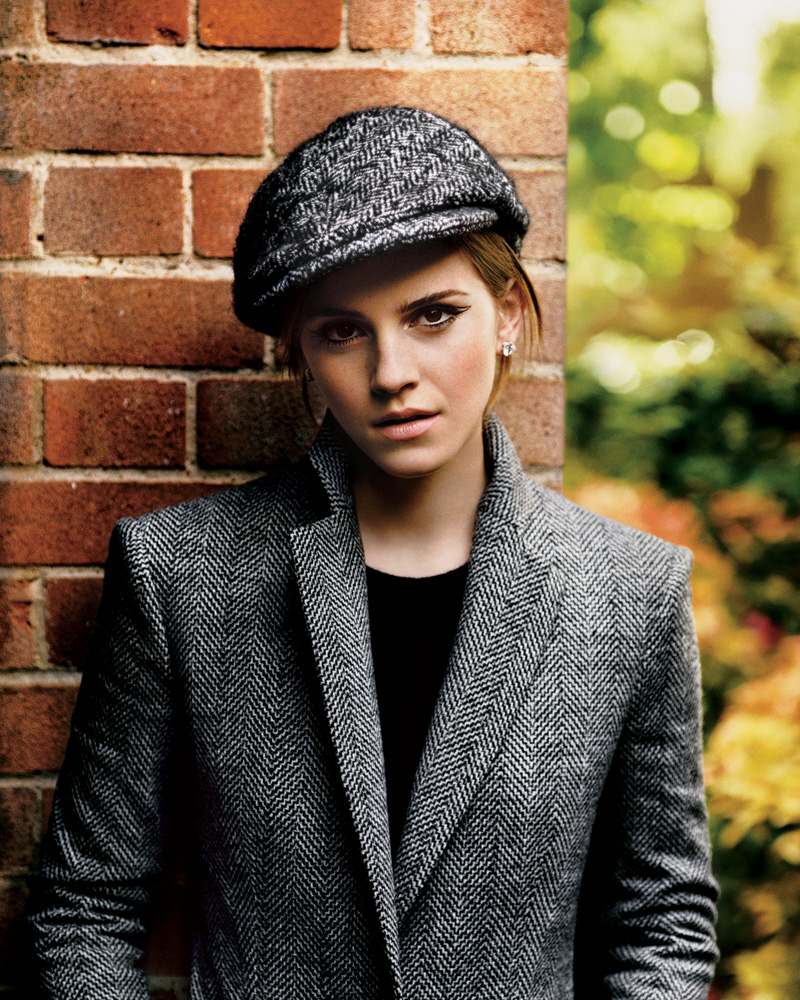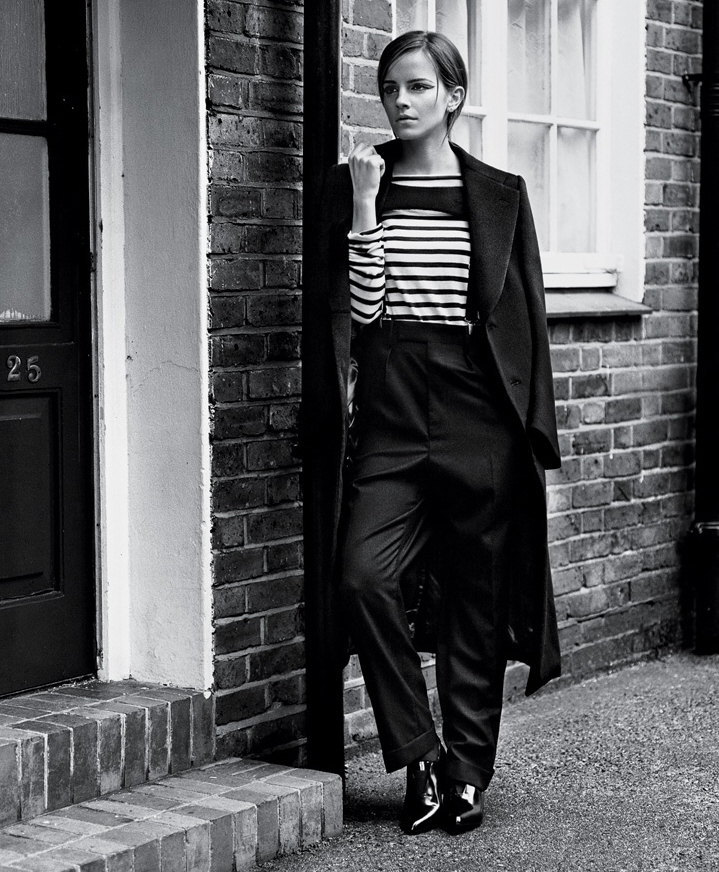 Photos courtesy of NYT Mag, via The Fashion Spot.