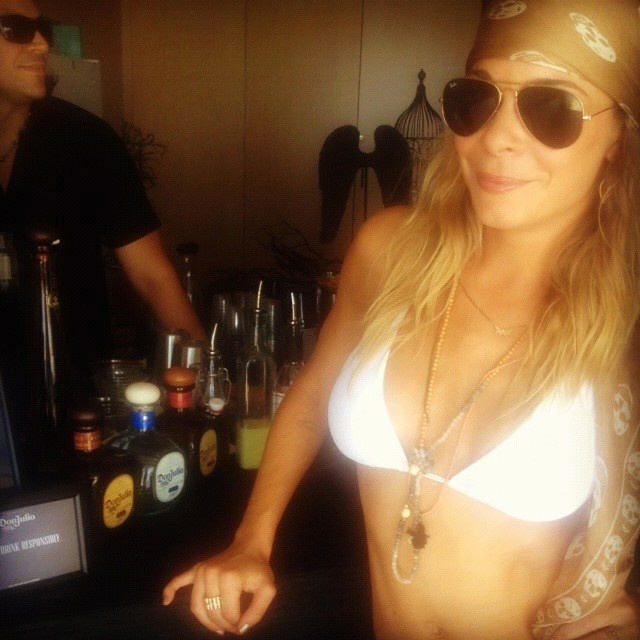 Here is a Twitter photo of LeAnn Rimes celebrating her 30th birthday with tequila. I've gone on LeAnn's Twitter a few times over the past week, and she's been tweeting constantly about her birthday – which hasn't even happened yet. Her birthday is August 28th. Why does she get a month of celebrations again? Is it because she's turning 30? Ugh. I HATE HATE HATE that she's a Virgo too. She gives Virgos (like me) a bad name. LeAnn is the dark side of the Virgo sign – for the most part, we're extremely logical and anal retentive, but some people in our sign veer off into full-blown CRAY. Anyway, LeAnn tweeted the header photo with the note, "HUGE thx to @donjulio for providing the tequila and awesome mixologist for my 30th bday!!!" I mean… yes, that's how everyone should spend their birthday – drunk and wearing a bikini. But what's the difference between LeAnn's birthday celebration and her regular life?
Anyway, in between tweeting about her birthday and tweeting about HER boys ("Jakes's first day of kindergarten and Mason's first day of 4th grade! They rock! Such big boys now!!! #success"), LeAnn tweeted a link to a new interview she gave to the U-T San Diego. Enjoy:
Q. Tell us what you'll be doing at The Salk.
A. I know I'm going to be performing with a symphony, which is something I love and don't get to do very often. I like doing these more intimate shows because I always feel like I'm sitting in my living room, hanging out with friends. I'm sure it's going to be a beautiful night.

Q. You've been performing for more than half of your life, how do you attribute your longevity as a singer?
A. It's always been an up-and-down ride, like a roller coaster. But recently, I've been growing as a writer and a producer, and that keeps things interesting. I feel like as I get older and go through ups and downs in my personal life, I don't need to explain myself so much anymore, it just naturally comes out through my music.

Q. All those recent magazine pictures of you and your family at the beach, is that here in San Diego?
A. No, we've been around Newport on a family reunion. It's the first time we've all been together in a long time. It took 30 years to get here, but we're here and it's so nice.

Q. You dealt with your own scandal when you got divorced and married Eddie (Cibrian). How did you survive your personal life on display?
A. People get sick of it eventually. Now they're waiting for us to get pregnant and the magazines write all these stories about us that aren't true. But it's just part of what I do. I didn't have to deal with it when I was younger because this whole reality television/tabloid world wasn't so big then. People are always going to talk and say what they want and they can have at it. My husband, my family and I, we have our own truth and that's the one that matters.

Q. You're turning 30 soon, how are you feeling about it?
A. I'm excited, it's something that's going to be a whole new beginning, a whole new chapter. I'm working on a new album and it's a labor of love, I'm so happy with it.

Q. Can you give us any details about the record (which is planned to be released in February)?
A. I don't think people have ever seen me this honest. I'm excited for everyone to hear my truth about the way I see things and the way I live my life. I think you'll understand a lot more about me after you listen.
I could parse her statement about "surviving with her personal life on display" for a long, long time. LeAnn actually didn't sound as full-blown crazy as she usually does when answering that kind of question, although I did chuckle at, "Now they're waiting for us to get pregnant and the magazines write all these stories about us that aren't true." I read the tabloids every week – she doesn't have to worry about the tabloid coverage, like, at all. She barely registers at this point in the tabloids. It's the blogs she has to worry about. But how funny is "My husband, my family and I, we have our own truth and that's the one that matters"? "Our own truth"?
I wonder what LeAnn's cake will look like?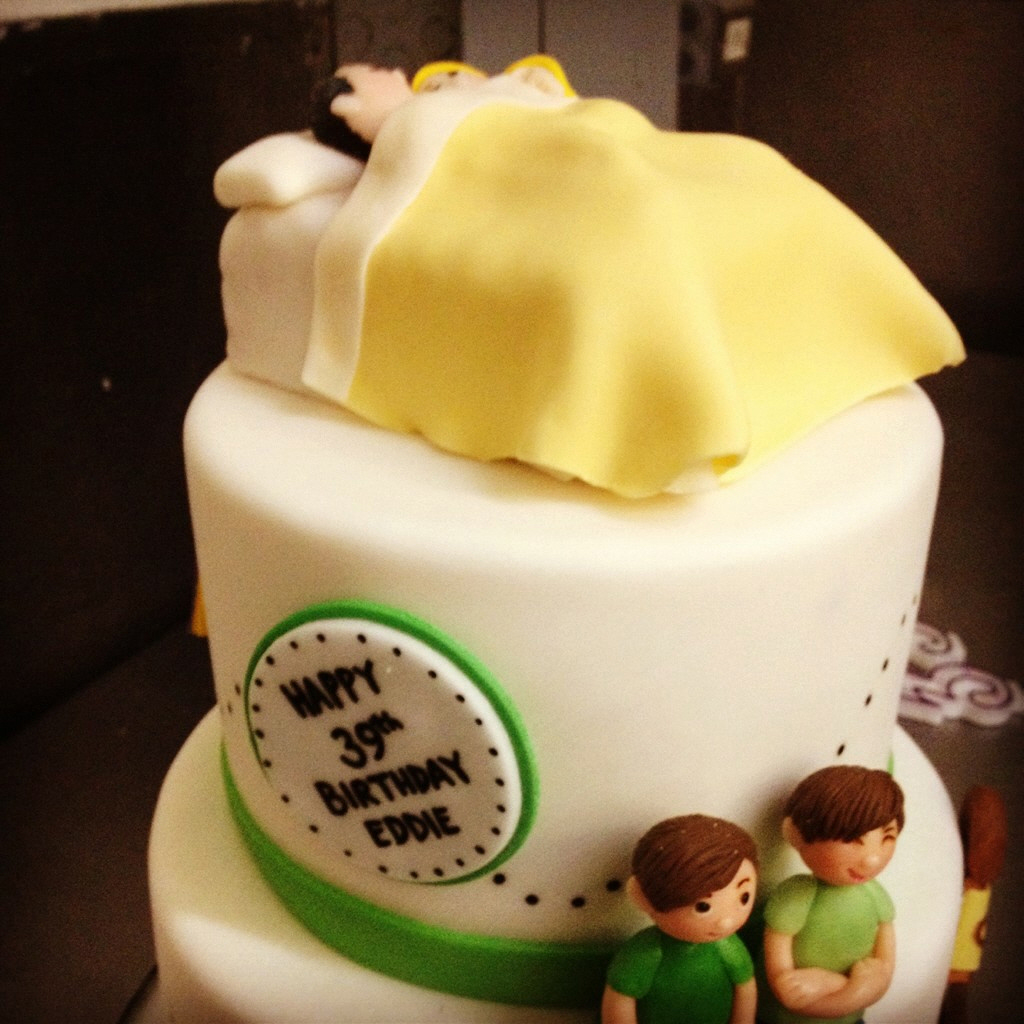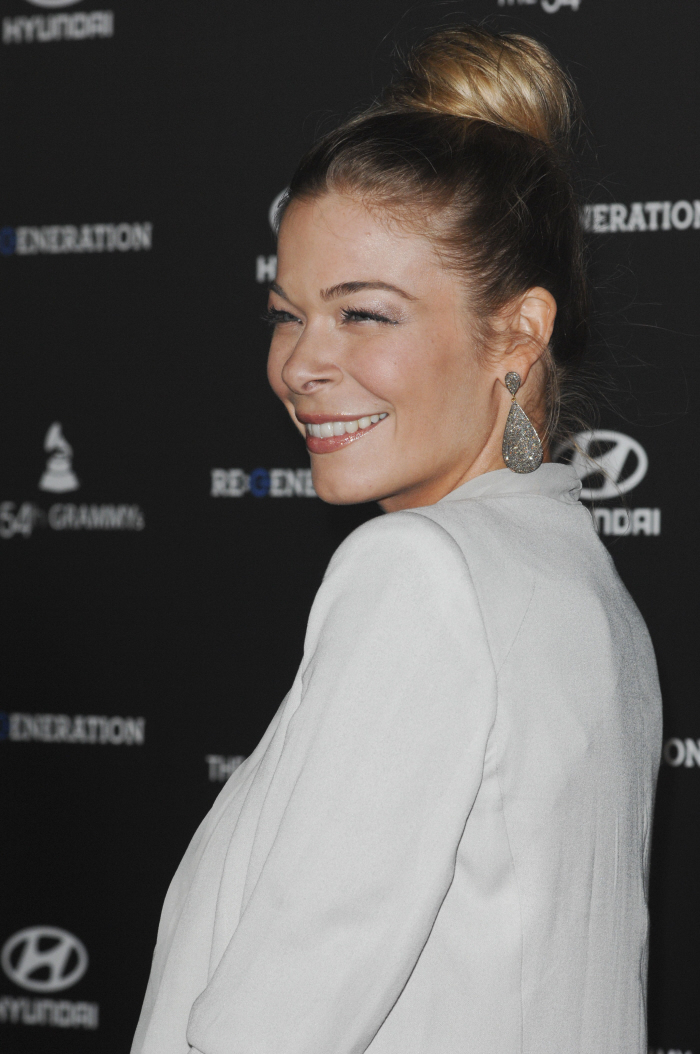 Photos courtesy of WENN and LeAnn's Twitter.