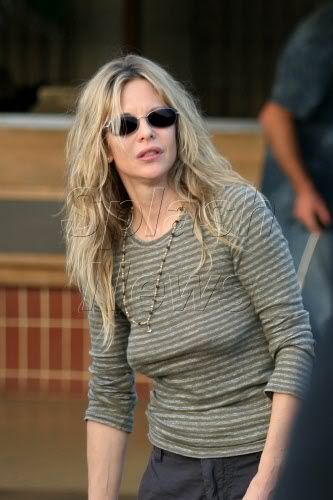 Meg Ryan should throw on a bra before she steps out, even if she's just picking up her kid at daycare. She was photographed sagging and looking beat. She could be quite pretty if she had a proper hairdo and put herself together.
Ryan is going to star in a miniseries for HBO called "The Best Awful," which is based on one of Carrie Fischer's novels. She is also appearing in films "In the Land of Women" and action comedy "Homeland Security," and seems to be making a moderate comeback. All the more reason to put on a bra before she goes out.
She was seen with her nearly two year-old daughter, Daisy, who she adopted from China and originally named Charlotte. Ryan told Oprah that she changed the girl's name when she was a year old because she didn't look like a Charlotte.
Pictures from Splash News Online.