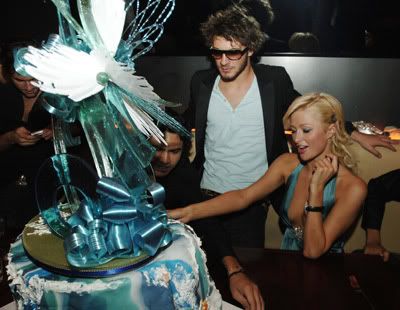 Paris Hilton is getting paid half a million dollars to host a rock concert this weekend in Austria. I would work 60 hour weeks for two years straight for that kind of money and consider myself lucky as hell.
Her idea of working hard is seriously skewed. Her house is enviable though, of course.
In the pictures of Paris' Hollywood villa below that were published in Hello Magazine, you can get a sense of the "Old Hollywood" style favored by her interior designer, and see the chandeliers hanging in her closet and over her bed. She also has a huge picture of herself hanging in her lounge.
Among her memorable quotes in the article accompanying the pictures:
"I'm a brand, a model, an artiste, an actress, a designer."
"When I was a kid, I had no idea I lived in a mansion. Then I went to a friend's house, and I was like – oh!"
"I worked hard for all this. I tell girls that if you basically work hard, all your dreams will come true."
Other revelations in the article include the fact that Paris' dogs have their own gated area, and that her bed is worth nearly $20,000 USD.
Pictures [via]
Here are also some pictures of Paris celebrating Stavros Niarchos' 21st birthday at Fix Restaurant in Vegas on 4/12. The cake is just incredible.