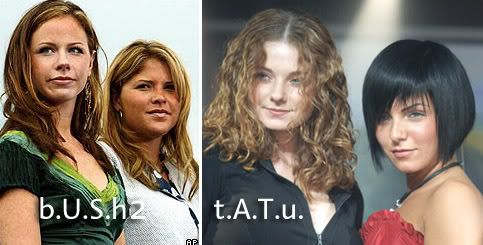 In an effort to boost ratings, NBC starts showing popular YouTube clips in prime time.
Hip hop producer Scott Storch completes a new album with the Bush Twins, who go on to become the next t.A.T.u.
The Lohan/Hilton fued will reach its conclusion after Lohan releases the "dis" single "Going back to Paris" and gunplay mars the opening of Herbie: Fully Loaded Part Two.
Jack Black will draw boos at Wrigley field after scatting over "Take Me Out to the Ballgame."

Tobey Keith will stay in the closet.
The Rosie O'Donnell Donald Trump fued will end in a televised mud wrestling match that cable subscribers will have to pay NOT to watch.
Suri Cruise, Shiloh Jolie-Pitt, Davie Banda-Richie, and Maddox Jolie-Pitt form the Emo band "Taking Back Childhood" and are instantly signed to Victory records.


In the new Martin Scorsese movie, Jack Nicholson plays an insane movie director who uses his mob ties to threaten the Oscar committee into giving him the Academy Award.
Nicole Richie will digest a cheese sandwich.
In the new Indiana Jones movie, Harrison Ford will discover a fossilized version of himself .
The new Tom Cruise/Steven Spielberg movie will open with a heartwarming scene in which Cruise displays his amazing acting range, followed by a 75 minute chase scene.
Rush Limbaugh draws criticism when he claims that Gerald Ford is obviously acting or forgot to take his medication.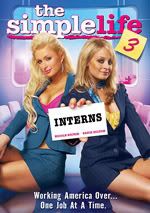 The Simple Life 5 will end in tragedy and legal action when the stars attempt to fill in for two heart surgeons in a Tulsa, Oklahoma emergency room.
Despite strong Internet buzz, the new Samuel L Jackson film, Spiders on the Bus, does less than expected at the box office.
A police situation and hostage situation develops after Dustin Diamond (aka Screech from Saved by the Bell and Internet porn fame) claims squatters rights and refuses to leave The Surreal Life set.