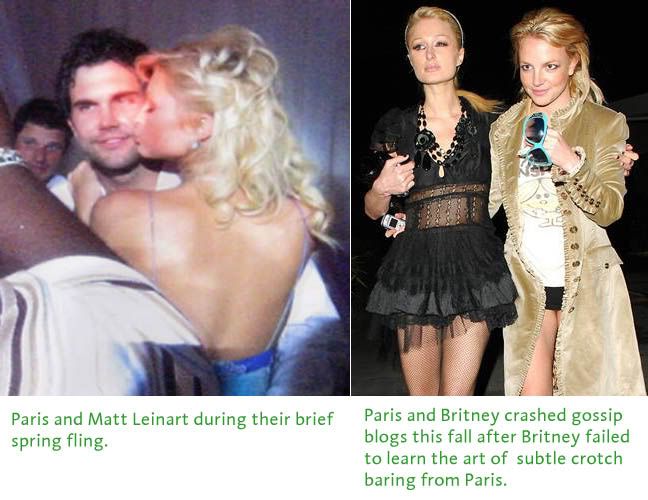 Both Matt Leinart and Britney Spears ditched Paris Hilton after screwing around with her for a few weeks. Their people advised them that being linked with Paris would hurt their respective careers. Leinart was celebrating his draft into the NFL this spring when he met Paris while partying it up in Vegas to celebrate. Once he went off for training, his teammates in the Arizona Cardinals are said to have told him to stay away from Paris.
Britney was seen spreading her legs all over town in the company of Paris last month, but Britney broke it off with Paris and told her that she has decided not to be seen in public with her for the time being. Paris is said to be calling her "the animal" since Britney is all instinct.
It's not surprising, then, that Leinart and Spears two were seen flirting and giggling while out at a club in Scottsdale, Arizona recently. They were probably comparing notes:
For the last week, everyone's been wondering where in the world Britney Spears has been. Well, it turns out that the mother of two has been partying it up with one of ex-BFF Paris Hilton's exes – Arizona Cardinal quarterback Matt Leinart in Scottsdale, Arizona. The tattooed pop princess flirted with the multimillionaire QB during a night of dirty dancing at a Scottsdale nightspot, the Jackrabbit Supper Club. "They were flirting hardcore on the patio area all night long… bumping and grinding and whispering in each other's ears," a source says. Britney, who usually likes to travel with a huge entourage kept it low-key, with two girlfriends and a big burly bodyguard at the Jackrabbit Supper Club when she bumped into hunky Matt. "Her attention was focused on Matt all night long," the source adds. "She really let loose!" Hmmmm, could a love match be in the air?
Leinart and Spears also have something else in common. They both have young babies at home. Britney's mystery second child, Jayden James, was born in September while Leinart just had a child with University of Southern California basketball player Brynn Cameron at the end of October.
Here are pictures of Britney making out with a guy that's not Matt Leinart, Blake McGrath. BreatheHeavy.com, a fansite that hasn't dumped Britney, reports that Blake is one of Britney's dancers and was featured on the show So you think you can dance?. They also report that McGrath plays for the other team and is not into women despite making out with Britney.