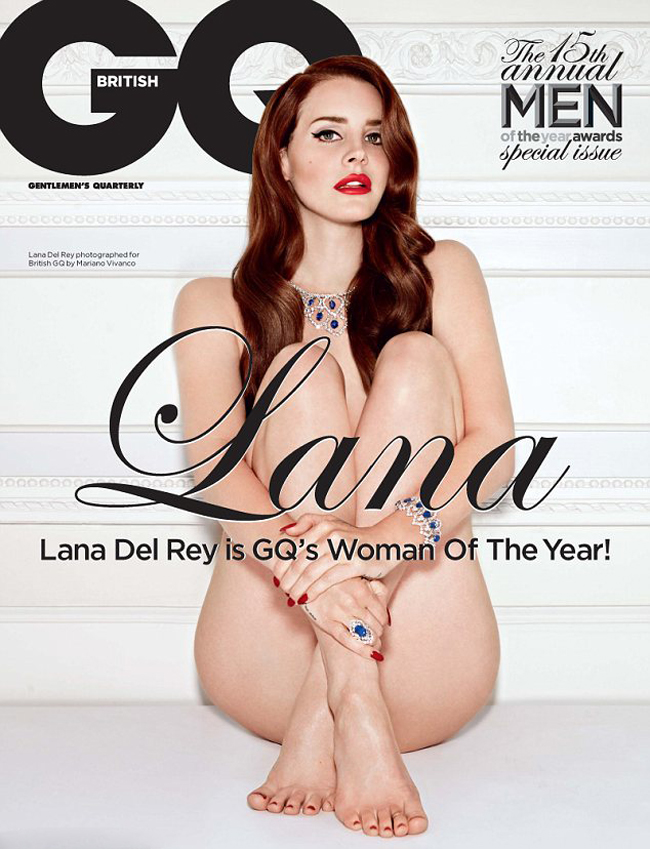 Lana del Rey and her entirely manufactured self (including those lips) appears on the cover of GQ UK's October issue. Lana was named the "Woman of the Year" at last week's "Men of the Year" event, so she's naked in the photoshoot, which makes sense I guess. Sure's, she's got a nice body, but it still remains a mystery why Lana gets so much attention when it's clear that she's merely the latest pop flavor of months that have already past. Here are some excerpts from Lana's speech at the GQ event, where she discussed boob groping for a good cause and her troubles with alcohol: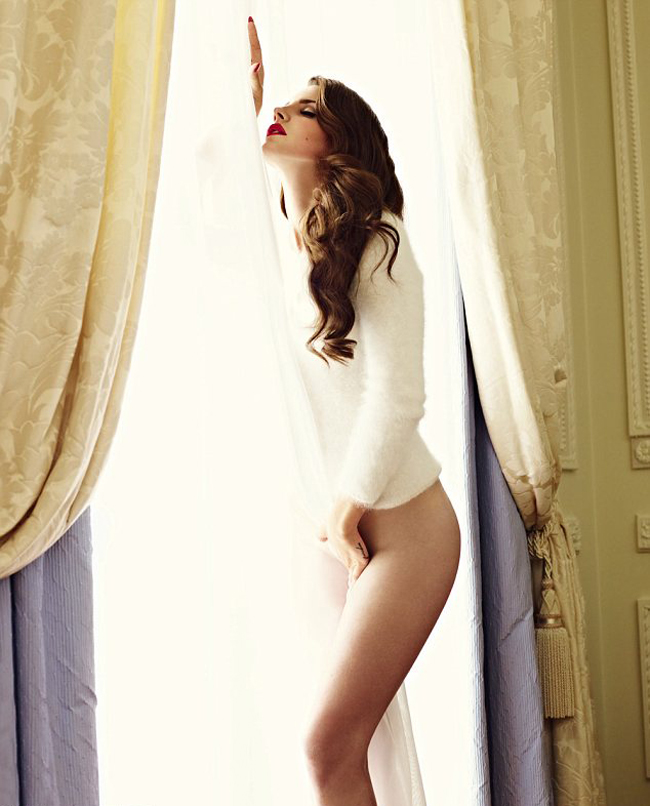 She landed the title of GQ's Woman of the Year at an awards ceremony last week so who could blame Lana Del Rey for oozing confidence. And it is clear that the 26-year-old singer is comfortable in her own skin stripping off to appear nude on the cover of next month's magazine.

The Video Games singer is seen sat on the floor completely naked with her legs crossed and only her long fiery locks to conceal her modesty. Wearing nothing but bright red lipstick Lana is seen tilting her head in a seductive fashion towards the camera.

In another shot she is seen dressed in a white basque smelling a rose while in another a man is cupping her breast. At the GQ party last week Lana revealed exactly who the hand belonged to. Introduced by Boy George, who kindly compared her sultry persona to that of Marilyn Monroe, she took the stage and thanked editors for bestowing her with the title.

Shifting on stage, she hummed, her words hanging with monotone expression: "We had a beautiful shoot in Monaco and I had a really interesting interview – for a change – and I was reminded of why I love to sing and why I wanted to become a writer. And also," she continued, "Paul, the creative director, was very hands on with the shoot."

As laughter rumbled through the audience, Del Rey made reference presumably to the British magazine's creative director, Paul Solomons. "In fact, if you see in the magazine – in the middle of the spread – you'll see a hand hoisting up one of my boobs," she added. "That's Paul's hand. Couldn't have done it without him."

Speaking to the magazine Lana speaks out about what it is like living in the spotlight and says: "My life is just f&@&ing different. I never wanted to lead a normal life. I was always a secret thrill-seeker."

The flame-haired singer also talked about her battle with drinking. She said: "Alcohol was the first love of my life. I have a dark side but the dark side was winning every time."

Lana has recently revealed she is quitting the recording studio to write Hollywood scripts and she even enjoyed dinner with British actress Carey Mulligan, 27, in LA last month.
[From Daily Mail]
Wait, they totally buried the lead there. Lana is quitting music to become a screenwriter! This is huge news if only because it means that we won't have to listen to her "music" anymore. Otherwise, I don't care too much about what she says. Everything about this girl sounds fake, and even her statements on alcohol (she claims to have been a hard drinker at age 14) sound like she's embellishing them to sound edgy. Is that insensitive of me to say? I do fully sympathize with those who have a problem with alcohol and have lived through the hell of getting back onboard with life, but I just don't buy much when it comes to Lana del Rey.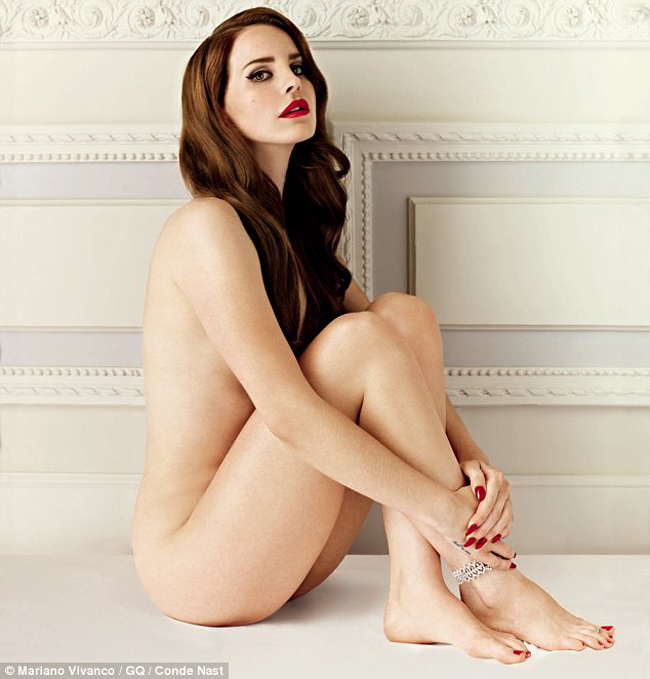 Here are a few photos of Lana wearing a white Wayne Cooper dress at last week's GQ Awards event. Kaiser's correct — it does look like a wedding dress.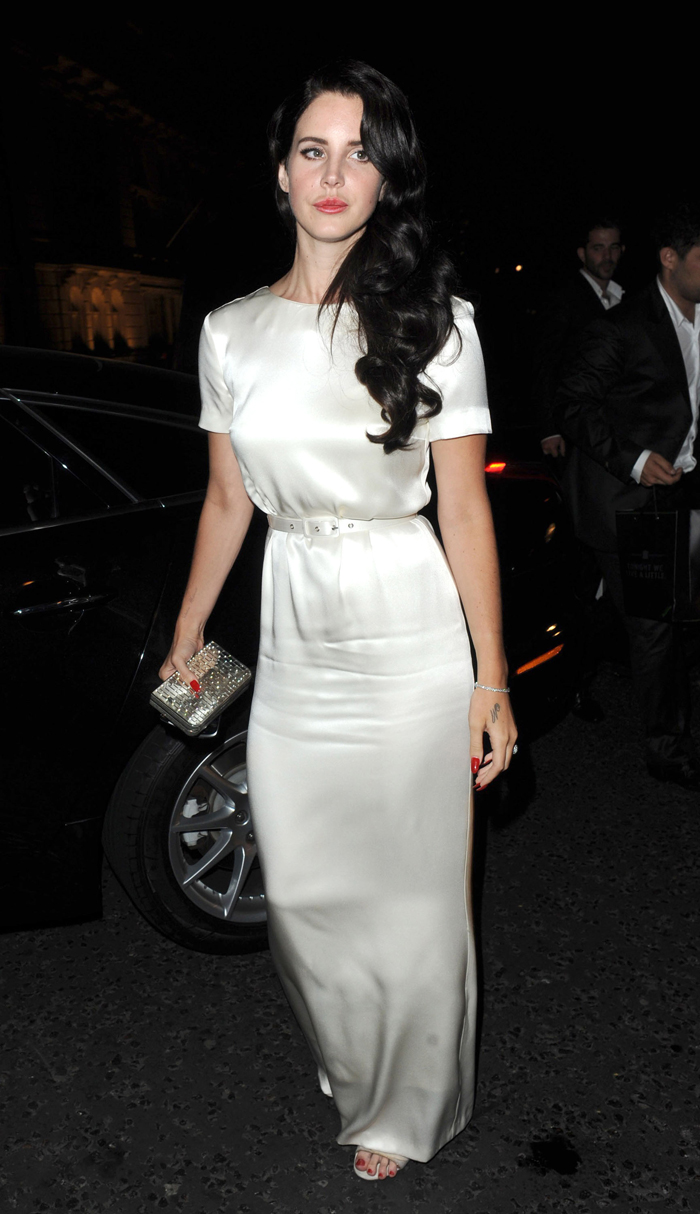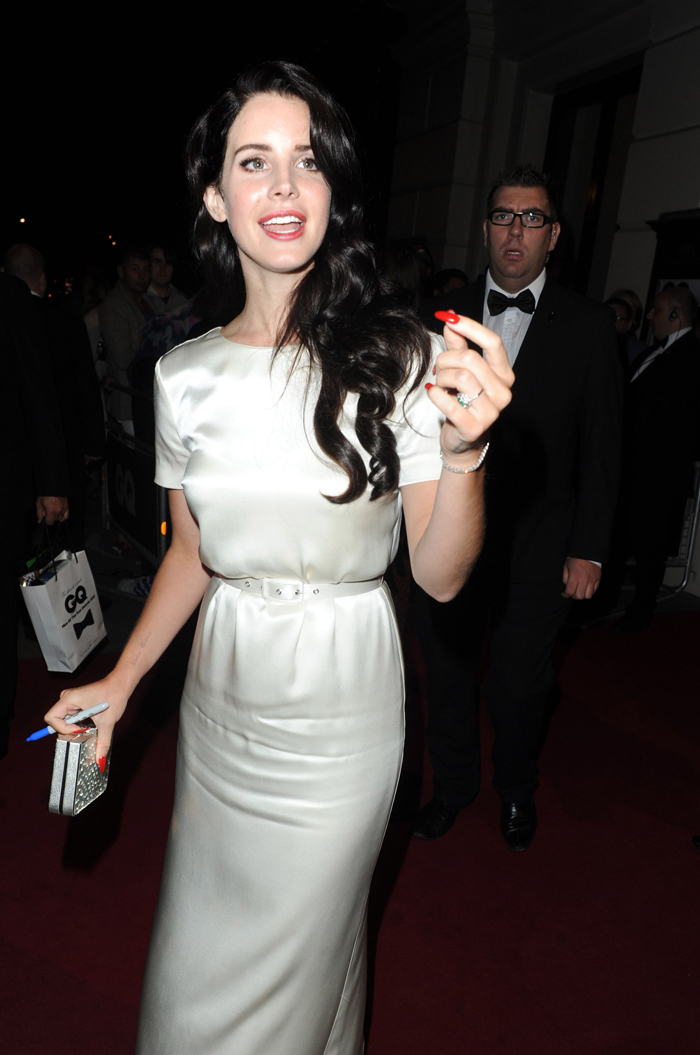 Photos courtesy of Fame/Flynet and GQ UK