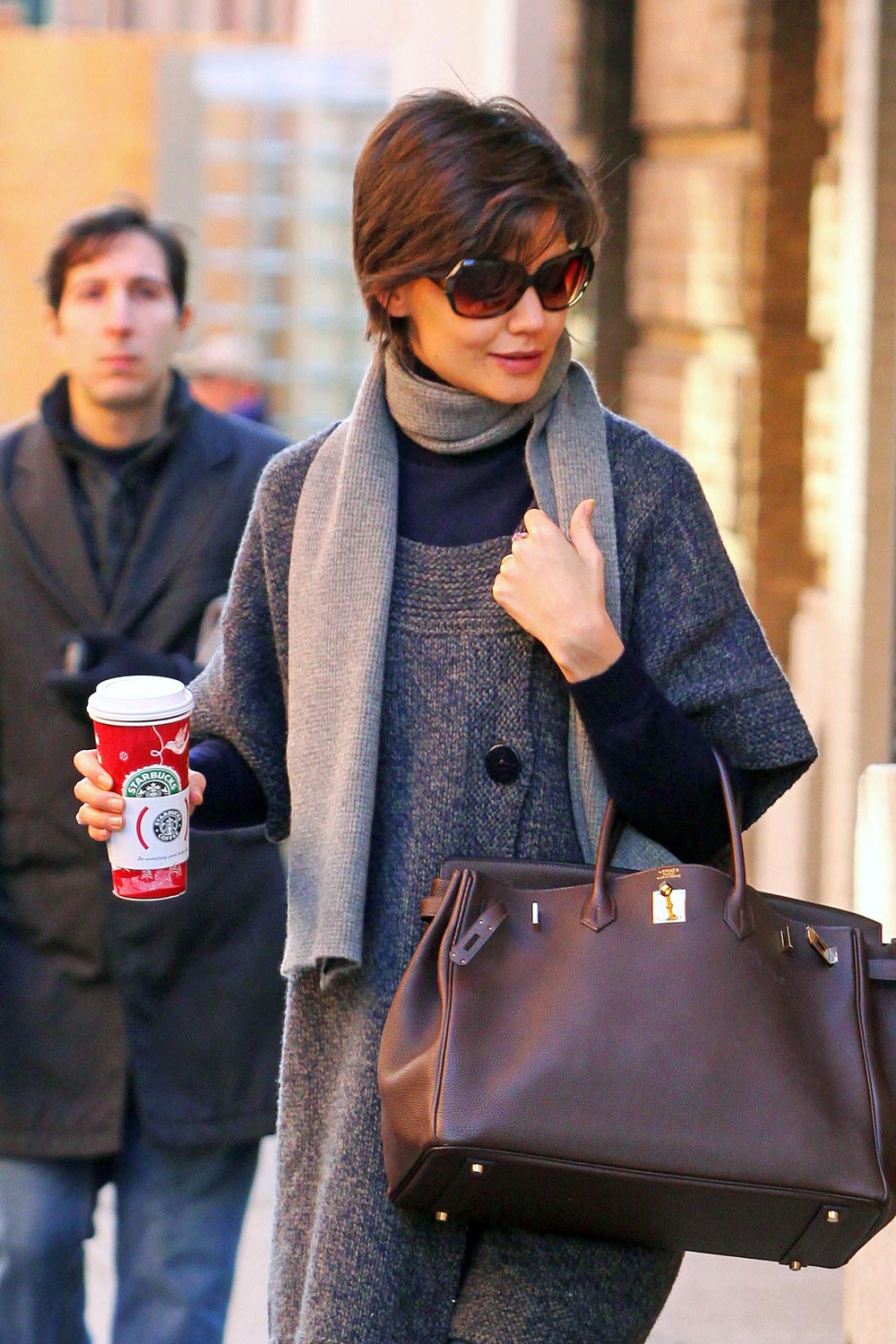 Last week Tom Cruise repeatedly called his wife and daughter "strong" and "determined," emphasizing the strong wills of the women in his life in multiple interviews he gave to promote his holiday release Nazi film, Valkyrie. Katie Holmes has an upcoming interview in NY Times Magazine and she calls herself "strong" now that her husband has graced her with the adjective. Remember how Katie kept saying "amazing," when Tom used the word so often during the courtship phase of their media blitz relationship? Katie is so strong now that she's able to remember her talking points and repeat them perfectly. She's even allowed to ad lib a little:
"There's a misperception about me that I just became this wallflower, this woman who doesn't have any control of her life," the 29-year-old actress tells the New York Times Magazine in the issue hitting newsstands Sunday. "And that's pretty wrong. From the very beginning, I've made choices in my life that have been very strong. "

Holmes, who married Tom Cruise in Italy in 2006 after a whirlwind romance, says that she had a girlhood crush on her now husband, and was surprised how down-to-earth he was in person.

"When I met Tom I was completely in love and, yes, I admired him growing up – he's Tom Cruise! … When I met him, he was so warm and I thought, Wow! You can be a superstar and a human being. He made me feel so amazing."

Cruise, 46, who is also interviewed in a separate Q&A in the Times magazine, also addresses his early relationship with Holmes. "I knew I wanted to marry Kate when I met her," he says. "After our very first date, I was sure. At one point, I thought she was going to ask me to marry her first and I cut her off by changing the subject. I wanted to ask her."

Asked if Holmes, who has a 2-year-old daughter Suri with Cruise, misses having a more anonymous existence, she says not at all. "My life has expanded. My family and friends are all part of this bigger life."
[From People]
Holmes says that all the negative talk about her family doesn't affect her. She claims to be so busy that she doesn't "pay attention to all that noise." She must ignore her husband, too. It's pretty rude to say you thought your wife was going to propose to you first but you decided to do the manly thing and make sure you were the one who popped the question. Maybe it's true that Katie is asserting herself in the relationship, though. Tom had to have some motivation for such passive aggressive behavior.
Katie Holmes is shown out in NY on 12/3. Tom and Suri are shown today, 12/4. Credit: Bauergriffin