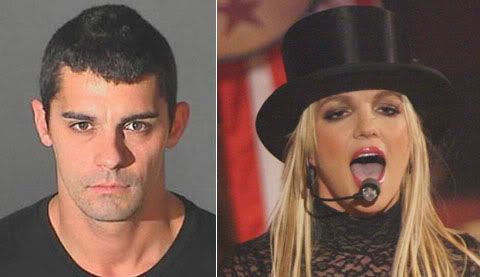 It must be tough to be married to someone for only 55 hours, then watch her next husband cash in on the divorce and sell his story to People for large sums of money. It's probably enough to drive you to drink.
Which is what Britney's 55-hour husband Jason Alexander has been doing recently while driving. He was ordered to undergo alcohol rehabilitation following his DUI arrest but failed to comply with the court order and has been sentenced to jail:
According to Steve Whitmore, senior spokesperson for the Los Angeles County Sheriff's Department, Alexander, 27, was sentenced to 10 days in jail for the violation when he appeared in court on Wednesday. Whitmore said Alexander will likely be released early due to the overcrowding situation in the jail — which has resulted in quick in-and-out sentences for stars such as Lindsay Lohan and Nicole Richie in the past — but that he will likely be locked up until December 9.

TMZ reported that one of the reasons Alexander was locked up was because he missed two court ordered appointments at the L.A. County Morgue as part of his probation for the DUI conviction; Whitmore said he could not confirm information that at press time.

"He was remanded into custody yesterday, when a judge determined that he had violated his probation by not attending the DUI classes he was ordered to, so they sentenced him to 10 days in county jail," Whitmore said. In addition to the morgue visits, Alexander was ordered to take an alcohol education program as part of a deal following a DUI arrest in 2006, but he reportedly did not fulfill those requirements and when the judge found out he ordered him to jail.
We haven't got these kinds of rehab classes in Australia, although we are undergoing a government campaign to try and break down our binge drinking and driving culture, but I think they're a good idea. I understand that you go to visit the morgue to see car accident victims, which is probably excellent rehabilitation.
It seems that no matter how many cute pictures we get of Britney with her kids, the week before her album looks set to debut at number one, we get a reminder that it wasn't that long ago Britney was a mess.
I also feel a little sorry for Jason Alexander – it doesn't matter what he does or the rest of his life, he's always going to be Britney's ex-husband, the one who isn't getting paid in monthly installments.