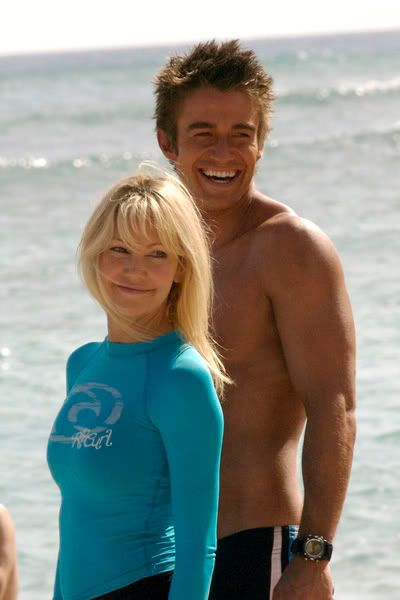 Heather Locklear made her first television appearance since her DUI arrest on The Tonight Show Wednesday night to promote a new movie she has coming up on Lifetime called Flirting with 40. With her eternally bright smile, Locklear happily answered Jay Leno's questions about her troubling year. She was cute and charming, and while the events of the last year were publicly humilating for her, Heather says she wouldn't change anything.
Heather Locklear: Thank you! I feel fantastic! Leno: How ya been? Locklear: I've been... better. But I'm good today. (laughter) Leno: Are you glad 2008 is almost over? Locklear: No, it's been a rough 2008, yeah it has, but I'm really looking forward to 2009. There's like, 3 weeks left that, you know, I'll stay in my house! (laughter) Leno: So what was the biggest challenge for you this past year? Locklear: Um, you know, just alot of personal things, and I think that I'm, you know, over that hump. I've done some work and here I am, safe and sound! Leno: So looking back, what would you have done differently this past year? Anything? Locklear: I would have stayed in my house! (laughter) No, you know what, I wouldn't have done anything differently because here I am today, happy and healthy and, you know, lessons are to learn, so... Leno: And you learned some lessons? Locklear: Some hard lessons! Yeah!
[Transcribed from The Tonight Show at NBC.com]
Jay asked about Heather's relationship with her ex-husband, Richie Sambora, and according to her, it's more than amicable. Locklear said she and her present boyfriend, Jack Wagner, had Sambora over for Thanksgiving! She makes sure everything stays good for the sake of her daughter.
Heather revealed her little pick-me-up crush to Leno, none other than The Tonight Show's Ross the Intern. She was adorable, and who wouldn't be talking about their "massive crush" on Ross the Intern, I have a gay-guy crush of my own on him. He's just too sweet for words, and I totally see where Heather is coming from. Jay didn't, he called her crush a waste, but brought Ross out to meet her, anyway. It was like a tween girl meeting a Jonas brother. Too freakin' cute!
As Leno often does, he pulled up some old, embarrassing footage from Locklear's TJ Hooker days. The clip was of Heather "undercover" in a strip club, posing as a dancer. Heather was so embarrassed she couldn't stop crying with laughter. Even while Jay was trying to talk about her new movie.
You want to hate her, because she's just so damn gorgeous, but the woman is just too cute to hate. I'm really glad to see her healthy and happy. Here's to a better 2009 for Heather.
You can watch a clip of Heather Locklear on The Tonight Show on NBC.com.
Heather Locklear is shown filming "Flirting with 40" with Robert Buckley in Hawaii on 5/1/08. Credit: PRPhotos