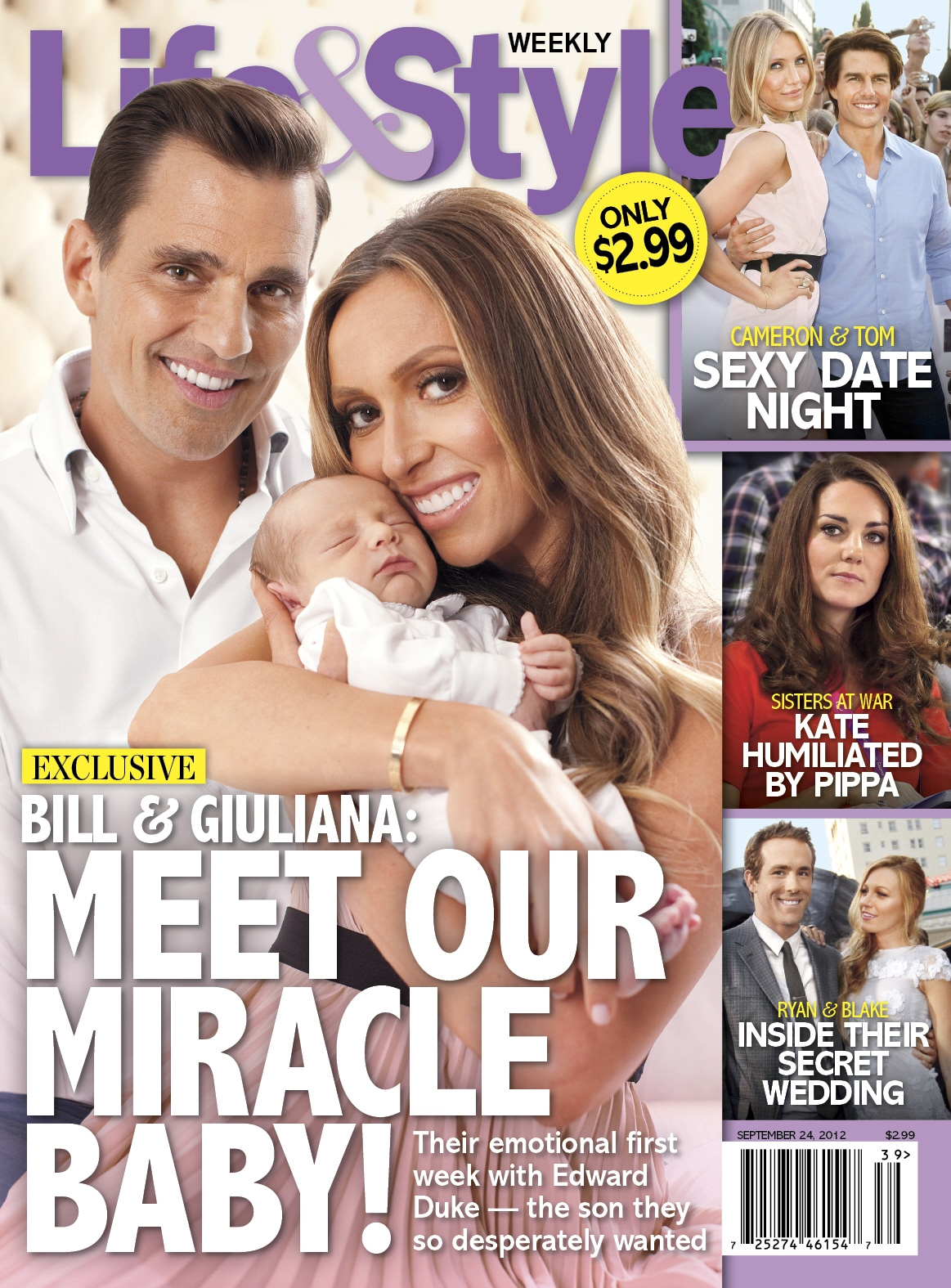 I can't wait to read about Cameron Diaz and Tom Cruise's sexy date night! And I'm also interested in hearing about Pippa Middleton humiliating her sister (I bet it has something to do with Pippa's ass of lies writing a book). But focus your attention on the main story – Giuliana and Bill debuting their son, Edward Duke! Their son was born via a gestational carrier in late August, and these are the first photos of the little guy. Just a process story for a moment – does anyone else think it's weird that they gave/sold the exclusive photos to L&S? I mean, People Mag just ran Snooki's baby photos, and it seems like more people are interested in Giuliana and Bill than Snooki, you know?
Giuliana and Bill Rancic show off their handsome baby boy Edward Duke for the first time ONLY in Life & Style, on newsstands now!

"I had always heard that when you have a baby it completes your life — and it's true," Giuliana tells Life & Style. "I love my baby, and I love my new role."

The ecstatic new parents posed with their son — they call him Duke — during the exclusive photo shoot at the Presidential Suite at the Four Seasons Hotel Chicago on Sept. 9.

"Every day he's changing — it's just remarkable to see," Bill, 41, tells Life & Style. "[He's] got Giuliana's dimples!"

Explaining how they came up with his name, Giuliana shares, "Edward is Bill's late dad's name and my dad's name. It was a way to honor them. And Duke means leader."

The E! News host is a natural at motherhood. "It's amazing how maternal instincts have taken over, and Giuliana's just supermom," raves Bill. "It literally brought tears to my eyes the other day watching her with Duke."

Bill even teases his wife about how much she enjoys changing diapers. "I'd never changed more than a diaper or two in my life," she laughs. "Now it's like the littlest things that make me happy — happier than I've ever been."

The arrival of their little bundle of joy was a long-awaited one. After years of struggles with infertility and IVF injections, Giuliana was diagnosed with breast cancer and in December 2011 underwent a double mastectomy. When she was told to delay trying to get pregnant again for at least five years, the couple found a surrogate and shortly after announced that they were expecting! Finally, 11 days before the Life & Style photo shoot, Duke made his triumphant debut via gestational carrier.

"I couldn't believe that all those years of struggling and the tears actually paid off," Giuliana tells Life & Style. "Every shot, every doctor's visit — in the end, when you're holding your baby in your arms, you forget it all, and it's worth it."
I'm genuinely happy for them, and I like the explanation of naming the baby "Edward" – I'm glad they didn't do it for Twihardy reasons. Edward's a little cutie, and Giuliana seems overjoyed. Bill too, although from the cover photo, it looks like Bill is the one staying up all night with the baby, right? He looks exhausted!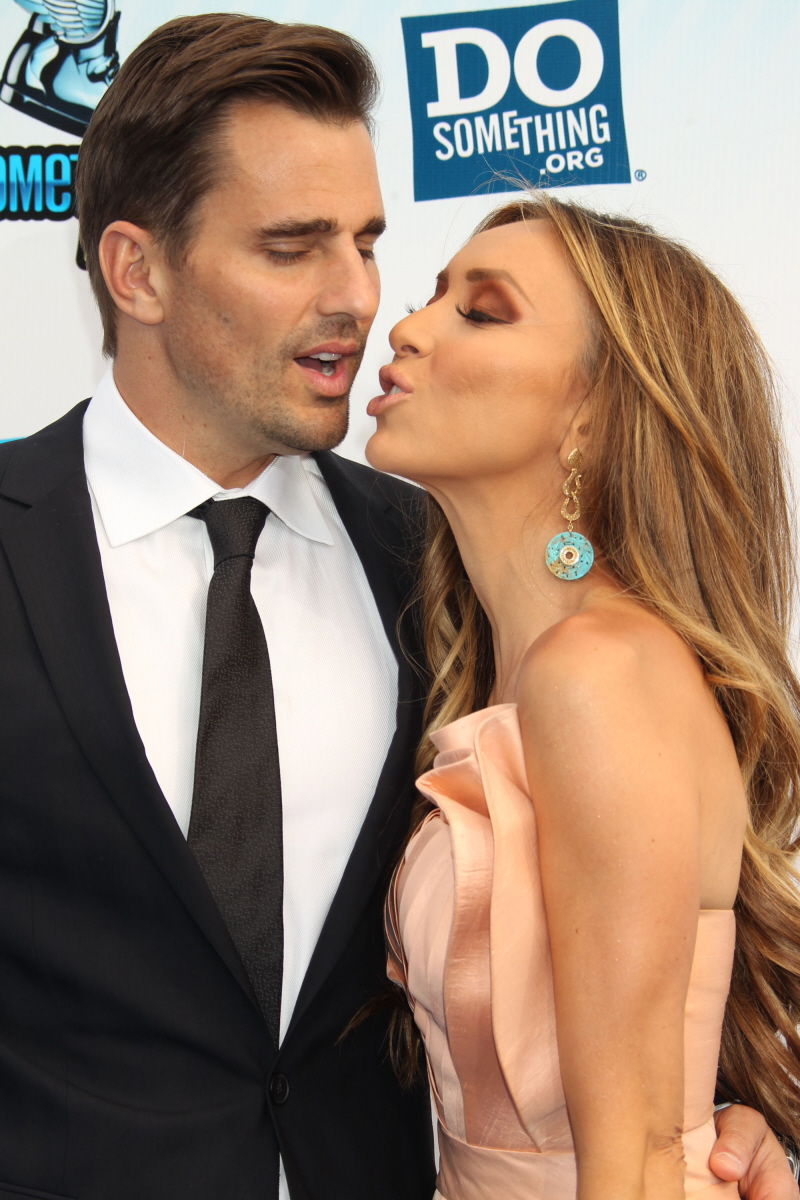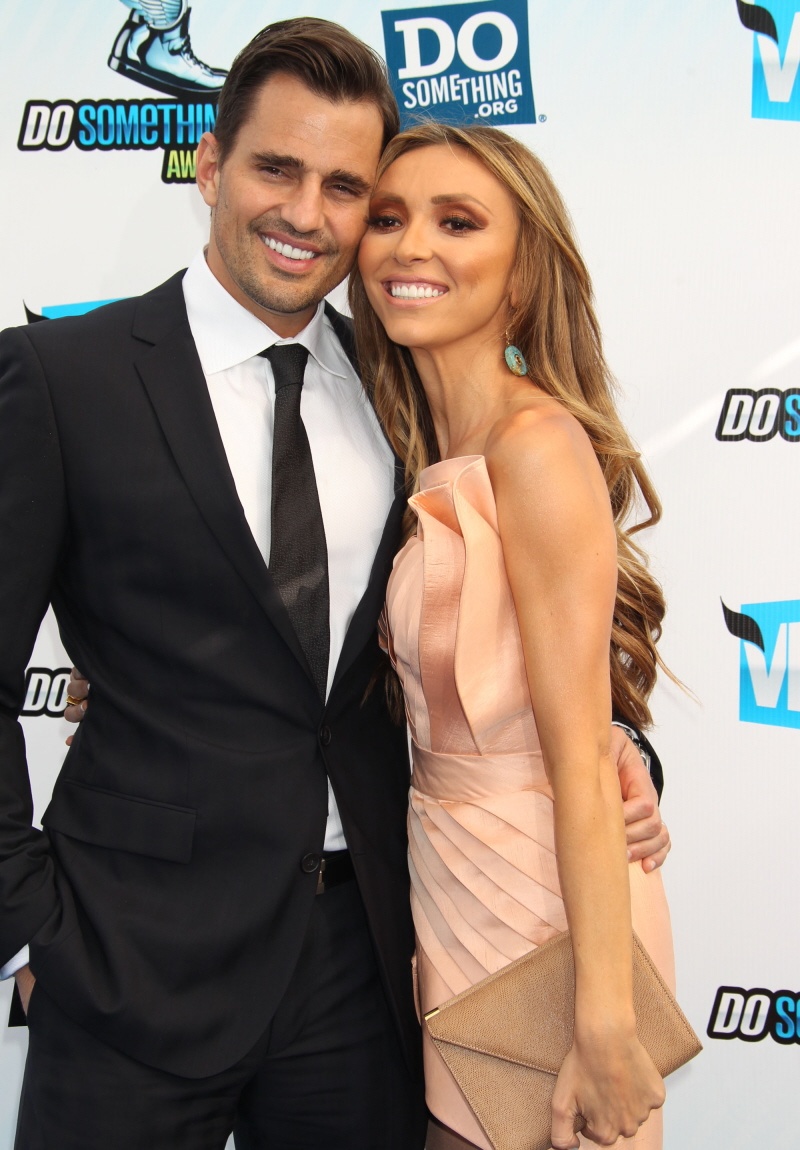 Cover courtesy of Life & Style, additional pics by Fame/Flynet.