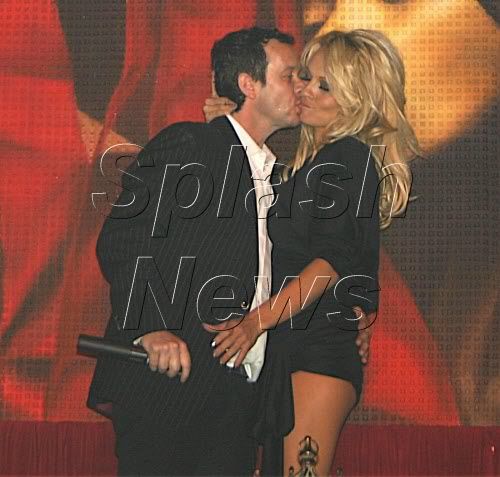 Kid Rock took a bunch of his estranged wife Pamela Anderson's friends to Hawaii in early December, and ever-reliable source The Globe reports that they gossiped about Pam during the vacation. They claim that Rock suspects that Pam faked her brief pregnancy, which ended in a miscarriage while she was filming Blonde and Blonder in Canada with Denise Richards. A supposed source says that Pam is "devastated" and thinks that Rock is trying to win her friends over to his side:
A source tells me that in early December, Kid sent his soon-to-be-ex a beautiful bouquet of flowers to let her know that he still loves her. Then days later, he whisked a bunch of her close pals, including L.A. socialite Diana Jenkins… David Space, and… Cindy Crawford and her hubby… to Hawaii for a U2/Pearl Jam concert and put them up at the luxurious Halekulani Hotel in Waikiki, where they dished the dirt – mostly about Pam! "Among other things, the Gang discussed Kid's suspicions that Pam faked her pregnancy, her hard-partying ways and stupidity for not signing a prenup," says the insider. "Needless to say, Pam is absolutely devastated. She believes that Kid is trying to influence her friends and turn them all against her. She feels deserted, as well. She especially doesn't like the way Diana, who served as one of her two bridesmaids during her wedding bash in St. Tropez, has jumped in and started cozying up to Kid. it is a real slap in the face to her – and the ultimate betrayal."
[From Globe print edition January 7, 2007]
Pam struck out at Kid's earlier claim that she was partying and neglecting her two children during their brief marriage. She said that he was lying when he claimed that she was out drinking every night, and that it was Rock that was away from home while she watched his son.
Both Pam and Kid Rock hosted parties in Las Vegas for New Years. Pam was at Tao at the Venetian and was seen getting cozy with Chuck Zito. Rock was at Jet at the Mirage.
Pictures of Pam on New Year's Eve are from Splash News.