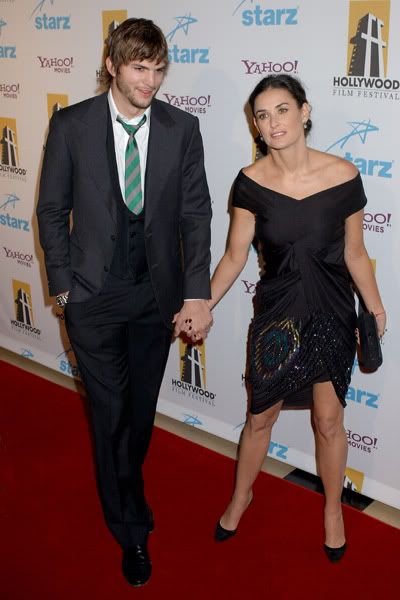 Just as Demi Moore has an interview published in Vanity Fair in which she reveals details of her relationship with a husband nearly 16 years her junior, Cate Blanchett says she doesn't get why women date younger men and that she could never do it:
Cate Blanchett says she doesn't understand why a woman would date a younger man. In "Notes On a Scandal," the 37-year-old plays a teacher who has an affair with a 15-year-old student. "I blushed my way through the entire movie," she told the Scottish Daily Record. "I just don't understand women who go out with younger men. Even women who date men only five years younger than them, I can't relate to it. . . .I would understand sleeping with a 60-year-old more,"
So she didn't mention Moore specifically and is just talking about a role, but I couldn't resist inventing a rivalry where there is none. In the original article she also says she "loves" Brad Pitt, but that "I don't love him in the sense that I love my husband but I adore him."
I wouldn't be too quick to believe all this crap though, The Scottish Daily Record that had this supposed interview with Cate Blanchett recently apologized for making up fake quotes in which Nicole Kidman dissed Angelina Jolie.
Demi Moore, 44, told Vanity Fair that she definitely wants kids with her husband Ashton Kutcher, who will be 29 next month. She also says that her relationship with Kutcher caught them both off guard. Her candidness must have paid off as she's on the cover of the magazine this month.