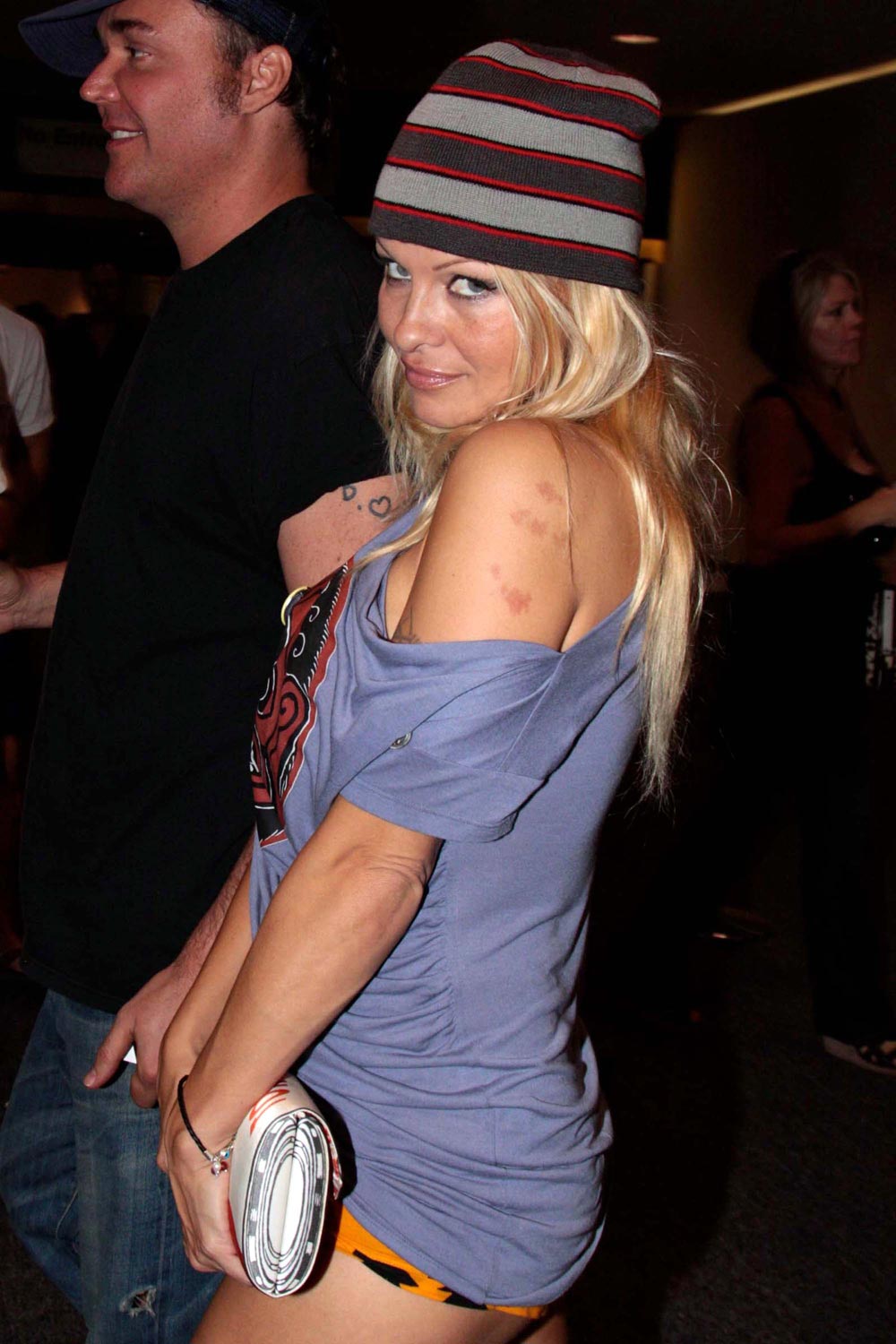 Pamela Anderson attended an art opening for her friend photographer David LaChappelle at Art Basel in Miami. The usual attire for such events is dressy casual, like a cocktail dress or a blazer over jeans. Anderson could have worn a tight low-cut short number and would have still looked borderline appropriate. Instead she wore a knit cap, a messy off the shoulder t-shirt with a devil's face on it, and bright orange and black panties. She was said to have drawn stares and there are even photos of people looking at her wondering what the hell she's wearing. Fox News' Pop Tarts reports that she loved the attention:
The former "Baywatch" babe raised plenty of eyebrows on Saturday afternoon when she showed up to an Uber-posh art gallery event as part of Art Basel Miami Beach looking like she just rolled out-of-bed. Pamela donned only a pair of black and orange underpants with an off-the-shoulder shirt, topped off with a woolly beanie over her unbrushed blonde locks.

According to an insider, Anderson (who was accompanied by "Limp Bizkit" frontman Fred Durst, whom she dated back in 2003) seemed to enjoy the jaw-dropping stares and the fact she was getting much more attention than other guests including another Durst ex Paris Hilton as well as David LaChapelle and British designer Vivienne Westwood.

Sure Pammie has a bangin' body, but we can't help but wonder what her sons (aged 10 and 11) must think when they read stories about their mother partying in her panties, jumping out of a birthday cake naked for Hugh Hefner and calling fellow Hollywood hottie Jessica Simpson a "whore" on-air — all things she's done this year alone. Last New Years Eve, Anderson even told Tarts that she'd left her boys to watch TV in her Sin City hotel room while she boosted the bank balance by hosting a wild night at hotspot PURE.
[From Fox News' Pop Tarts]
Anderson could have worn one of those tiny one piece white jumpsuit things she's been seen out in, but people would have only looked her over once. She needed to really look messy to get some attention this time, and she did it. What the hell kind of purse is that? It might fit with a more put together look, but Anderson is really scraping the bottom of the barrel – especially if she brought Fred Durst with her. Those marks on her arm are some kind of birthmark and aren't bruises as she's had them for years. She's not above showing them off and looking like crap in order to get some buzz going though. It's a better strategy than getting married and divorced in a matter of weeks.
Photo credit: WENN