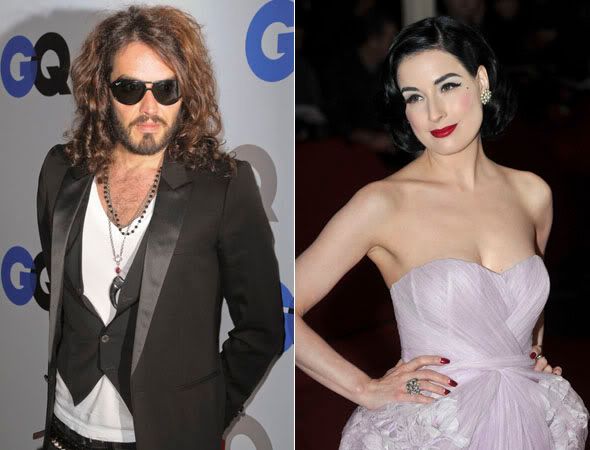 Dita Von Teese is the subject of many men's fantasies, so it's no surprise that someone other than Marilyn Manson would pursue her. Dita seems like the kind of woman who would appreciate the subtleties of courtship and romance. Unfortunately Russell Brand knows nothing of subtlety.
For a greater portion of 2008, Russell Brand has been vocal about his desire to do what Russell does best with Dita, and I'm not talking about including her in a stand-up routine. Dita was even the recipient of one of the now infamous voice message calls Brand did on his former BBC radio show, where he not so subtly told Ms. Von Teese exactly what his intentions were.
She defiantly told a newspaper: "I will not be shagging Russell Brand.

"Just because I gave him my number does not mean I'll be going on a date with him.

"I was the subject of one of his calls once, but I didn't answer the phone thank goodness!

"I just saw his name come up on the screen and thought: 'I don't think I'm going to answer that right now.'

"He was on air and it was just good female intuition."

But Dita did admit: "I had another conversation with him on the radio shortly before he left his radio show and he is a lot fun. I like him.

"And I can totally handle guys like that."
[From The Sun]
Something tells me Dita can handle almost any kind of guy. Judging from the one relationship she's been in that I know anything about, Dita goes more for the depressive than the manic. As odd as I thought the visage of Dita with Manson was, it makes much more sense than Dita with Brand.
I'm a fan of both Dita and Rusell, but I have to say I'm very pleased and relieved that Dita refuses to go there. Dita is pristine, Russell is dirty, both have their allure, but never the twain should meet!
Dita Von Teese is shown at the British Comedy Awards on 12/6/08. Credit: WENN and Fame Pictures. Russell Brand is shown at the GQ Men of the Year awards on 11/18/08. Credit: PRPhotos.