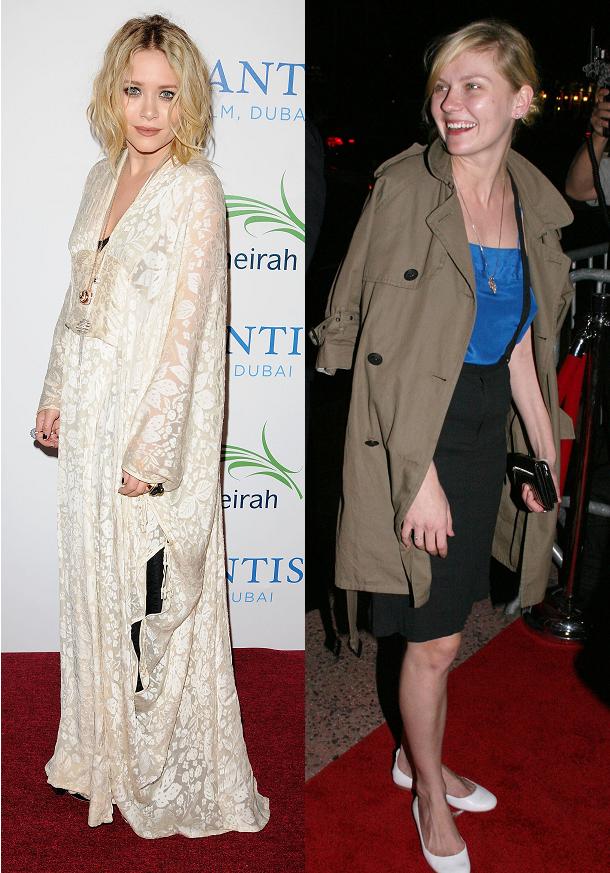 Mary-Kate Olsen and Kirsten Dunst got into a fight last Wednesday in Miami, according to Page Six. Both were in town to attend the Art Basel convention, and were sitting together at a party. It's not clear whether they were sitting by each other because they were friends or because someone sat them next to each other, but either way some sort of argument broke out between the two of them.
THE Art Basel convention in Miami has always been more about the parties than the art, but some revelers seem to be taking the concept to a whole new level.

Pint-sized Mary-Kate Olsen has cut a particularly wide swath through the town. On Wednesday night, Olsen and Kirsten Dunst got into a heated argument while sitting together at Audi's party at the Delano in South Beach. "They just kind of stared at each other for a long time and then started exchanging nasty words," says an onlooker. "Then Olsen just got up and left. She's been going really late every night." Olsen and her boyfriend, artist Nate Lowman, were also out until dawn with DJ Paul Sevigny at club Bella Rose the night before.

Says another partygoer at the Delano: "She looked like she had not brushed her hair in a week and she was chain-smoking the entire time and sitting like a sourpuss with her boyfriend. She was acting very oddly."
[From Page Six]
I would really love to know what the nasty words were. I imagine Kirsten Dunst can throw out some low stuff. Just something about the look of her. These girls actually strike me as very similar. They both have odd fashion senses, look waifish, have gone to rehab, and are still known to really love their alcohol. The only significant difference is that Kirsten is about a foot taller.
In other Olsen news, Mary-Kate's been fighting pregnancy rumors because she's gained some much-needed weight recently. However it seems she put on a few pounds for some other reason, because she was seen downing quite a lot of alcohol during Art Basel.
TINY twin Mary-Kate Olsen is drowning the recent rumor that she is with child. The other night, Olsen and boyfriend Nate Lowman hit the Art Basel scene at the opening of The Station, an art exhibition in Miami that he helped curate. A spy told us Mary-Kate was smooching with her beau and smoking and drinking vodka cocktails all night, supporting her spokesperson's recent announcement to Page Six that "there is absolutely no truth" to the rumor.
[From Page Six]
So I guess the epic Olsen/Dunst fight wasn't because of raging pregnancy hormones or anything. Mary-Kate looks much better than she used to, though it sounds like she's hitting the bar a little heavily. Just because she's not quite as scary thin as she used to be doesn't mean she's a big girl by any means. I'm surprised she can hold as much liquor as she does. But now that the pint-sized twin has proven she's not pregnant, it's time to lay off the booze.
Here's Mary-Kate out with boyfriend Nate Lowman and some friends in Miami on Thursday. Images thanks to Bauer-Griffin.