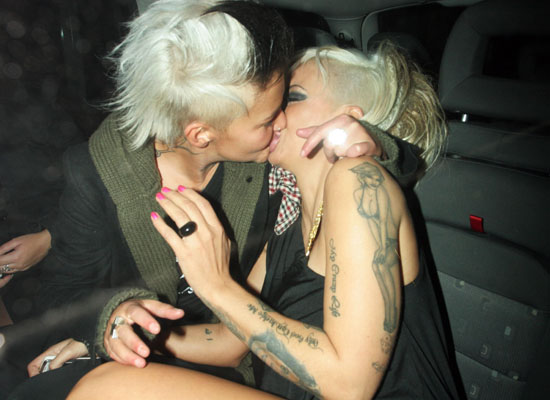 Jodie Marsh and her girlfriend, Nina, kissing on 12/11/08. This photo doesn't have much to do with this story
I've heard of kisses that make you light headed, that make you weak in the knees, even kisses that make you faint if you're in a romance novel and wearing an extremely tight corset. But I've never heard of a kiss that makes you deaf… until now.
A young woman in southern China has partially lost her hearing after her boyfriend ruptured her eardrum during an excessively passionate kiss, local media reported Monday.

The 20-something girl from Zhuhai, in southern Guangdong province, went to hospital completely deaf in her left ear, the China Daily said, citing a report in a local newspaper.

"The kiss reduced pressure in the mouth, pulled the eardrum out and caused the breakdown of the ear," the paper quoted a doctor surnamed Li from the hospital as saying.
[From Reuters]
It sounds to me like someone took the phrase "sucking face" just a tad too literally, and aggressively! What exactly was this guy trying to do? Syphon the glass of wine she just drank? I wouldn't call the kiss "excessively passionate" as much as excessively creepy.
The girl is going to be fine, the doctors anticipate her hearing to return to completely normal in a couple months. There's no note on how the relationship will fare, though. It would be hard not to use the incident for leverage later in life. I know if it were me and I wanted something, I wouldn't be able to fight the urge to play the old "you made me deaf" card.
"While kissing is normally very safe, doctors advise people to proceed with caution," the paper said.
[From Reuters]
So, let this be a warning as mistletoe season approaches. If the partner standing under the twig with you starts bragging about lung capacity, safety says find a reason to run. It's always fun until someone ruptures an eardrum.