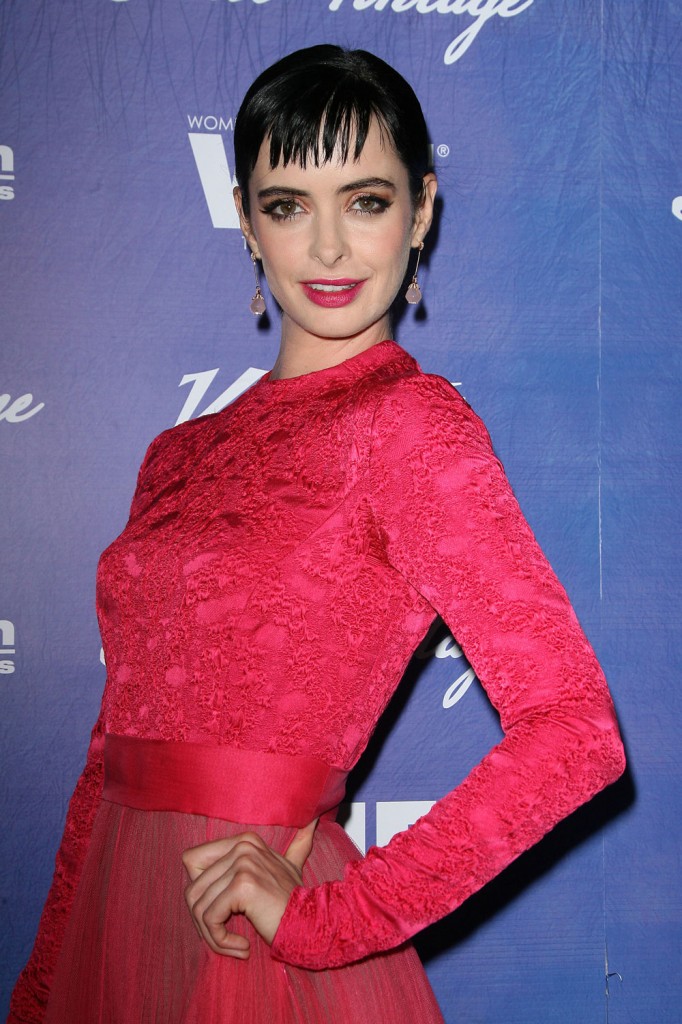 I know Krysten Ritter from "Breaking Bad," where she played Jesse's neighbor and girlfriend, Jane, who is no longer on the show. (I'm not revealing spoilers because I want to urge all of you who haven't seen BB to rent it!) I thought she was excellent in that role, but a lot of that was due to Aaron Paul's performance as her scenes were mostly with him. He really kills it on screen.
In contrast, I watched the pilot of "Don't Trust The B in Apartment 23" and I thought it was awful. Apologies if you like that show, it just wasn't funny to me and seemed hackneyed. Ritter plays a cardboard cutout of a bad girl. You're not supposed to like her character I guess, and I really didn't. That's down to the writing on that show, not Ritter specifically. I never watched it again, although I have to say that James Van Der Beek as himself was pretty funny. So I'm coming into this interview with Ritter not knowing what to expect as I only know her from her work. She sounds like she's trying too hard to be a bad ass, but maybe she really is this way. *shrug* Also, this is with Playboy, so she's probably working to "bring it" in this interview. Remember John Mayer's awful "David Duke c*k" interview? In comparison, what she's sharing is mild, but she's obviously trying to shock. Here's some of it, with more at the NSFW source:
On how she put roaches in a rival's bed
RITTER: When I was modeling I lived with eight to 10 girls in the modeling agency's two-bedroom apartment, sleeping in bunk beds. It was crazy, but not as crazy as people want it to be. Sure, we'd go out and drink cosmos and dance on tables. But no sex with rappers or cocaine or eating disorders. I worked a lot, and there was one other girl who also worked a lot. She was the queen bee before I came along, and I think she didn't enjoy that she wasn't the only one anymore. She f'ing hated me. I would play guitar on the patio—not late; we're talking 8:30 to nine p.m.—and she would tell the agency I was keeping her up. I got in trouble for that. So I put roaches in her bed. You don't f*k with a girl's livelihood.

On getting her start in modeling when she was 15
RITTER: At my first test shoot, the photographer sprayed me with Pam. They were black-and-white pictures in the dirtiest bathroom you've ever seen. It was super heroin chic. I've got to say, though, the pictures were dope. Looking back, I'm like, What was I doing? I was 15! That same day, at another test shoot with a Japanese photographer, they put me in a sheer bodysuit. So I have pictures of myself at 15 in a sheer shirt sitting underneath a table. I mean, the pictures are beautiful and artistic, but it's weird to put your 15-year-old in a job where basically you could see my boobs.

At the time I didn't think about it, because kids don't. They say your brain doesn't develop fully until you're 25. When kids do crazy stuff, it's because they really are crazy. I just wasn't aware; I had no fear. But I have not one single regret or feeling of resentment, because of where I am now. I have a good head on my shoulders. I learned all my lessons on my own.

On if she wishes she was "less easy to spot"
RITTER: On some days I do. I think my friends and my boyfriend wish that. My boyfriend [Brian Geraghty, who starred in The Hurt Locker and has appeared on True Blood] is a character actor. He can hide. But I'm a cartoon character. I have black bangs. I can't hide. People are mostly respectful and kind. But at one in the morning in Vegas, when everyone's wasted and yelling at you, you wish you could just kind of disappear, and you can't.

On her high school boyfriend
RITTER: He was so angsty and bad. He was a real bad boy. He gave me a school picture that year that said, "Okay, Krysten, I love you. You give me a boner." That's how we started dating. His name was Damian, but my parents called him "Demon." Our first time was in his parents' van before basketball practice. I don't remember it being very pleasant.

On being on a big network show vs. basic cable
RITTER: More people see you on a network. And the network people know where you are at all times. I've been around so long I approach every job exactly the same whether it's big or small. For me it didn't feel different until I heard on the walkie-talkie, "Krysten is at craft service," "Krysten is around the corner," "Krysten is there." They're always keeping tabs on you. They always know where you are. You say you're going to the bathroom, and someone comes with you. I'm like, "Dude, I promise you I'm going to come back. Don't come with me to the bathroom."
She sounds full of herself, right? I can't muster up any strong feelings about this either way though, honestly. I'm rather indifferent to her. I'll give her this, she knows how to give good quotes and tell a good story. She's probably fun to hang out with on a short term basis. I'm getting the impression that she's not all that different from the character she plays and is probably a pain in the ass in real life. Maybe that's what she's going for here.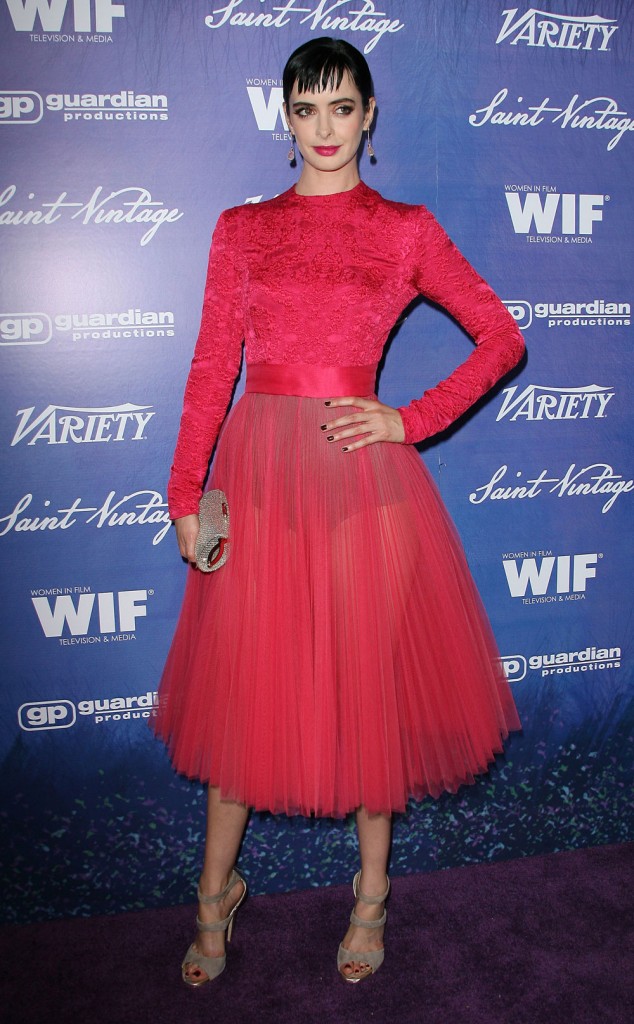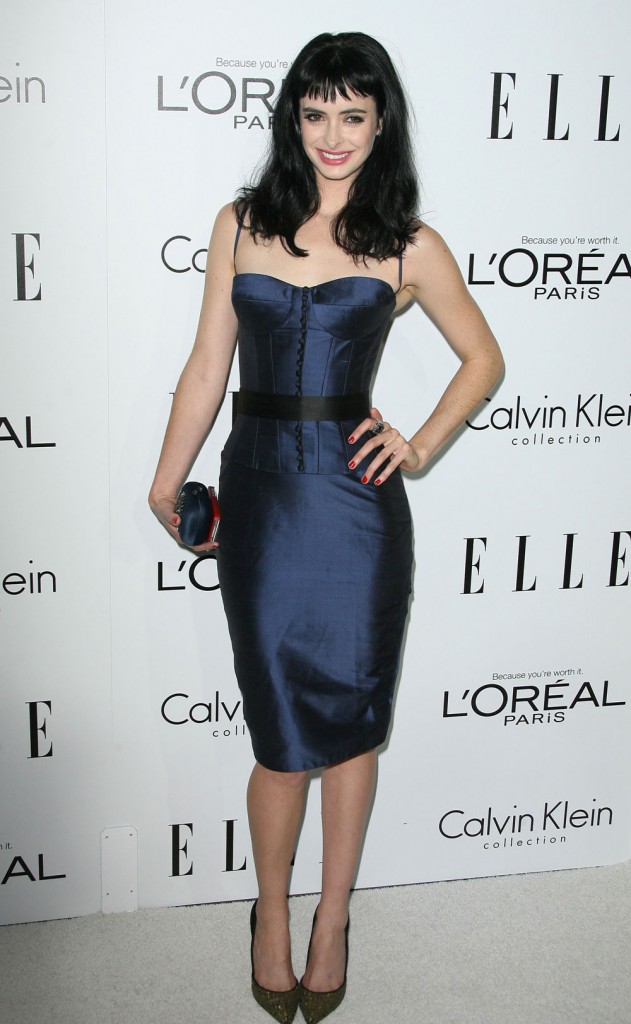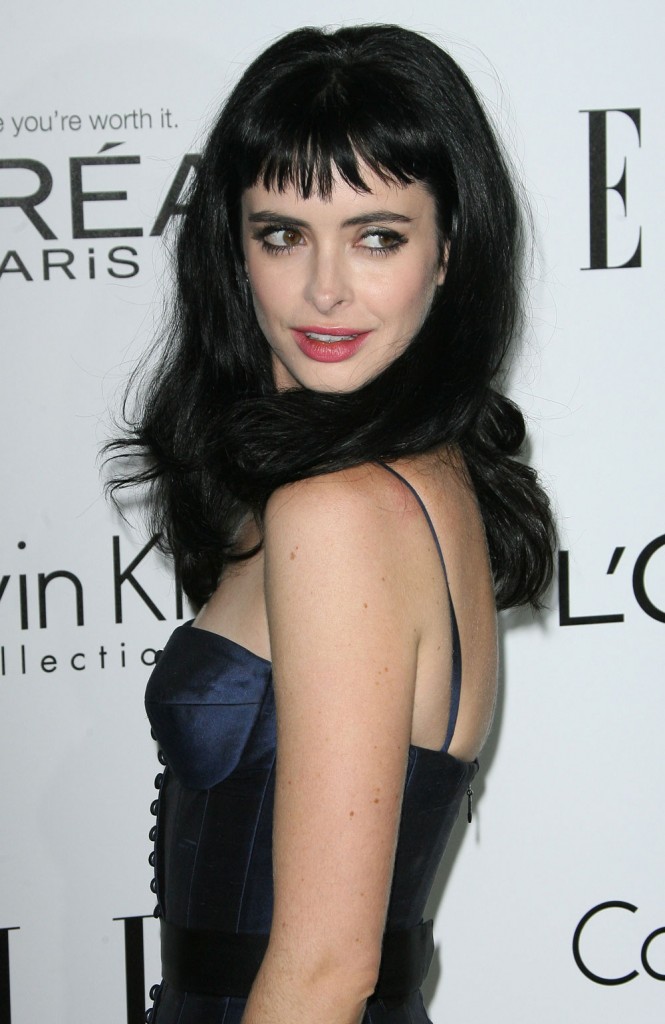 Ritter is shown on 9-21-12 (awful see through fuchsia dress) and on 10-16 (blue dress) credit: WENN.com Fake mugshot is a still from "Dont Trust The B."