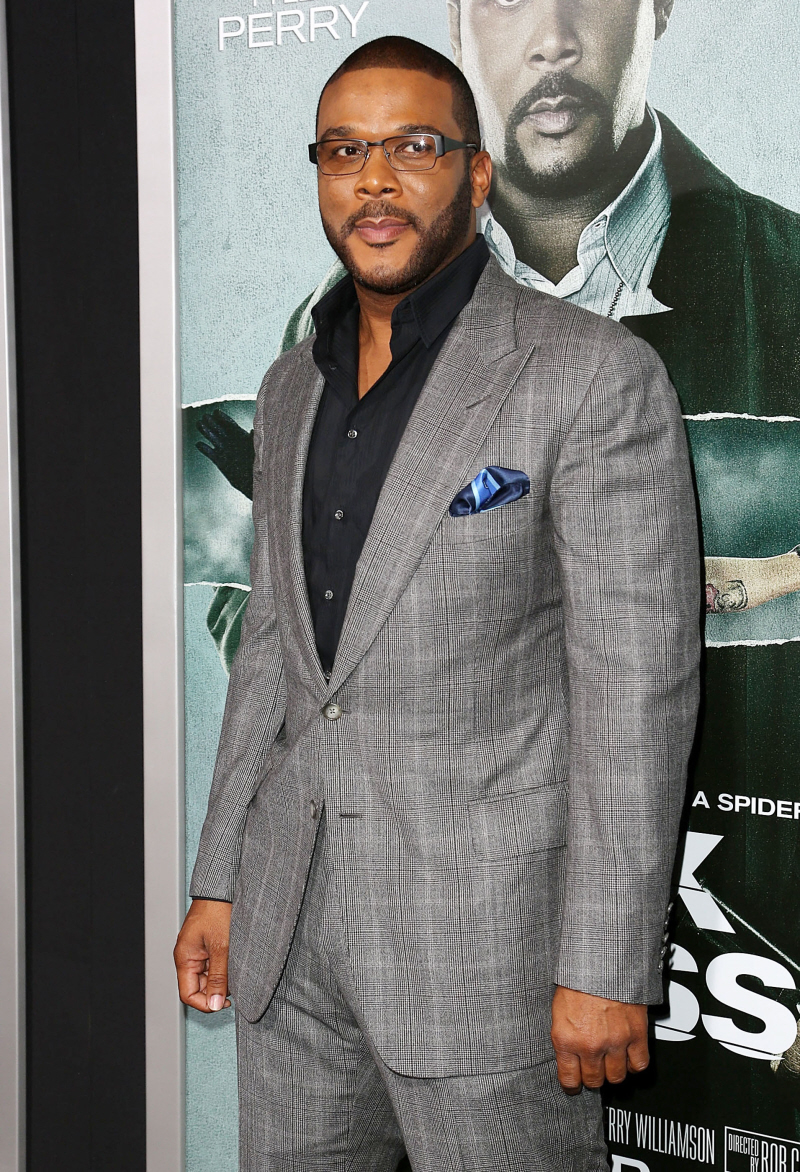 These are some photos of Tyler Perry at the Alex Cross premiere two nights ago in NYC. Tyler stars as Alex Cross in the reboot of the franchise, with Ed Burns playing a supporting role and Matthew Fox playing the bad guy. The movie is getting some pretty rough reviews, but I do have to applaud producers for thinking outside the box when casting the Cross character, previously played by Morgan Freeman. While this film might not be the best thing, I like that Tyler is being given the chance to play a straight-up leading man in a big Hollywood suspense-drama. Anyway, in case you couldn't tell from these photos, Tyler has lost some weight. He's looking really good, isn't he? He looks svelte and fit and rather dashing. Well, as it turns out, he began a weight loss/get fit program for this film, and it's changed his life. Perry spoke to Men's Health about his new lifestyle (you can read the full piece here):
Where he is currently: He's 6'6″ and a solid 255 pounds. Forbes named him the country's highest-paid male entertainer in 2011, when he earned $130 million.

His past: A high school dropout from New Orleans who was physically and sexually abused in his youth and who later struggled for years in obscurity, he confirms that he's never been better—professionally, personally, physically. "I've worked my entire life to get to this place… The first 28 years of my life, it was hell and misery. Now I can do whatever I want. I don't want any drama; I don't want to argue; I don't want to answer to anybody. I've worked too hard to get here, and I'm loving this freedom."

Doubts about following in Morgan Freeman's footsteps: "I thought, 'Well, Morgan Freeman played this role, you might not want to do this, 'cause Morgan Freeman knocked it out of the park,'" Perry recalls. "But the more I read it, the more I realized that I could do it."

Whipping his body into shape: Perry worked with a trainer to drop 30 pounds and add shirt-bulging muscle. His hourlong morning circuits include cardio, body-weight moves, and free-weight and cable work. Afternoons he practices Krav Maga, an Israeli martial art he initially learned for the movie's fight scenes, and which eventually evolved into an ass-kicking workout.

A new diet: Biscuits, pancakes, pork chops, jambalaya, and dirty rice were replaced by scrambled egg whites, ground turkey chili, grilled chicken breasts, and green shakes.

Sticking with the program: "I walk into a room with a lot more confidence," he says. "All my life I've tried to hide my height. I was taller than everybody else and stood out, so I would slouch and try to hide it. But with what I've been able to do with my body, I'm owning it. I'm standing up when I walk into a room."

Hiding behind the Madea costume: During a childhood in which his father beat him and male and female adults molested him, Perry grew up wanting to be invisible. Madea's outsized, unflattering costumes, he realizes now, were just another place for him to hide. "Now," he adds, "I feel like it's okay to be thought of as sexy."
You know what? I admire Tyler Perry. Truly. I've defended him before – when Spike Lee was criticizing Perry using some very racially-charged language – but I think I can say now that I actually think Perry is a very inspirational figure. While his films aren't always my cup of tea, I think his accomplishments are amazing. And good for him for getting to a place where he feels more comfortable in his skin – he looks great!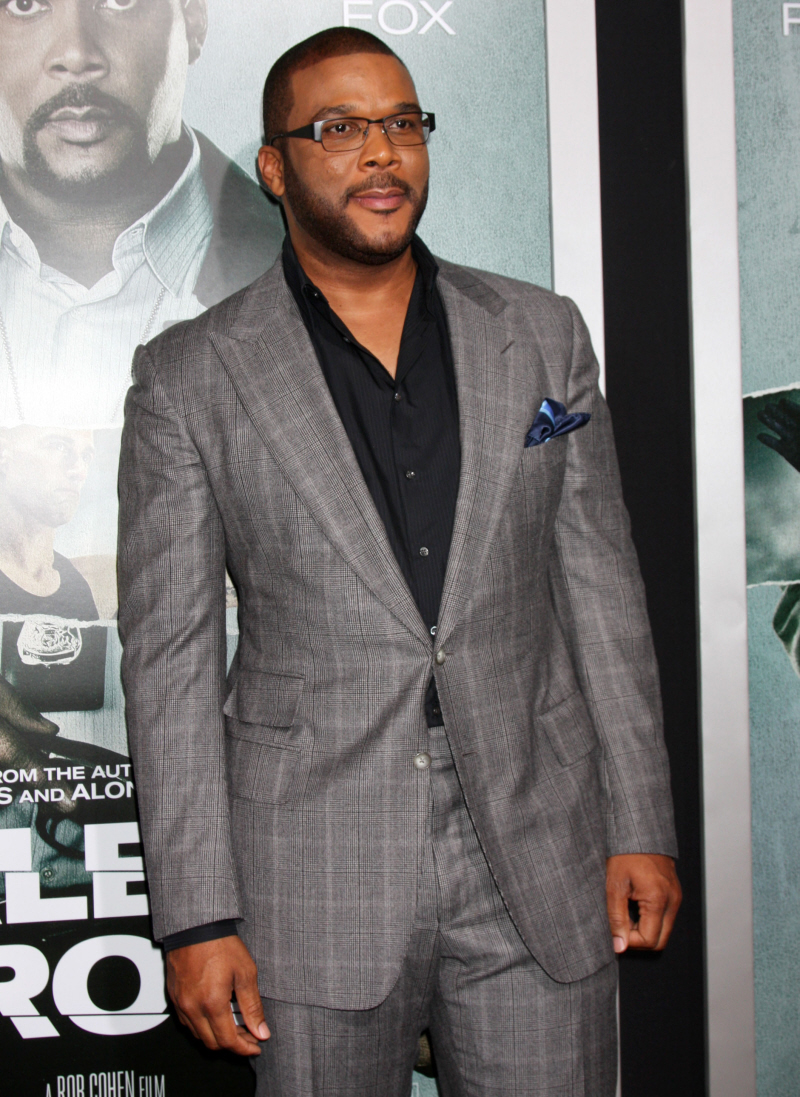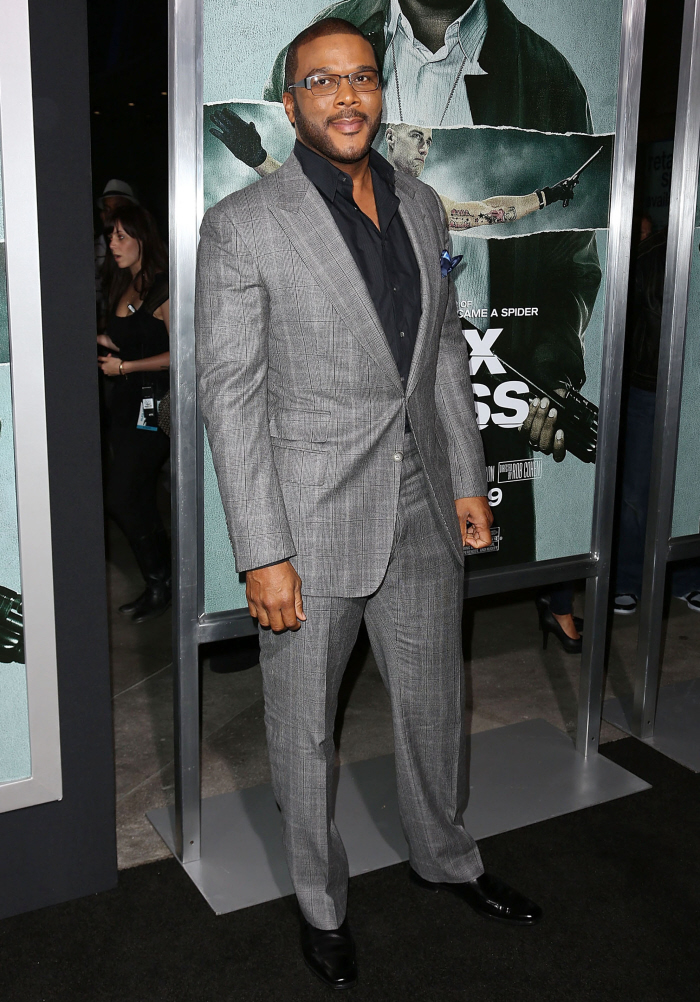 Photos courtesy of WENN.