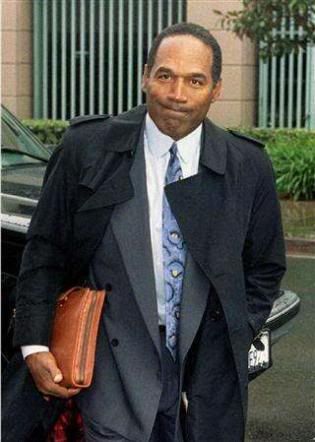 Ever-trustworthy National Enquirer has the story that O.J. Simpson's longterm girlfriend got fed up with his jealous ways and dumped his ass, moving out of his house in Miami. He seemed to be pulling the same creepy stuff he did before he murdered Nicole. He was paranoid about her, thought she was cheating on him, and called up her friends to see where she was going whenever she left the house. He also thought he was being super cool by going out with another woman to make her jealous, even though he had no evidence that she was seeing anyone else: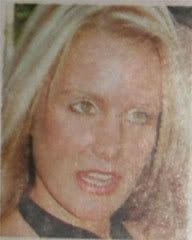 Christie Prody, 31, O.J. Simpson's lover for the past 10 years, walked out the day after Christmas, fed up with his suspicions that she was seeing other men.

"O.J. hasn't been happy with anything lately," an insider said. "Even though he got $2 million up front in his book deal, he lost $1.5 million when it was dropped."

Sitting at home – fuming about his publisher pulling the plug on his tell-all book, "If I Did It" – O.J. turned on Christie. "If she left the house, he thought she was seeing another man. He was calling frinds asking if they'd seen Christie," the insider said. "One of O.J.'s pals gave him the idea to make her jealous – go on a blind date."

The buddy set up O.J. with a blonde and he took her to a Miami club. The plan backfired. "Christie didn't care that he dated another woman, and she couldn't take constant questioning on who she's with," said an insider.

After a furious fight, O.J. flew to Vail, Colorado, on Dec. 26 with his kids, and Christie moved out of his Miami home.
[From The National Enquirer print edition, January 15, 2007]
There was a story just a couple of weeks ago that O.J. was addicted to Oxycontin, which was making him paranoid and jealous.
What surprised me is that this chick has been with O.J. for ten years, which would mean that she was 21 when she started dating him. According to a report that came out 5 years after O.J.'s circus of a trial, she was a cocktail waitress when she met him and believed that O.J. was framed by police.
Prody doesn't seem so innocent herself and O.J. just might have met his match in the ten years they dated on and off. In July, 2005 Police were called to a domestic disturbance incident at O.J.'s place where Prody was said to have attacked O.J. and a neighbor who was trying to jump start her car. About five years ago, she also apparently left her pet cat to die unfed in an apartment she failed to visit for a month. There are numerous other incidents involving Prody, O.J. and the police that don't warrant retelling, but leave her looking abusive and unstable.
Prody's mother said after one of their alleged fights that her daughter's relationship with the old football star aquitted for murder "Seems more and more like a Nicole and O.J. relationship all the time."
Not so much now that this one got away.