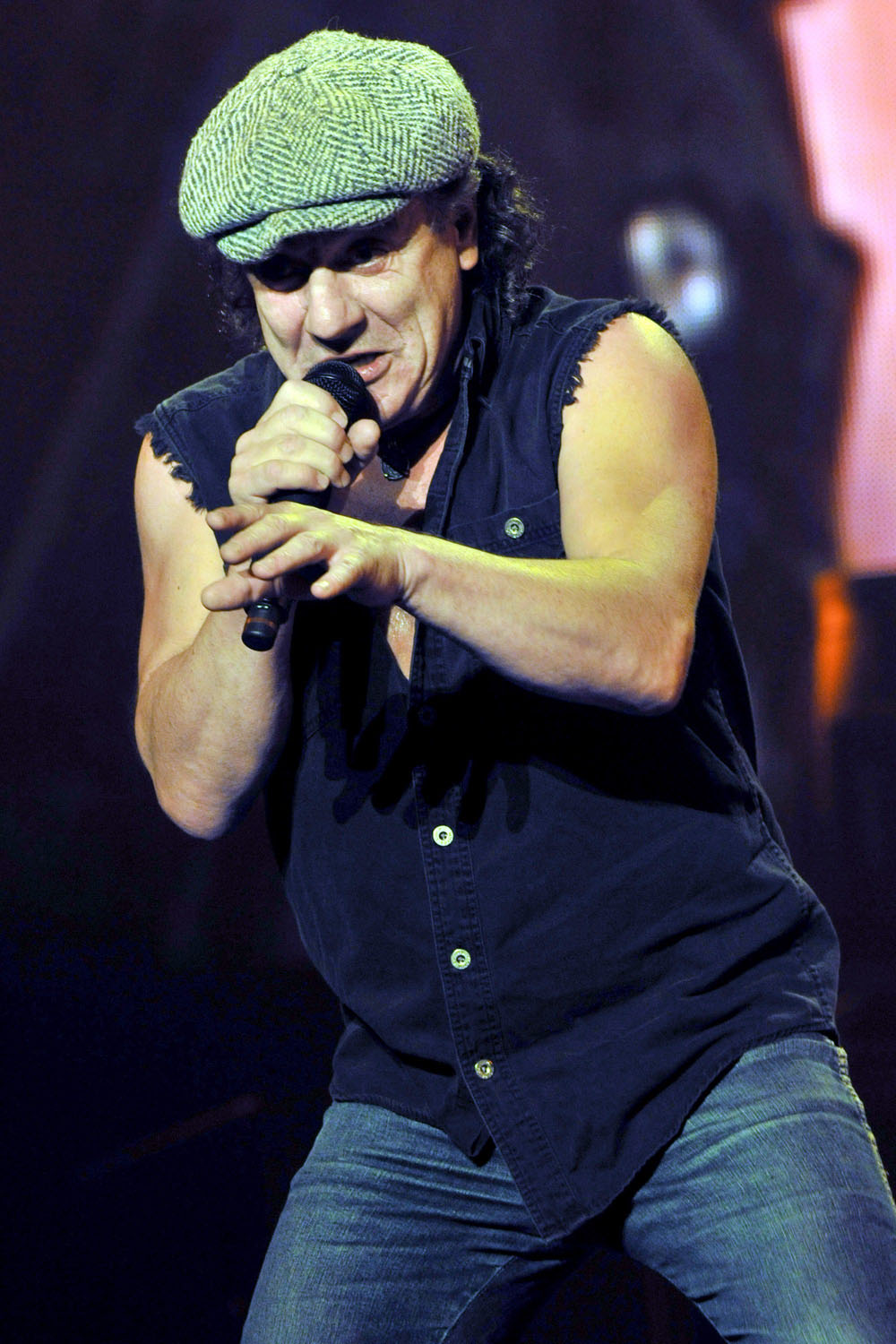 Music or torture? Brian Johnson, lead singer of AC/DC, is shown live at Madison Square Garden. AC/DC tops the list of songs used at Guantanamo Bay to "break" detainees. Photo credit: WENN.
Pop artists and other musicians are banding together in protest of long-standing U.S. military techniques in which loud music is used to condition prisoners for interrogation purposes. This technique was seen in the Francis Ford Coppola classic, "Apocalypse Now," in a scene where the classical piece "The Ride of the Valkyries" is blasted over loudspeakers while soldiers shoot at Vietnamese villagers from a plane. It's also detailed in the cult classic "The Men Who Stare at Goats." Reports that modern rap, rock and pop music are used at Guantanamo Bay and other places where prisoners were being detained have been trickling to the media for a few years now. But the artists responsible for the music say they don't want their songs used in this manner, and they're asking the military to stop.
Musicians and pop stars are joining forces with British human rights activists to stop U.S. military interrogators from using their songs to torture detainees.

The campaign has brought together groups including Massive Attack and musicians such as Tom Morello, who played with Rage Against the Machine and Audioslave.

It will feature minutes of silence during concerts and festivals, said Chloe Davies of the law group Reprieve, which represents dozens of Guantanamo Bay detainees.

Military contractor Donald Vance told how he was subjected to blaring rock music for 20 hours a day when he was held in Iraq.

The auditory assault went on for days, then weeks, then months at the U.S. military detention centre in Baghdad.

At least Vance, who says he was jailed for reporting illegal arms sales, was used to rock music.

For many detainees who grew up in Afghanistan – where music was prohibited under Taliban rule – interrogations by U.S. forces marked their first exposure to the pounding rhythms, played at top volume. The experience was overwhelming for many.

Binyam Mohammed, now a prisoner at Guantanamo Bay, said men held with him at the CIA's 'Dark Prison' in Afghanistan wound up screaming and smashing their heads against walls, unable to endure more.

'There was loud music, (Eminem's) 'Slim Shady' and Dr. Dre for 20 days. I heard this nonstop over and over,' he told his lawyer, Clive Stafford Smith.

'The CIA worked on people, including me, day and night for the months before I left. Plenty lost their minds.'

Rear Adm. David Thomas, the commander of Guantanamo's detention centre, said the music treatment is not currently used at Guantanamo but added that he could not rule out its use in the future.

The spokeswoman for Guantanamo's detention centre, Navy Cmdr Pauline Storum, wouldn't give details of when and how music has been used at the prison.

FBI agents stationed at Guantanamo Bay reported numerous instances in which music was blasted at detainees, saying they were 'told such tactics were common there.'

According to an FBI memo, one interrogator at Guantanamo Bay bragged he needed only four days to 'break' someone by alternating 16 hours of music and lights with four hours of silence and darkness.

Ruhal Ahmed, a Briton who was captured in Afghanistan, describes excruciating sessions at Guantanamo Bay.

He said his hands were shackled to his feet, which were shackled to the floor, forcing him into a painful squat for periods of up to two days.

'You're in agony,' Ahmed, who was released without charge in 2004, told Reprieve.

He said the agony was compounded when music was introduced, because 'before you could actually concentrate on something else, try to make yourself focus on some other things in your life that you did before and take that pain away.

'It makes you feel like you are going mad,' he said.

Not all of the music is hard rock. Christopher Cerf, who wrote music for 'Sesame Street,' said he was horrified to learn songs from the children's TV show were used in interrogations.

'I wouldn't want my music to be a party to that,' he said.

Bob Singleton, whose song 'I Love You' is beloved by legions of Barney fans, wrote in a newspaper opinion column that any music can become unbearable if played loudly for long stretches.

'It's absolutely ludicrous,' he wrote in the Los Angeles Times. 'A song that was designed to make little children feel safe and loved was somehow going to threaten the mental state of adults and drive them to the emotional breaking point?'

Morello, of Rage Against the Machine, has been especially forceful in denouncing the practice. During a recent concert in San Francisco, he proposed taking revenge on President George W. Bush.

'I suggest that they level Guantanamo Bay, but they keep one small cell and they put Bush in there … and they blast some Rage Against the Machine,' he said to whoops and cheers.
In a list obtained by The Mail from the U.S. military, the top songs used for torture at Guantanamo Bay included "Hell's Bells" and "Shoot to Thrill" by AC/DC, "Stayin' Alive" by the Bee Gees, "Born in the USA" by Bruce Springsteen, "Dirrty" by Christina Aguilera and anything by Britney Spears, Aerosmith and Lil Kim. I can concur that a 24/7 diet of most of those songs would make me crack. As far as torture goes, though, this type of technique seems a lot less harmful to me than some of the things we've seen in videotapes made by Taliban soliders. Think about it: we play Britney Spears; they behead people.
Quick informal poll: Whose songs would you consider your own personal form of torture?
Artists whose songs are used as forms of torture: Britney Spears (Photo credit: Bauergriffin), Bruce Springsteen, Eminem, Tom Morello. (Photo credits: WENN).