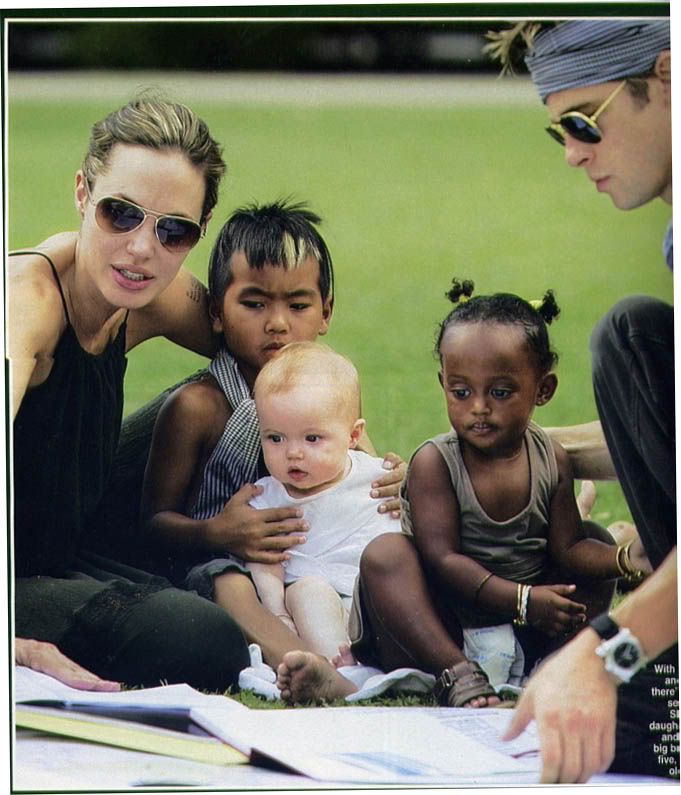 Maybe we know now why Shiloh is rarely seen out in public with Angelina and Brad, Angie thinks she's a blob:
"I think I feel so much more for Madd and Zee because they're survivors, they came through so much," Jolie says in the new issue of U.K. Elle.

"Shiloh seemed so privileged from the moment she was born. I have less inclination to feel for her…I met my other kids when they were 6 months old, they came with a personality. A newborn really is this…Yes, a blob! But now she's starting to have a personality…I'm conscious that I have to make sure I don't ignore her needs, just because I think the others are more vulnerable."
All babies are vulnerable, and to try to compensate for the fact that one of your children is biologically yours while the others are adopted seems wrong to me. Maybe Angelina should hire someone to help her talk to the press. I mean, if she feels this way it seems like she should hide it. She hasn't talked to her father in years and this statement makes it seem like she has trouble with family relationships to say the least.
Shiloh certainly shouldn't be more valued than her other children, but she shouldn't be snubbed in favor of the others, either. Am I misinterpreting what she's saying here? I mean, she said "I feel so much more for Mad and Zee… I have less inclination to feel for [Shiloh]" because she didn't have a personality when she was born. That kind of sends off alarm bells for me. Is Angelina saying Shiloh's less valuable because she didn't save her from a life of hardship? Who doesn't love their own kid to pieces?