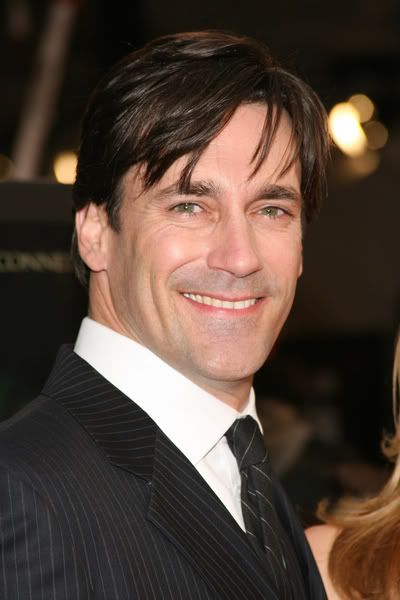 It's like the best dream you never want to wake up from. John Hamm, the Clooney-esque leading man from AMC's critically acclaimed and totally wonderful hit show Mad Men, will be appearing in several episodes of 30 Rock as the lovah of Liz Lemon, Tina Fey's character. It was mentioned in passing in the Vanity Fair profile of Fey, but now it seems the stunt-casting is complete (SQUEE!!!).
Jon Hamm is temporarily trading the offices of Sterling Cooper for "30 Rock."

The actor, who plays advertising executive Don Draper on AMC's "Mad Men," will portray the love interest of Tina Fey character Liz Lemon — a doctor who lives in her apartment.

Could it last?

"I just finished a couple of episodes, and I'll go back in the new year and do another one of those, and then we'll see what happens," Hamm said Tuesday at a benefit for the UCLA School of Theater, Film and Television."
[From The Associated Press]
John Hamm is having a really good year. He won the Best Actor -TV Golden Globe last January during the writers' strike. He's considered the Coolness Heir-Apparent to George Clooney. Mad Men is a genius show with some of the best writing on television. His Saturday Night Live appearance was hilarious. And Hamm has a supporting part in The Day The Earth Stood Still, starring Jennifer Connelly and Keanu Reeves, which will most likely be an enormous hit over the Christmas holiday.
If you haven't watched the first two seasons of Mad Men, I really don't know what to say about you as a person. It's an excellent show that deserves every award it will receive come awards time. Hopefully, with Hamm's 30 Rock guest spots, more people will get interested.
PS. He has a live-in girlfriend. *fingers crossed he's secretly pining away for me*
Jon Hamm is shown with his girlfriend, Jennifer Westfeldt, at the NY on 12/9/08. Credit: PRphotos