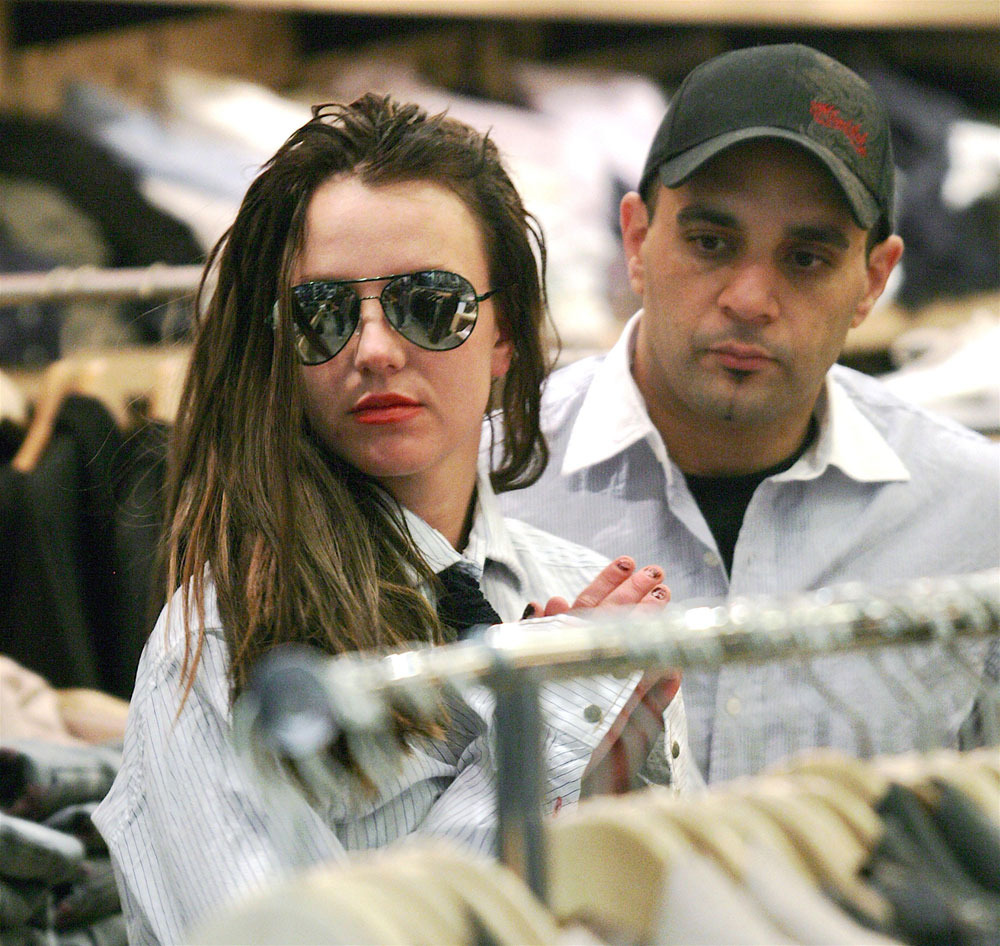 I guess the days of revisiting tales of Britney's breakdown are over, because her former self-declared "manager," Sam Lutfi's, case against her family for defamation has been thrown out of court. We've heard Lutfi's allegations that Britney's mom tried to get him to take the fall for her daughter's mental health issues, that he's owed millions in back pay from Britney, and that her dad, Jamie, once struck him. The judge found those claims hollow and decided that his case had no merit. He didn't have a contract as Britney's alleged manager, he couldn't establish that he was harmed if Jamie did strike him, and his case against Lynne Spears for libel was weak. The last we heard, Britney's ex boyfriend, paparazzo Adnan Ghalib, was testifying on Lutfi's behalf. That must not have amounted to much, and I bet the judge was fed up with it all. Here's more, thanks to E!
"I really thought long and hard," said Los Angeles Superior Court Judge Suzanne Brugera in announcing her decision, "so the motions are granted…as to all the defendants and all the causes of action. That is the right thing to do, so I am going to do it."

Jamie and Lynne filed a motion yesterday to have Lutfi's battery and breach-of-contract claims thrown out, arguing that Britney's self-proclaimed ex-manager never suffered any injury during a purported altercation with Jamie back in 2008, and that no legal contract was in place that had entitled Lutfi to the back salary he claimed Britney owed him.
"It was not a planned event," attorney Michael Aiken told the judge at today's hearing, referring to Jamie making contact with Lutfi on the morning on Jan. 29, 2008, after Britney had an emotional episode that attracted a bunch of media attention the previous night. "It was purely an incident that occurred on the spur of the moment. Whether we call it a punch or a poke, the fact of the matter is, he wasn't hurt. There was no preplanned event."

"Lufi said [he] was going to be fine and how can you award damages to someone who said he was fine?" argued Aiken…

Britney's attorney, Joel Boxer, then launched into the breach-of-contract claim, saying there was no contract and, even if there had been, Britney was feeling pressured and would have been under "undue influence" from Lutfi to agree to something.

Schleimer countered, stating that Britney still had others in her life, such as business manager Howard Grossman, to advise her on financial matters, and that his client was never properly compensated for the work he did for Britney.

"Twenty-four hours a day with Britney Spears, I think, is very challenging," Schleimer said. "Twenty-four hours a day is a tough job."

"Clearly this was a contract by stealth if it was a contract at all," Boxer said.

As for the libel claim over Lynne Spears' 2008 memoir, Through the Storm, in which she accused Lutfi of manipulating her daughter in a chapter titled "The General," Lynne's attorney argued that there was a complete absence of malice on her part.

If Lynne believed what she had been told—that Lutfi had ground up pills to medicate Britney without her knowledge, unplugged her phone, hid her dog, etc.—then she was not guilty of having reckless disregard for the truth, argued attorney Stephen Rohde. (Lutfi denied doing these things and telling Lynne he had done them.)

Lynne "stuck to her guns" and never wavered on the witness stand, Rohde said.

"I am going to appeal," Lutfi told reporters as he headed for the elevator outside the courtroom.
Here's what I want to happen – I want Lutfi to be held liable for Britney's attorneys' fees in this case. This was a frivolous lawsuit that he was hoping to get a settlement from. He never expected this to go to court and to be called on his lies. This guy is a manipulator, and there's plenty of evidence to suggest that he worked to insert himself into Britney's life. The money and access dried up for him and his only recourse was to sue to try and squeeze Britney's family for more. The fact that this case got so far just shows how he'll stop at nothing.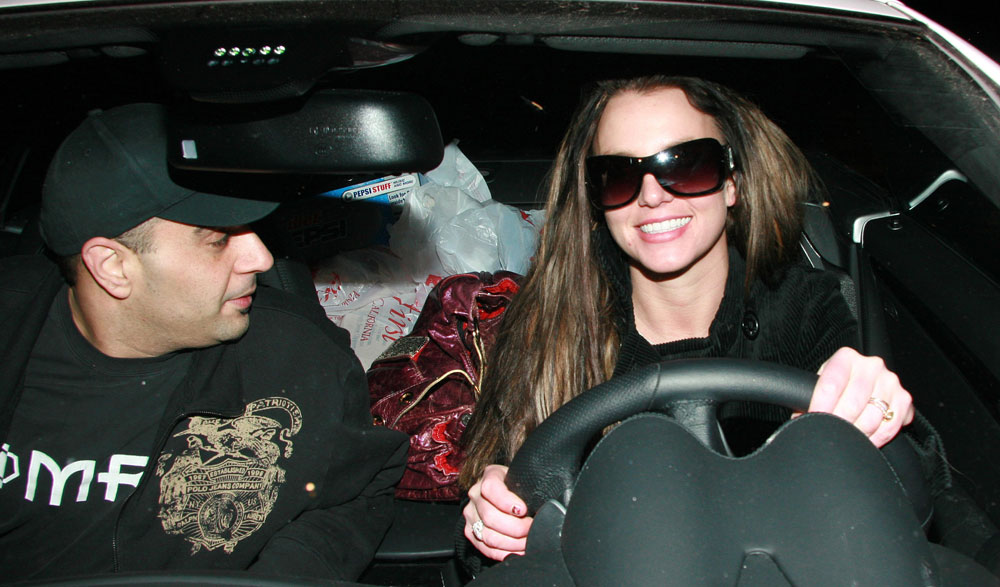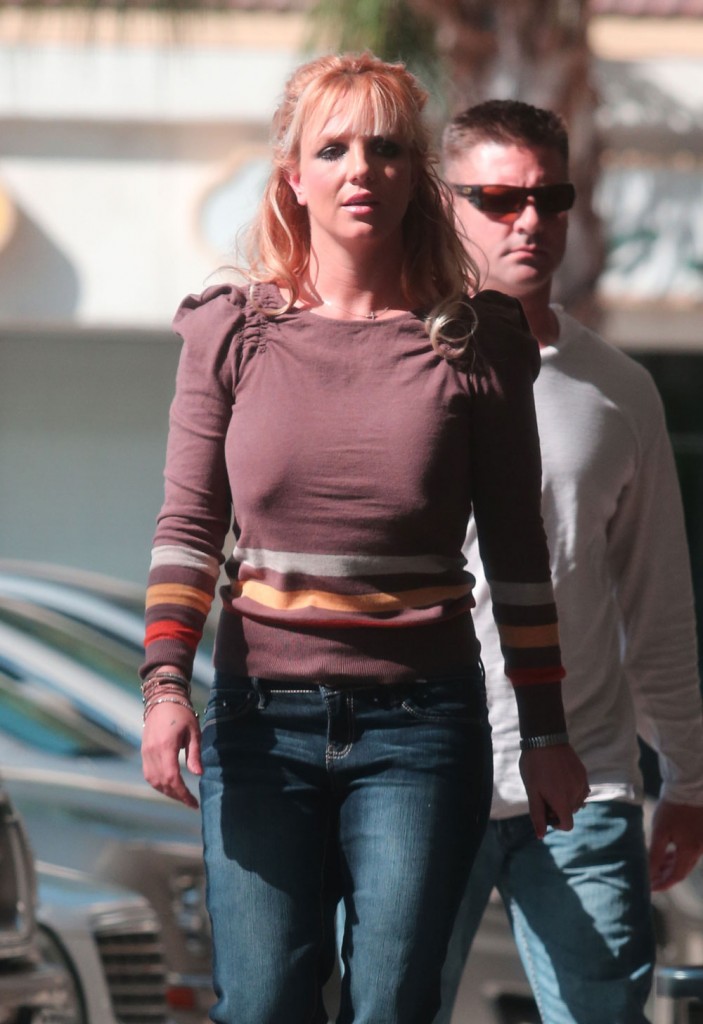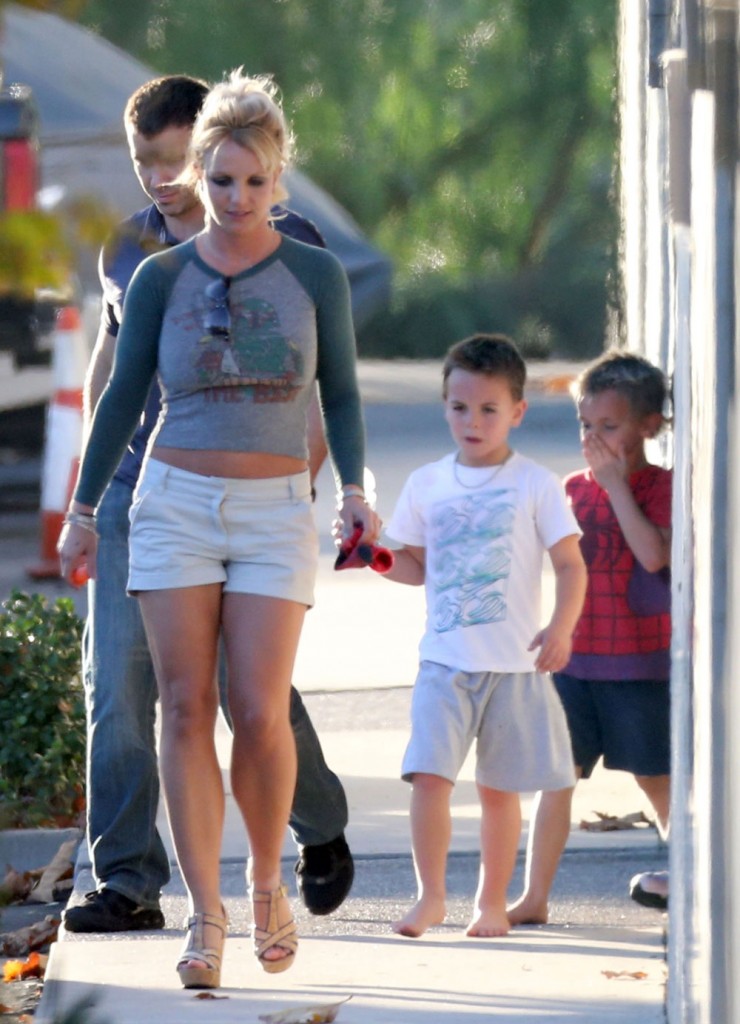 Sam and Britney are shown in January, 2008. Britney is also shown in two different outfits on 10-19-12. Credit: FameFlynet